Samsung has taken the TV industry to a new direction with The Frame, a smart TV that can be disguised in the form of a picture frame. The TV has an Art Mode that allows users to display digital art and even NFTs on the display, making it a part of home décor when not in use. It has become Samsung's most popular lifestyle TV that has been updated with new features every year since its official launch back in 2019.
Art Mode
The most compelling feature of The Frame is Art Mode that can be accessed from the home screen. It allows you to showcase a large array of artworks when your TV is off, making it blend into home seamlessly. You can also upload and exhibit your own photos. Simply send photos to The Frame via your phone or a USB flash drive. The final look can be completed with a canvas available in different colors.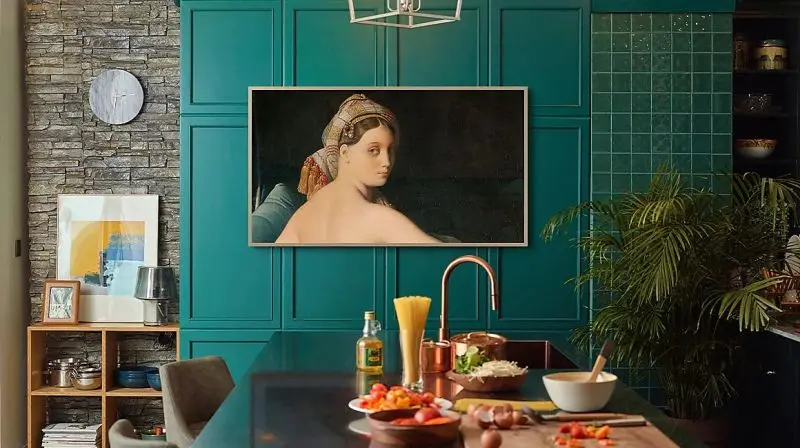 There is a built-in Brightness Sensor in the TV that automatically adjusts screen brightness according to your room's lighting conditions, keeping the picture quality same all the time. Furthermore, a motion sensor ensures the artwork is displayed when you arrive in the room and gets turned off when you leave.
Display
For 2022, Samsung has come up with a matte display on 2022 The Frame that helps reduce glare and reflections. With the new matte-finished surface, the artwork showcased on the TV will look even more realistic. The Frame TV comes with a variety of customizable, magnetic bezels. You can choose the color that best suits your space.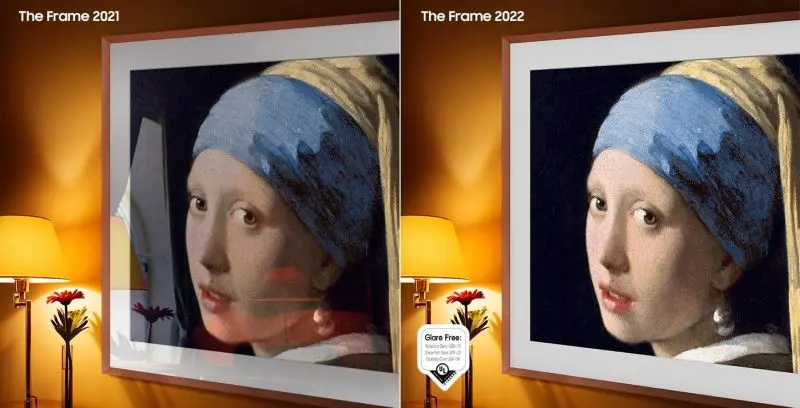 The QLED 4K display (3840 x 2160) ensures optimal quality for any of your content. There is also an EyeComfort Mode that automatically adjusts the display per local sunrise and sunset times so that your eyes are not disturbed by uneven brightness. Powered by Tizen OS, Samsung The Frame smart TV has a 120Hz refresh rate that will enhance (refresh rate changes per models) gaming experience.
If talking of the design, the TV fits flush to the wall just like an art piece thanks to its slim profile. Samsung also provides a height-adjustable stand with the TV.
Sound
There are multi-channel speakers with Object Tracking Sound technology (Dolby Atmos) located in the screen that provide an immersive audio experience. You will feel sound coming from all corners of your TV. When connected to a soundbar, the Q-Symphony allows The Frame to operate simultaneously with it for a better surround effect without muting the TV sound.
Also Read: 10 Best Budget Android Smart TVs You can Buy from Amazon India
Content Accessibility
The Frame comes with a SolarCell Remote that charges with sunlight and indoor lights so no more hassle of disposable batteries. Samsung says the have made accessing content and other features quick and easy with the new Smart Hub. You can easily switch to different sources organized into various tabs such as Media, Game and Ambient. Additionally, there is a sidebar menu that keeps the functions such as Settings and Connected devices separate for easy access.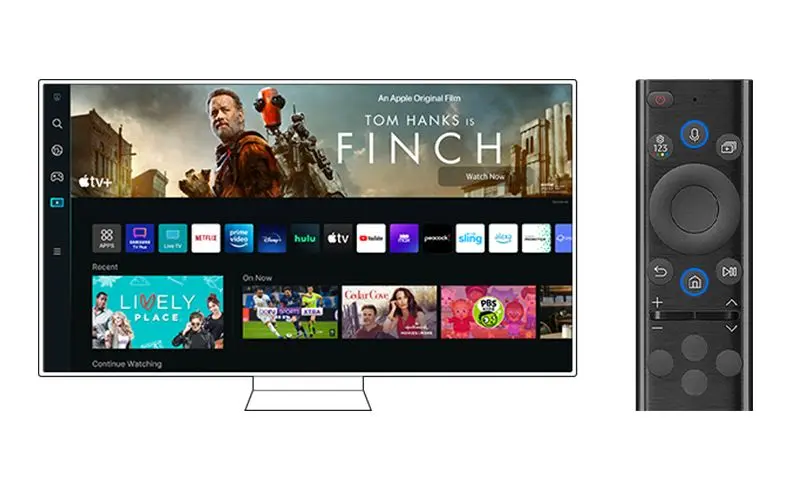 The Frame can also be connected to a computer remotely which means you can do your office work on its large screen. You can also mirror content from your smartphone for a bigger viewing experience via SmartThings, or AirPlay. Those who like multitasking, the TV allows viewing up to four different contents simultaneously at a time.
Connectivity      
The 75-inches The Frame TV comes with One Connect Box that connects to TV with a thin single wire and carries audio, video, and power to the TV. It has 4 HDMI, 2 USB ports, and 1 USB-C port, as well as LAN, Audio Out, and RF In, and Ex-Link port to connect devices such as cable boxes, Apple TV, DVD Players, etc.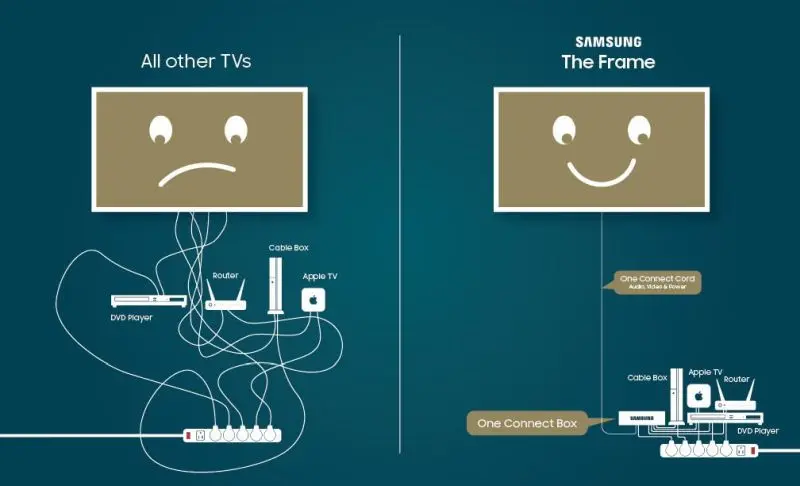 Smart Features
The TV supports multiple voice assistants: Samsung Bixby, Amazon Alexa and Google Assistant. You can ask questions, and control compatible entertainment and IoT devices. It is like a central hub that allows you to conveniently control your smart devices and see the status.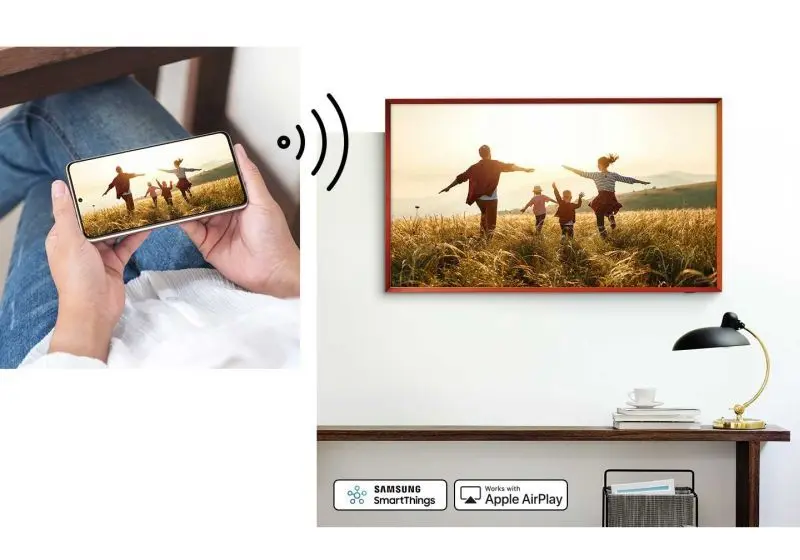 Accessories
Samsung is also offering many additional accessories that can be purchased to complement your TV. Apart from customizable frames, you have an option for auto rotating mount, auto rotating stand, Studio Stand, 15-meter One Connect cable and a beautiful wall shelf that goes in the backdrop of the TV.
Price and Availability
The 2022 Samsung Frame TV will fancy to those who wants their TV to work as an art gallery. It shows you a cricket game when it's on. After switching The Frame off, the screen displays your favorite family photo or a famous artwork. It is available to purchase in different sizes; however, you have got a 43-inches The Frame listed exclusively under the latest launches Tab at the Prime Day. Amazon will also be offering great discounts on their new smart TVs so Prime members can cash this opportunity.
At the time of writing, the price for the 43-inches 2021 The Frame is about Rs. 54,000 and about Rs. 80,000 for the 55-inches model. There are no details about the pricing of the 2022 The Frame models and it will be really exciting to see the price variation.