When you return home from the office and are feeling down, you would probably sit on a cozy sofa and spend some time watching TV. Packed with soft cushions, it gives the required sense of calm and comfort. Apart from that, the couch is an integral element of interior design so people often try different options time to time. So, the ideal couch needs to be comfortable and stylish that can bring a modern vibe into space.
With thousands of choices to shop online, finding the right match as per particular budget is quite difficult. If you are looking to buy a new sofa, we will be making it easy for you in this post. Here, we have curated a list of 10 best sofas to buy under Rs. 20,000 in India that can help you make the right decision.
Things to look for when buying a sofa
Seating capacity: When buying a sofa you must be clear what size you need. It should be decided as per the available space and your budget.
Material: You need to check what material or wood type is used for the sofa frame and even legs and fabric. The fabric should be durable, easy to clean and good to look at.
Cushion foam density: This is an important factor that decides how comfortable the sofa will be. You should try to get as much as information about cushions including the size and density.
Seating and back height: The height of seating and back need to be paid attention as it is related to comfort of sitting.
Weight: Wood is a heavy material so you can guess a lot about the sofa from its weight. Ideally, the heavier the sofa, the better quality you can expect. On the other hand, lightweight sofas also have some benefits like they are easily maneuverable around the home. So think wisely.
Wood finish: The final look of a sofa is dependent upon the wood finish. You can find several options like black, walnut, honey, etc.
Fabric colors: You should also look at what fabric colors are available for the sofa so that you can make the right choice per your interiors.
Assembly: When bought online, you can expect the furniture piece would require assembly. Some sellers provide free installation while some charge you extra money.
Best sofas under 20K in India
Sleepyhead Yolo 3-Seater Sofa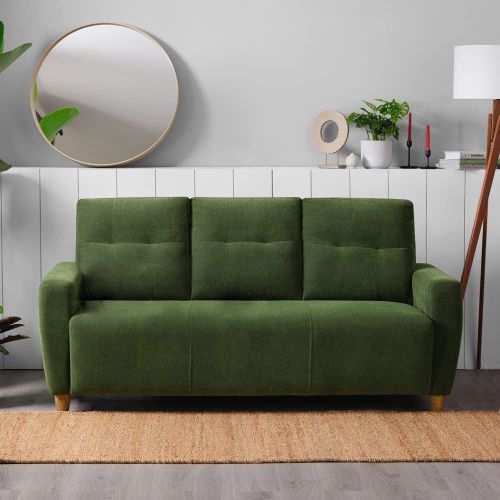 If you are looking for a unique colored sofa, then the Yolo sofa from popular brand Sleepyhead is your right match. It is available in four vibrant colors so you can choose as per your particular design needs. There are more than 300 reviews of different variations of the sofa, which signals its authenticity. One reviewer while giving 5 stars to the 3-seater version said, "It is medium-hard to sit on, which was one of my requirements as I have older people in the house who find it difficult to stand up from very soft sofas.
The sofa has a pine wood frame with stuffed armrests and tufted back that look pretty attractive. It is upholstered with polyester fabric and has three layers of cushioning.
Other features
Dimensions: 89D x 191W x 89H cm
Material: Pine wood
Weight: 40 kg 500 g
Warranty: 3 years
Duroflex Ease Fabric 3-Seater Sofa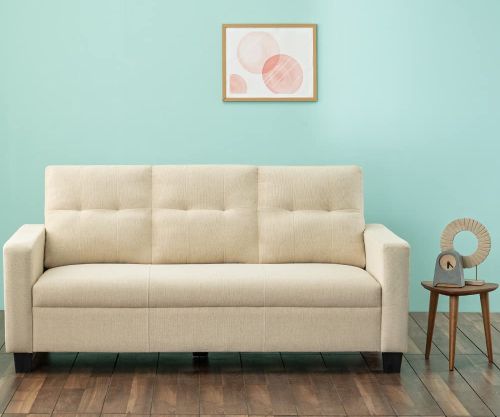 Duroflex is an Indian brand renowned for its mattresses and it offers sofas too. You can expect to get good fabric quality for upholstery from the brand. As per description, the fabric is made up of a mix of Polyester and Polypropylene. You can choose from six dashing colors and each looks pretty decent with button-tufted design on the back.
The sofa frame is made of neem wood while the legs are made of Polypropylene plastic. This 3-seater sofa will help you create your dream lounge at home. The sofa has been reviewed by buyers generously and one even commented "If you're looking for a sofa around 20K , You can consider this also one of your options."
Other features
Dimensions: 86D x 132W x 89H cm
Material: Neem wood and plastic
Weight: 44 kg
Warranty: 3 years
Adorn India Chandler 5-Seater Sofa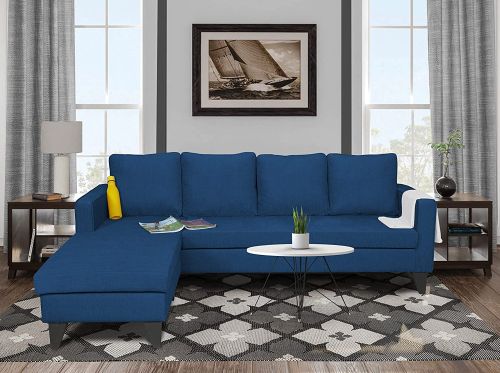 Adorn India offers a wide range of sofa sets in India but if you want a large and budget friendly sofa, you can go for this 5-seater, L-shaped sofa from the brand. The sofa is made with a wooden frame with 6-inch fiber legs. It is filled with foam and upholstered with fabric. Assembling the sofa is easy as you only need to fix the legs. If you want a large-size sofa under Rs. 20K, Adorn India has some this great option for you.
Other features
Dimensions: 76D x 213W x 66H cm
Material: Wood
21 colors
Weight: 70 kg
Warranty: 1 year
Home Centre Emily 3-Seater Sofa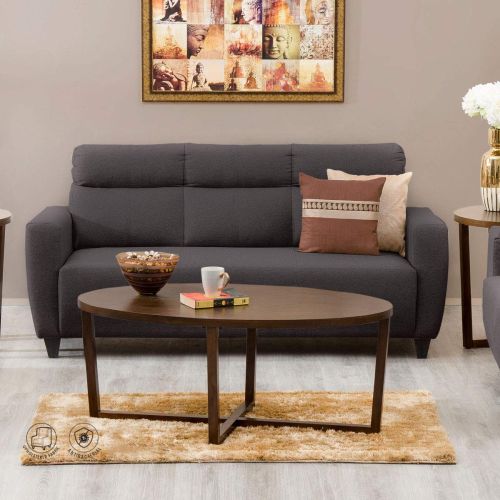 Home Centre is a big name when it comes to buying furniture and other home décor items in India. If you want to go with a brand name, this cushion back sofa is the right choice for you. It is available in two minimalist colors that will suit any interior design. The sofa is made from pine wood and upholstered with polyester fabric. There are plastic legs which may become an issue over time.
The sofa comes pre-assembled and only the legs need to be fixed. It will light up your drawing room with style, comfort and color. One reviewer said the 3-seater sofa looks very elegant and has the right amount of softness.
Other features
Dimensions: 36.2D x 72.4W x 88H cm
Material: Pine wood
Weight: 46 kg
Warranty: 1 year
Also Read: The Best Sofa Beds on Amazon India
Seventh Heaven Milan 3-Seater Sofa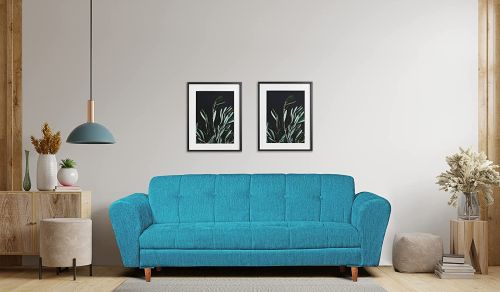 If you are looking to buy affordable and stylish sofa, Seventh Heaven has this great option for you. This 3-seater sofa is distinguished by its Chenille Molfino upholstery fabric, making it a great option for any living space. Heavy gauge wire springs are used under the foam for extra strength. The reviews of the product are overall good. It is available in seven lovely colors.
Other features
Dimensions: 80D x 80W x 80H cm
Material: Sheesham Wood
Weight: 24 kg
Warranty: 3 years
Dr. Smith 3-Seater Sofa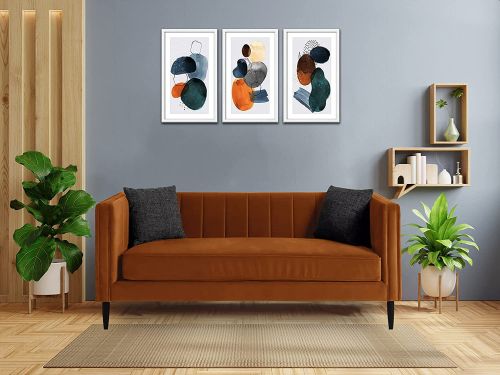 This Dr. Smith sofa is unlike anything in our list. It's so unique that we can guarantee it is going to be a statement piece in your living room. Available in six different colors, it comes with velvet fabric upholstery and slightly round legs. The padded arms are also a cool feature of the sofa.
Other features
Dimensions: 198D x 71W x 73H cm
Material: Wood
Weight: 38 kg
Warranty: None
Aart Store 3-Seater Wooden Sofa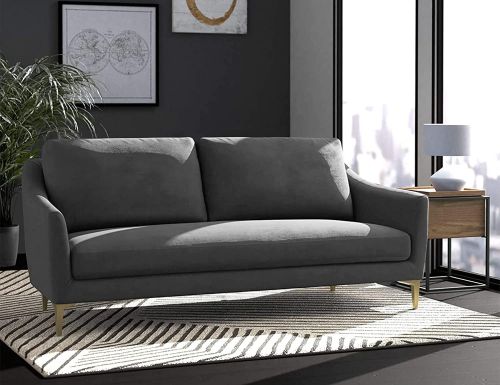 If you want to have a low-profile couch, this 3-seater velvet fabric sofa by Aart Store is the one for you. Defined by a clean modernist look, it will be a wonderful addition to any rooms such as living room, bedroom and so on. You can choose from six different colors as per your choice.
The sofa has an angled backrest that provides back comfort while sitting. The rounded lines are beautifully complemented by shiny legs that appear to be made of metal but it isn't clearly mentioned in the product description. There are no reviews of the furniture piece.
Other features
Dimensions: 198D x 71W x 73H cm
Material: Wood
Weight: 38 kg
Warranty: None
Amazon Brand – Solimo 5-Seater Sofa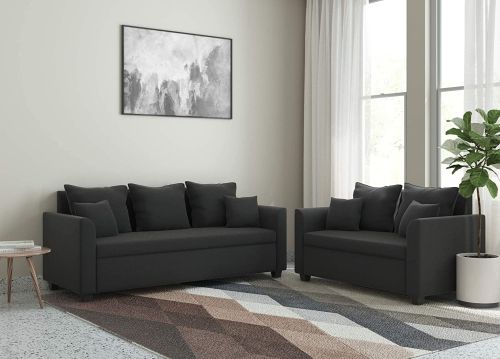 This modern 3+2 sofa set is a great choice for all those who want more seating in the home. There is only one choice of color to match your design requirements. This comfortable sofa is tested with 100 kg on each seat. The legs come in a separate package and will be installed during the assembly. The sofa has about 143 reviews and a 3.6 star rating on Amazon. One buyer said he like the product due to its look, weight and comfort.
Other features
Dimensions: 76L x 185W x 76H cm
Material: Engineered Wood
Weight: 35 kg
Warranty: 1 year
3-Seater Wooden Sofa by Mamta Furniture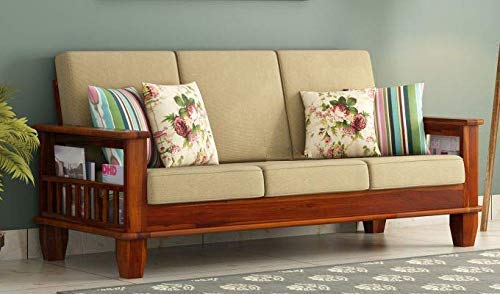 It is one of the best rated wooden sofas on Amazon India. You need to assemble it on delivery which will involve some hassle; otherwise, it is a worthy choice. It is available in two colors and both look elegant. One buyer has reviewed that Mamta furniture is a good seller of wooden products and recommends buying furniture from the store. Another said "The sofa is really heavy which shows the quality of product."
Other features
Dimensions: 180D x 76W x 76H cm
Material: Sheesham wood
Weight: 100 kg
Warranty: None
Torque Bali 3-Seater Fabric Sofa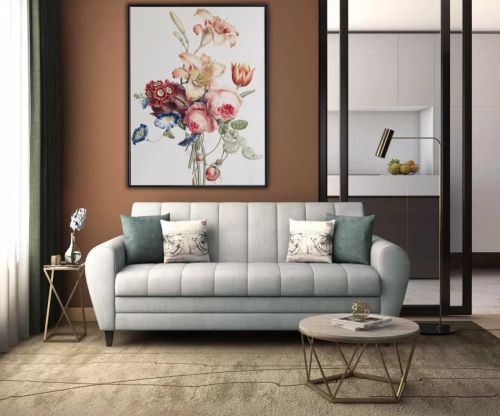 Enhance your living room with this beautifully designed wooden sofa. If you have less than 15k and want a plush 3-seater sofa, this is the perfect choice for you. The product doesn't need heavy assembly and can be assembled by the buyer on his own. The finishing of the sofa is good, giving it a classy look. Web suspension is used to add a comfy feel in the backrest and hand-rest. You can choose from three colors.
Other features
Dimensions: 83.8D x 195.6W x 78.7H cm
Material: Wood
Weight: 40 kg
Warranty: 1 year
Comparison of sofas under 20K in India
| Brand | Material | Upholstery | Colors | Price |
| --- | --- | --- | --- | --- |
| Sleepyhead | Pine wood | Polyester | 4 | ₹19,998 |
| Duroflex | Neem wood and plastic | Polyester | 6 | ₹19,152 |
| Adorn India | Wood | Fabric | 21 | ₹19,949 |
| Home Centre | Pine wood | Polyester | 2 | ₹17,999 |
| Seventh Heaven | Sheesham wood | Fabric | 7 | ₹12,498 |
| Dr. Smith | Engineered Wood | Velvet | 6 | ₹17,599 |
| Aart Store | Wood | Velvet | 6 | ₹16,499 |
| Amazon Solimo | Engineered wood | Fabric | 1 | ₹17,099 |
| Mamta Furniture | Sheesham wood | Fabric | 1 | ₹14,499 |
| Torque | Wood | Fabric | 3 | ₹13,999 |