Coasters are a useful accessory that helps in protecting tables from stains of tea or coffee drips. And when not in use, they become mini artworks, whether on a table or shelf. Coasters are versatile in design which allows them to blend into an already laid out table setting easily.
There are various types of coasters available in the market, ranging from plain and patterned to trendy wooden, concrete and stone iterations. To help you understand this better, we have compiled a list of coaster sets that are made from different materials.
This list of coasters will apprise you with the available options in the online market. Keep reading:
Marble and Wood
Made from mango wood and white marble, this two-toned coaster can add a touch of style to a table or kitchen counter.  It makes a cool gift for special occasions. Its dimensions are 4 inches x 4 inches.
Price: Rs. 710 (Set of 4)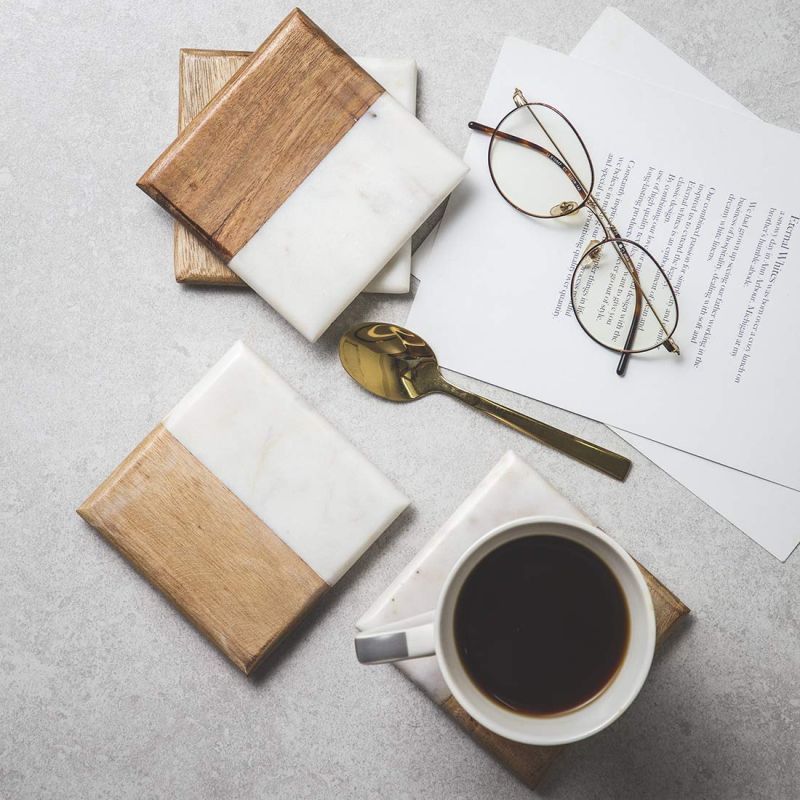 Carved Wood
Handcrafted by Indian artisans from mango wood, this rounded coaster features a carved 'Tree of Life' that is further hand-painted in well-balanced colors. Its dimensions are 3.9 x 3.9 x 0.4 inches.
Price: Rs. 588 (Set of 4)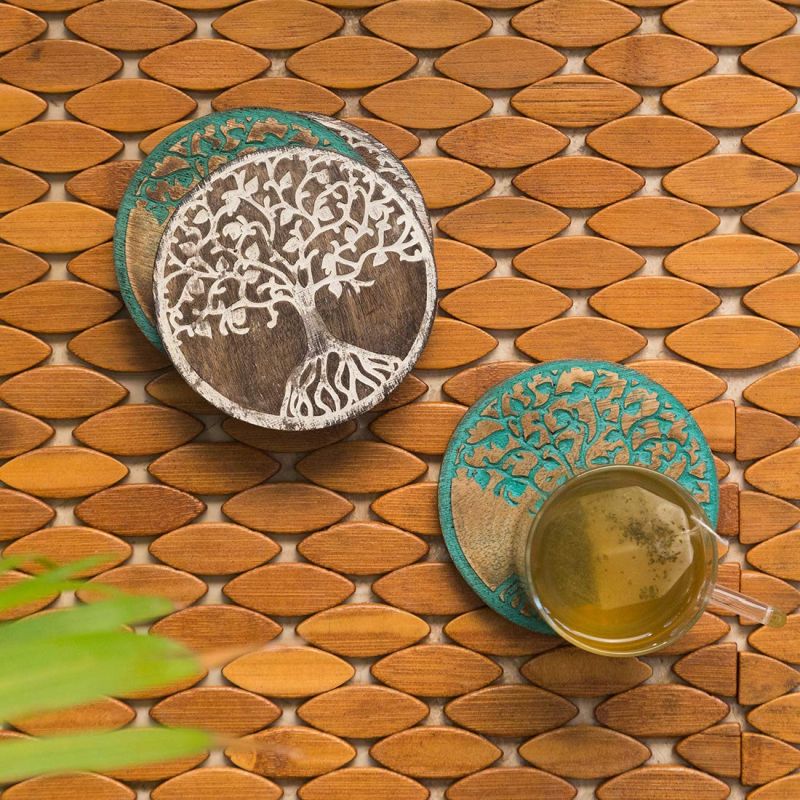 Natural Stone
This coaster is made of rainbow stone, which absorbs water. It is perfect to absorb a few drops of a beer glass or tea. Its dimensions are 3.5 Inch x 3.5 inches.
Price: Rs. 295 (Set of 4)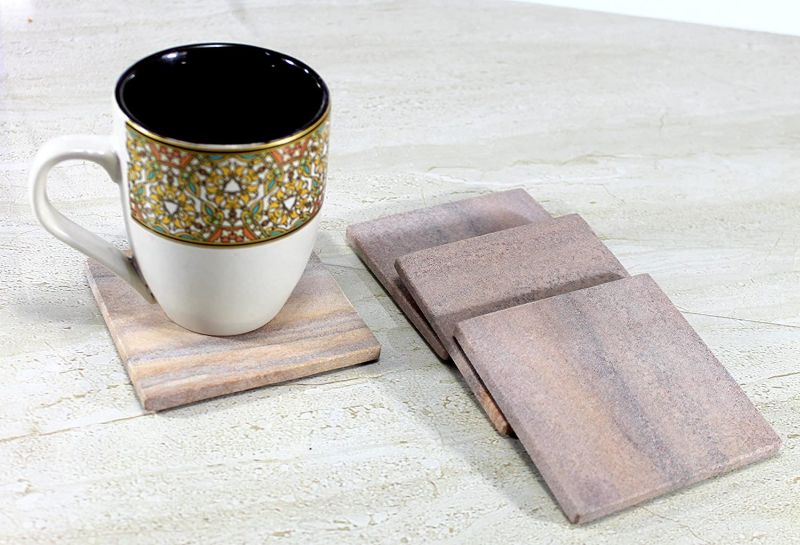 Mandala Pattern
This patterned wood coaster will help you elevate the beauty of your coffee table. It is waterproof and backed with cork to protect furniture from unruly scratches. Its dimensions are 9.5×9.5 cm.
Price: Rs. 399 (Set of 6)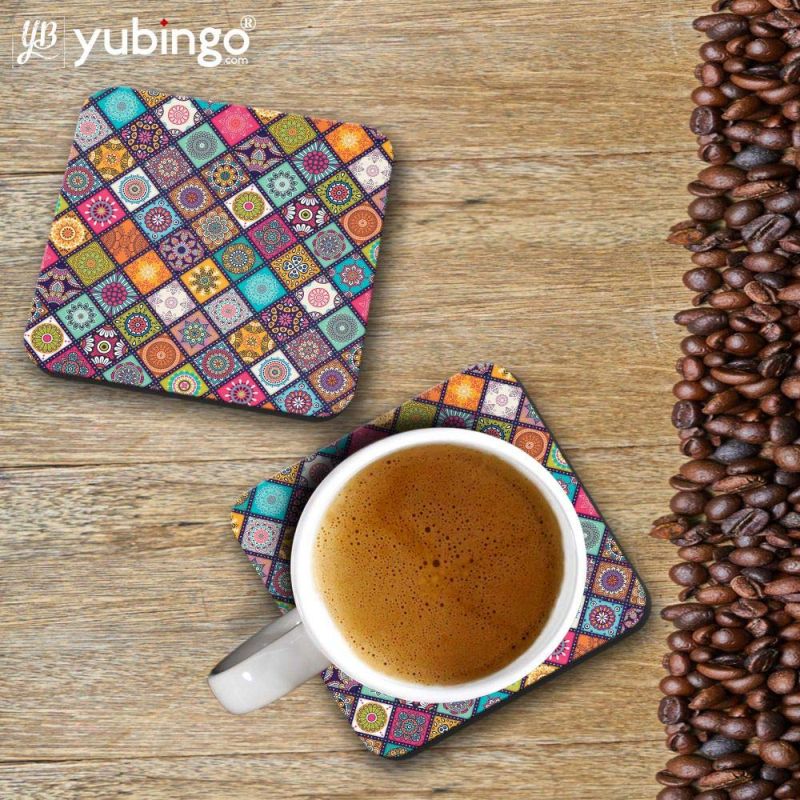 Braided Jute
These coasters woven from jute twine will add a natural element to any table setting. They create a neutral backstage for crockery. Its dimensions are 4 x 4 inches, with choices for more size and quantity.
Price: Rs. 213 (Pack of 2)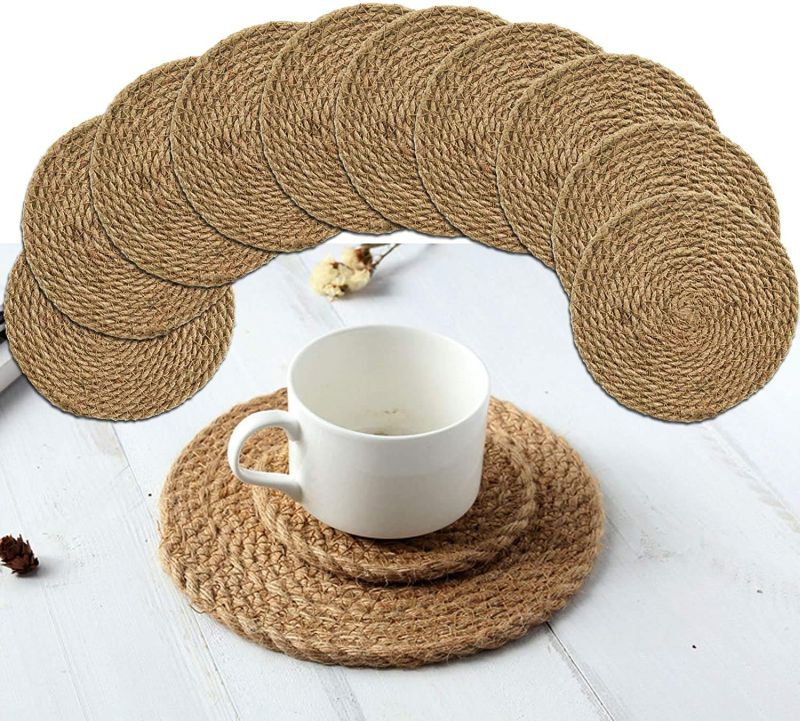 Also Read: 10 Indian Instagram Accounts to Follow for Balcony Decor Inspiration
Leather
Made by Punjab-based Company, it is a durable and stylish coaster set that will look great on a working desk. The simple brown color will create a classic vibe on the table. Its dimensions are 10 x 10 cm.
Price: Rs. 599 (Set of 6)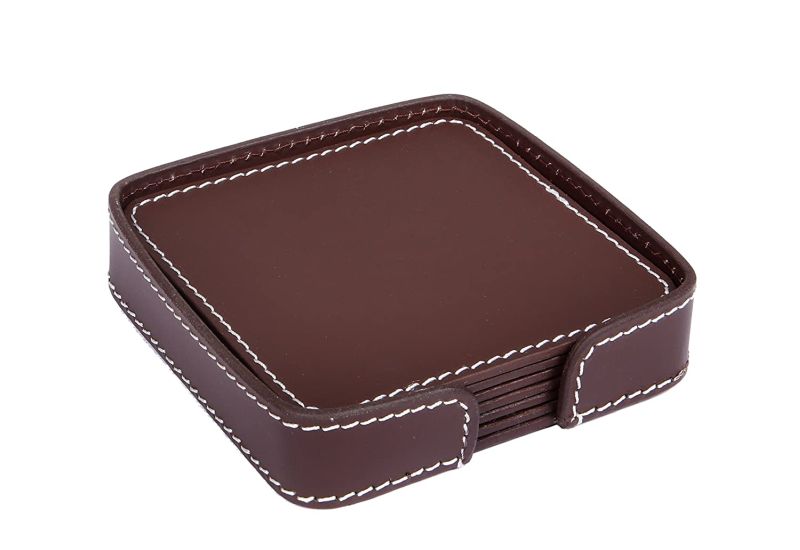 Agate
These coasters are cut from natural Agate stone by hand which makes each piece unique in structure, size and pattern. There are transparent silicone felts at the bottom to protect furniture. They also make a great home decor piece. The size is 3.5 x 4.25 x 0.2 inches.
Price: Rs. 1,599 (Set of 4)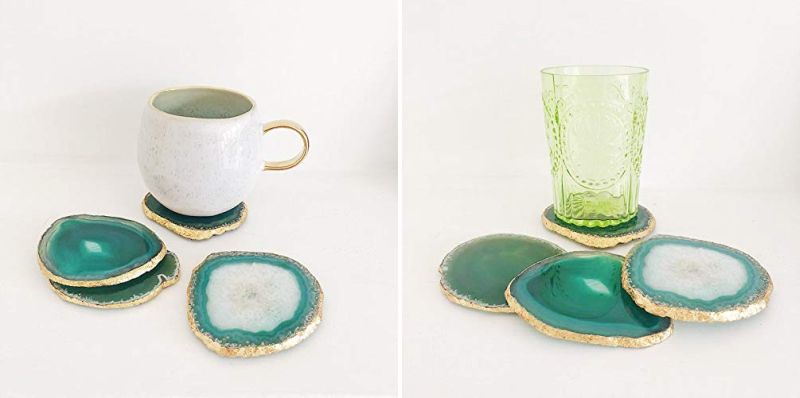 Cork
If you are a fan of eco-friendly products, then this might be a good choice for you. These coasters are made from cork – a sustainable natural resource. They will bring a naturalistic charm to space. The size is 10.5 x 10.5 cm.
Price: Rs. 600 (Set of 6)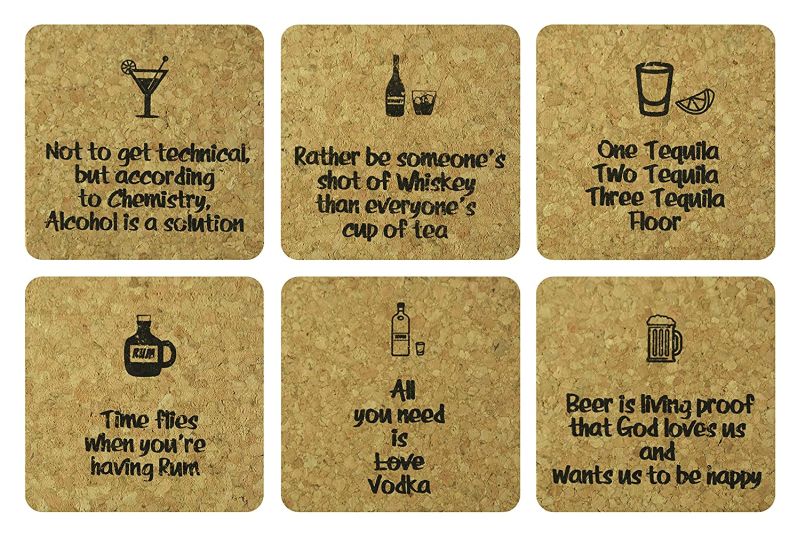 Tree Stump Round
The smooth wood grain ringed with rough-textured bark makes these Sheesham log coasters unique. They will create a cozy impression. The size is 3 inches.
Price: Rs. 299 (Set of 6)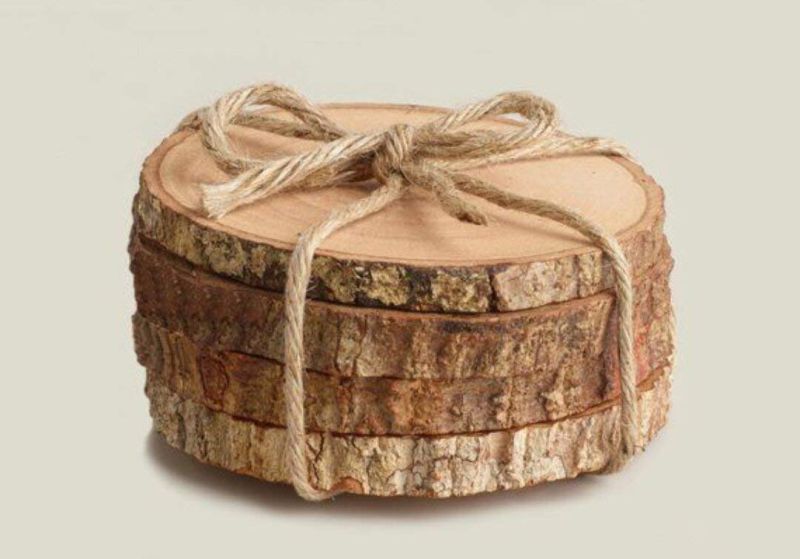 Bamboo
This coaster set is hand-woven from natural bamboo. With excellent heat insulation, these coasters protect furniture from damaging effects of heat from hot beverages. It measures 19 x 19 cm.
Price: Rs. 279 (Set of 2)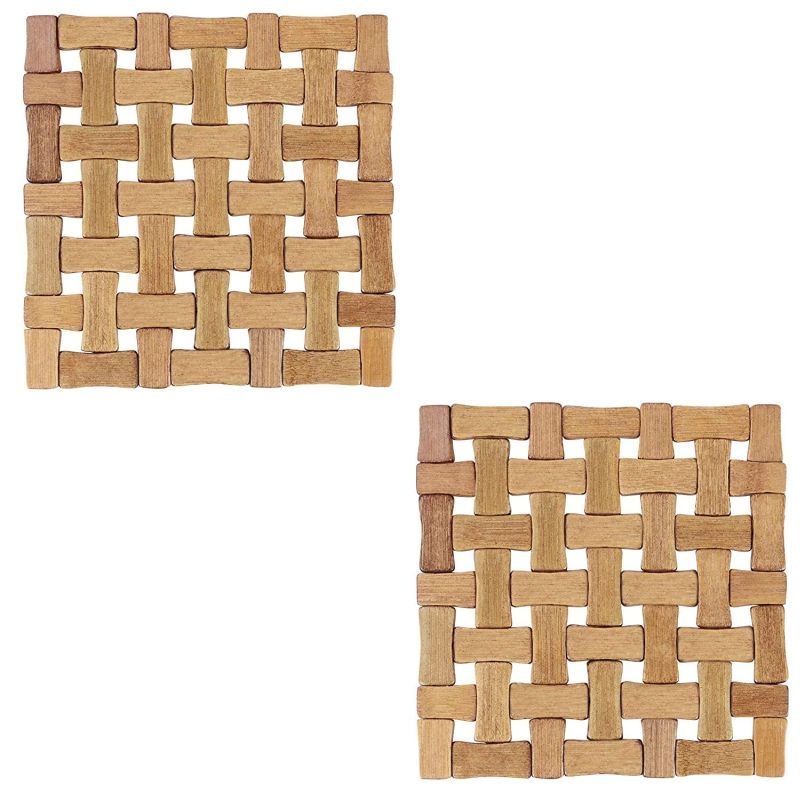 Terrazzo Pattern
Made from cork, this round coaster set looks cool but costs high. It comes with a non-slip cork base and holder. Each has a diameter of 4 inches.
Price: Rs. 4,218 (Set of 6)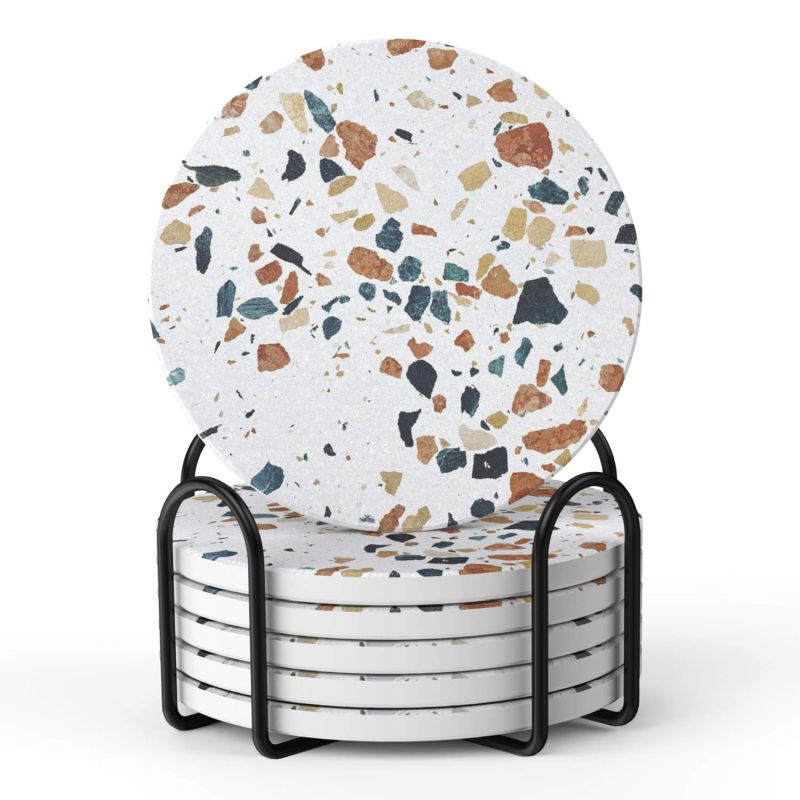 Acrylic
This hexagonal coaster set is simple yet unique. Its white surface can also work as a canvas for painting different designs using acrylic paints. The height is 4 inches.
Price: Rs. 339 (Set of 4)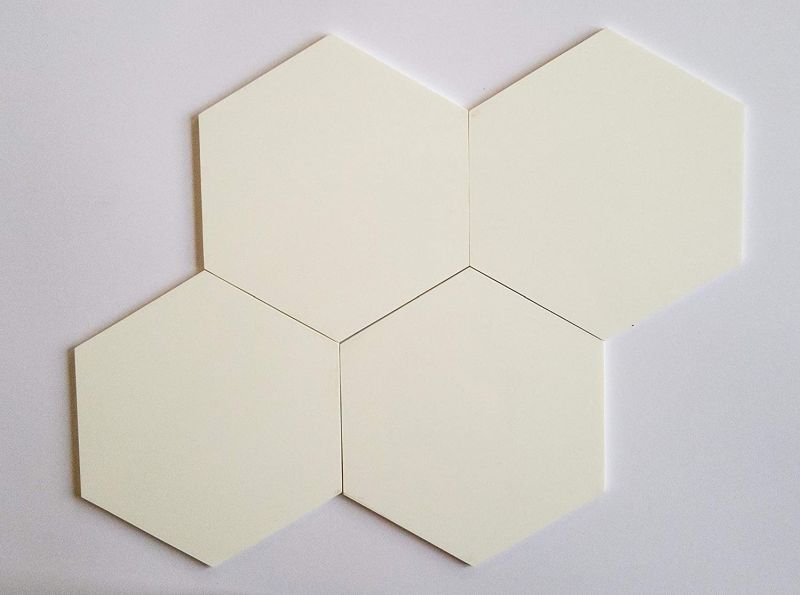 Metal
Sturdy and solid, these copper-plated coasters are hammered and polished by hand for a glam look. They are 3.5 inches in diameter.
Price: Rs. 449 (Set of 4)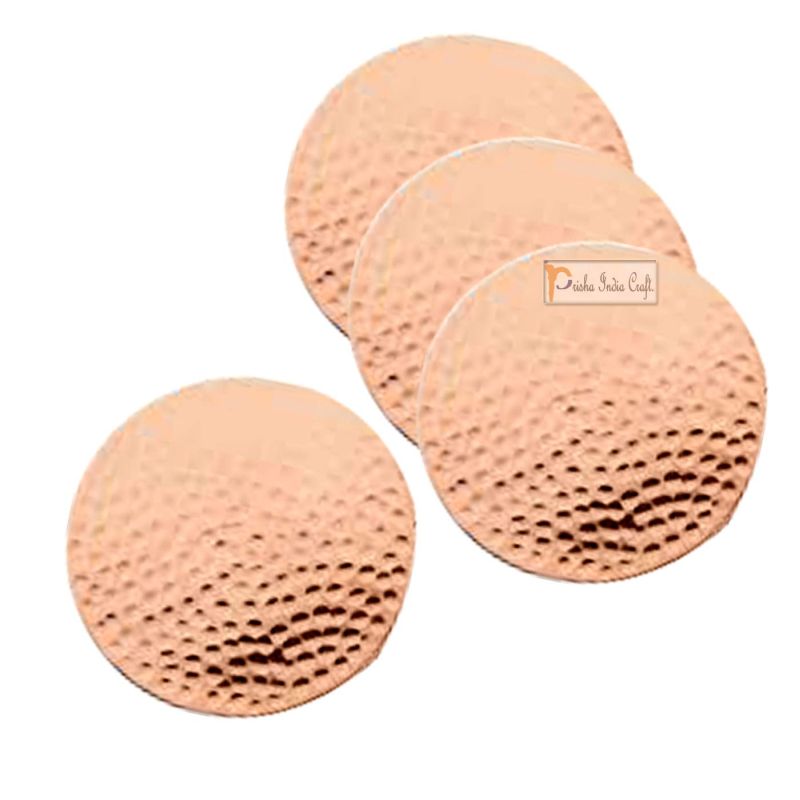 Epoxy Resin
These coasters are casted in epoxy resin with irregular patterns. They are available in different colors. The size is 10 x 10 cm.
Price: Rs. 649 (Set of 6)