Balconies are one of the most loved parts of a home or apartment that help connect us with the outdoors. They are useful to hang clothes to dry, talk to neighbors, or brew a romance like Romeo and Juliet. They are also a soothing nook for relaxation through some thought and creativity. Nothing compares to sitting on a comfortable chair in a well decorated and organized balcony, surrounded by the things you love.
A balcony, no matter how small, can be used to an irresistible hangout for relaxing and entertaining with a few creative ideas. It is like a small park in your own home. There are various ways to uplift balcony decor like using some cozy furniture pieces and wall decoration pieces while plants are an obvious balcony decor element so they can't be skipped off.
If you are looking for balcony decor inspiration, we have compiled a list of some of the most inspiring Indian Instagram accounts that you can follow up for help. Have a look below:
1) Follow @incredible_prodigy (Sonakshi )
A digital creator, Instagram user @incredible_prodigy styles her balcony like a pro designer. She has been inspiring people with her colorful apartment balcony. She has managed to turn the balcony into a sensual space with a few macrame wall hangings, plants, paintings, and DIY lamps. She uses cushions predominantly in her balcony decor.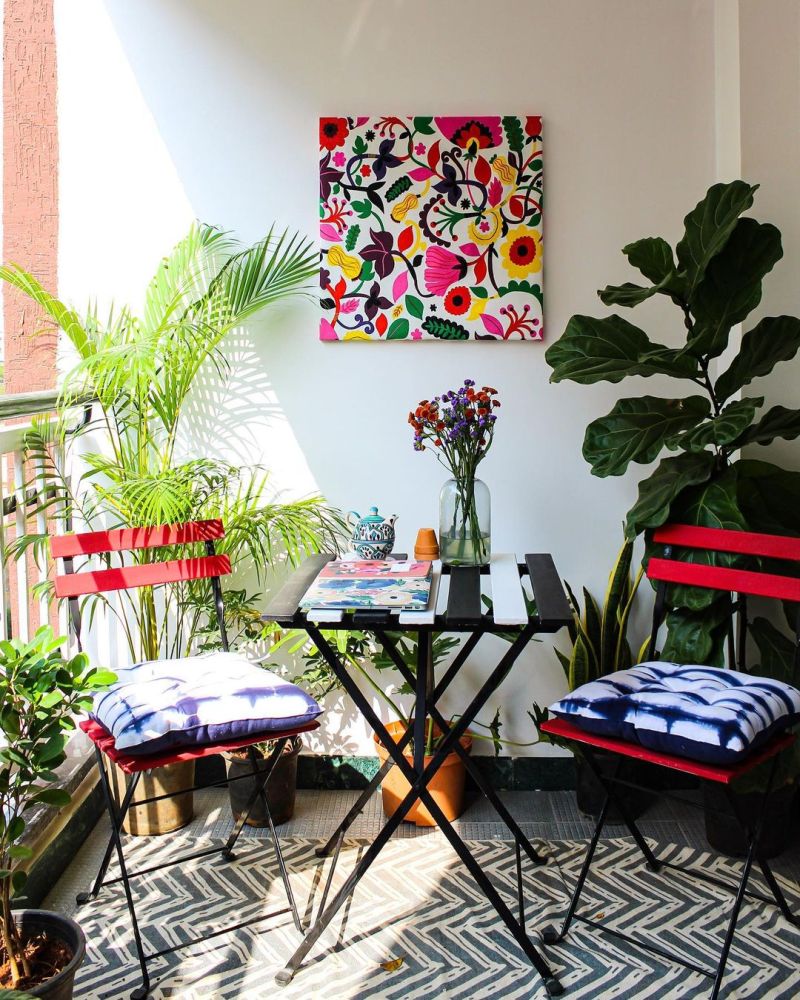 2) Follow @gulmohar_nest (Deepika Mishra )
For Instagram user @gulmohar_nest, plants are life and decor is therapy. A mother, she has turned the balcony of her Pune house into an urban garden. She has got it all – the hanging plants, lights, and a rejuvenating area in a small terrace. You can see blooms and bougainvillea and a wide variety of flora on her account, where she maintains a regular presence.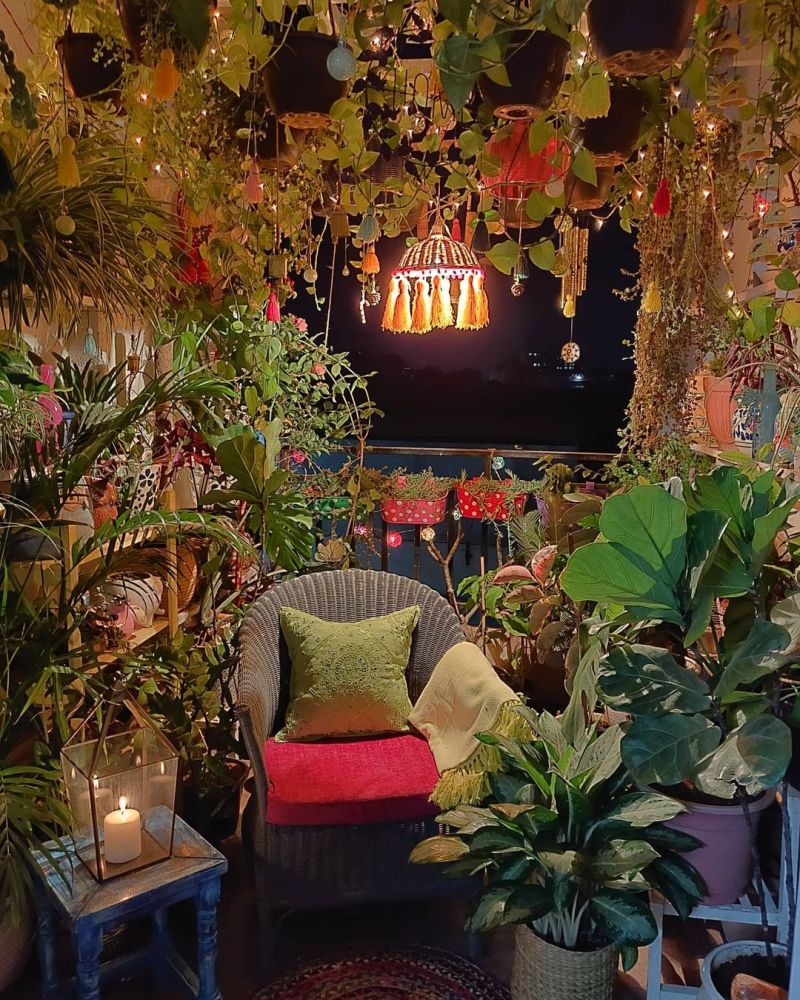 3) Follow @homehashtaglifebyjaya (Jaya)
Interior design enthusiast, Instagram user @homehashtaglifebyjaya seems to prefer simplistic home-styling, and decor. Her balcony is really adorable, with plants in colorful planters, paintings, wall hangings, and a cozy chair. She also shares classy ways to display plants on walls. You can also see a rattan lampshade hanging in her balcony that boasts the zen vibe!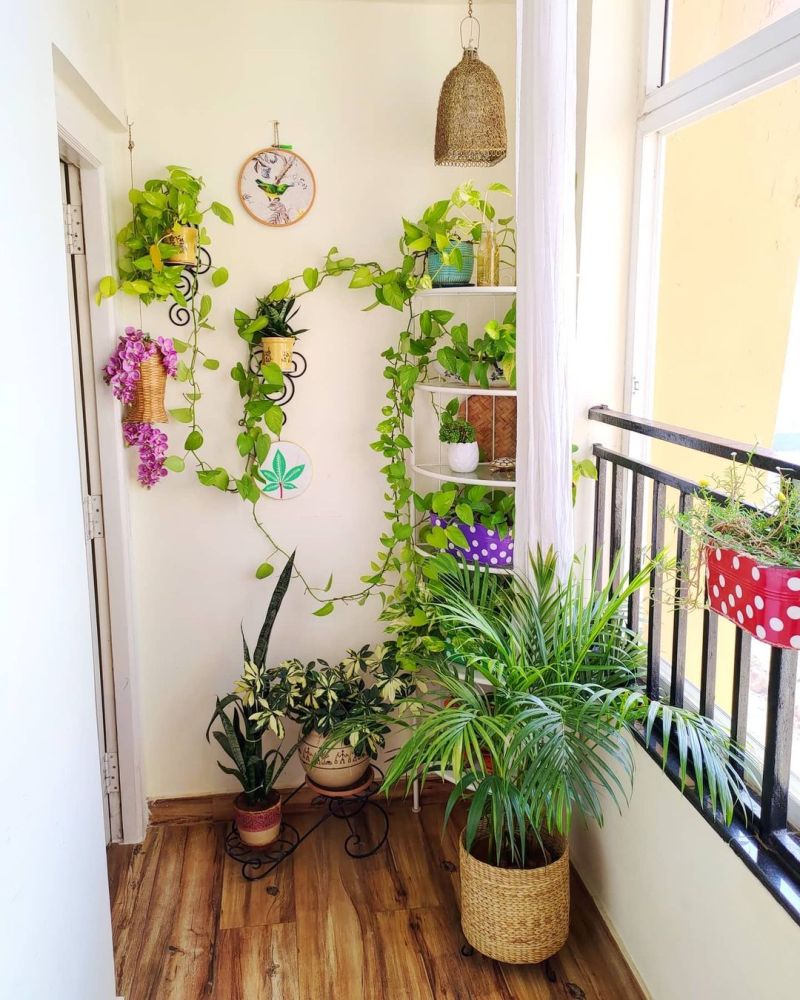 4) Follow @inam18.home (Mani Sharma)
Instagram user, @inam18.home is a home decor enthusiast, and she puts more efforts in her balcony decor. She has got a daybed in her balcony, along with wind chimes, classy botanical paintings, starry lights, and sculptural planters. Her brilliantly decorated balcony decor is ideal for those who love minimalism.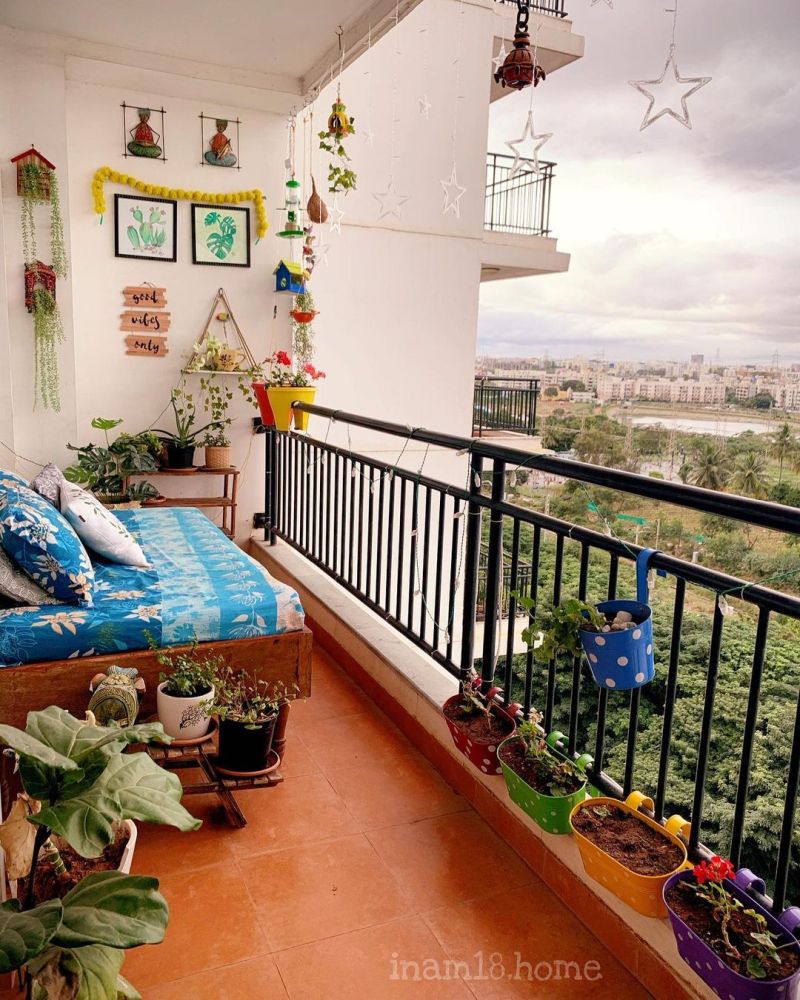 Also Read: 10+ Wind Chimes You can Buy Online from Amazon India
5) Follow @mishys_arrtsy_home (Mansmita)
Balconies look best when kept simple and adorned with nature's beauty. Instagram user @mishys_arrtsy_home does the same with her balcony. Despite being small, she has embellished her apartment balcony with minimal plants and wines, as well as included a floor seating. The picture frames and colorful plates on the wall, dream-catchers and a pendant lamp are some other highlights of her balcony.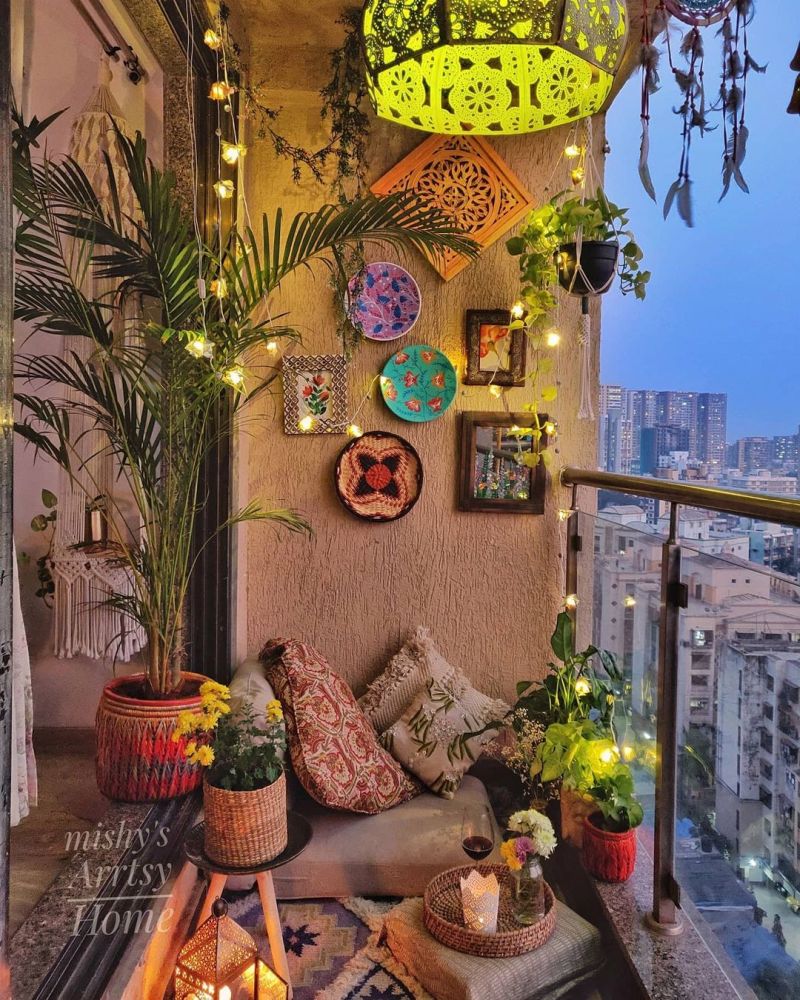 6) Follow @sowmyao7 (Sowmya Ganesh)
Bangalore-based plant lover and home decor enthusiast, Instagram user @sowmya07, has given major zen vibes in her balcony. She has used different kinds of plants, sculptures, paintings, wind chimes and other decorative hangings. The most noticeable things in her balcony is a traditional Indian charpoy daybed and coconut shell birdhouse.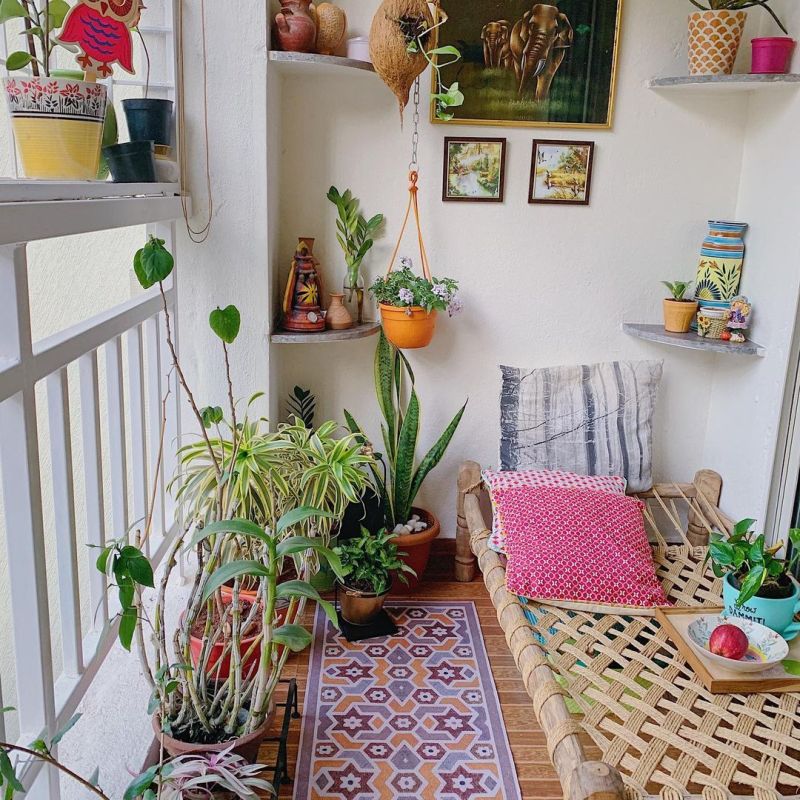 7) Follow @girl_withbindiya (Khan)
Instagram user @girl_withbindiya prefers DIY decorations and her balcony decor is perfect evidence of it. Her balcony comprises plants, botanical paintings and a hanging chair. You can also see a number of stunning macrame decor. This balcony is a testament as to how one can transform a small space into a relaxing haven.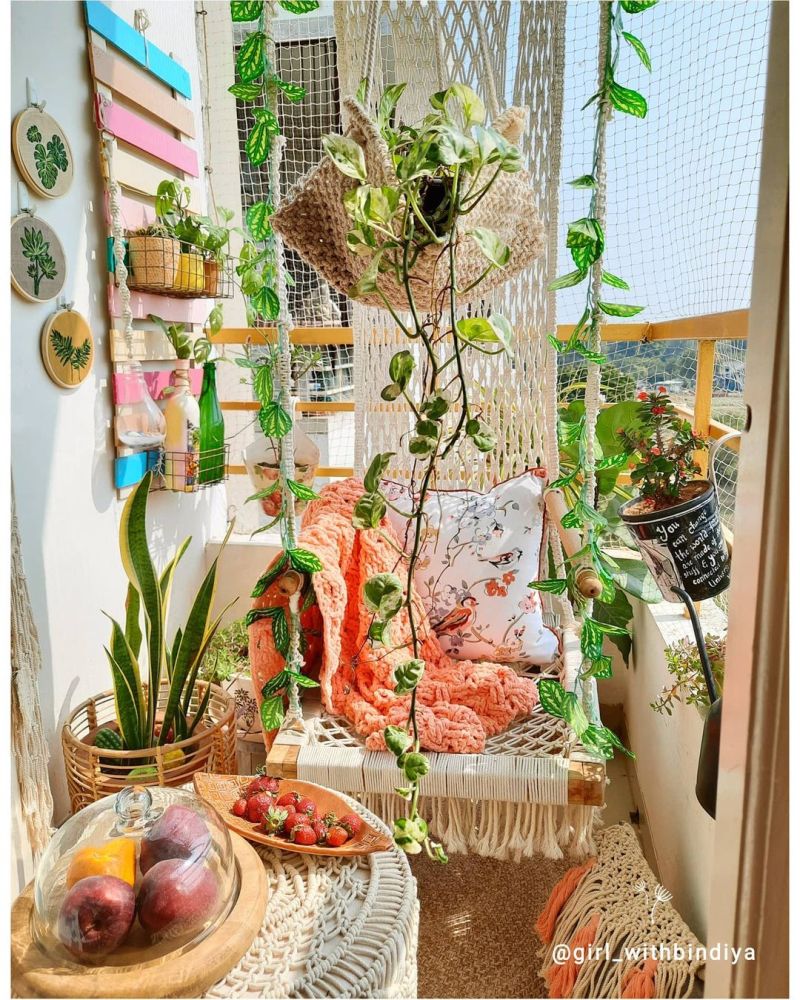 8) Follow @riseandshinefamily (Mohini Singh)
Instagram user @riseandshinefamily's apartment balcony is a bright space, decked mostly with animal-shaped planters and wall decorations. The turfed floor and planter stands are some other cool elements of her balcony.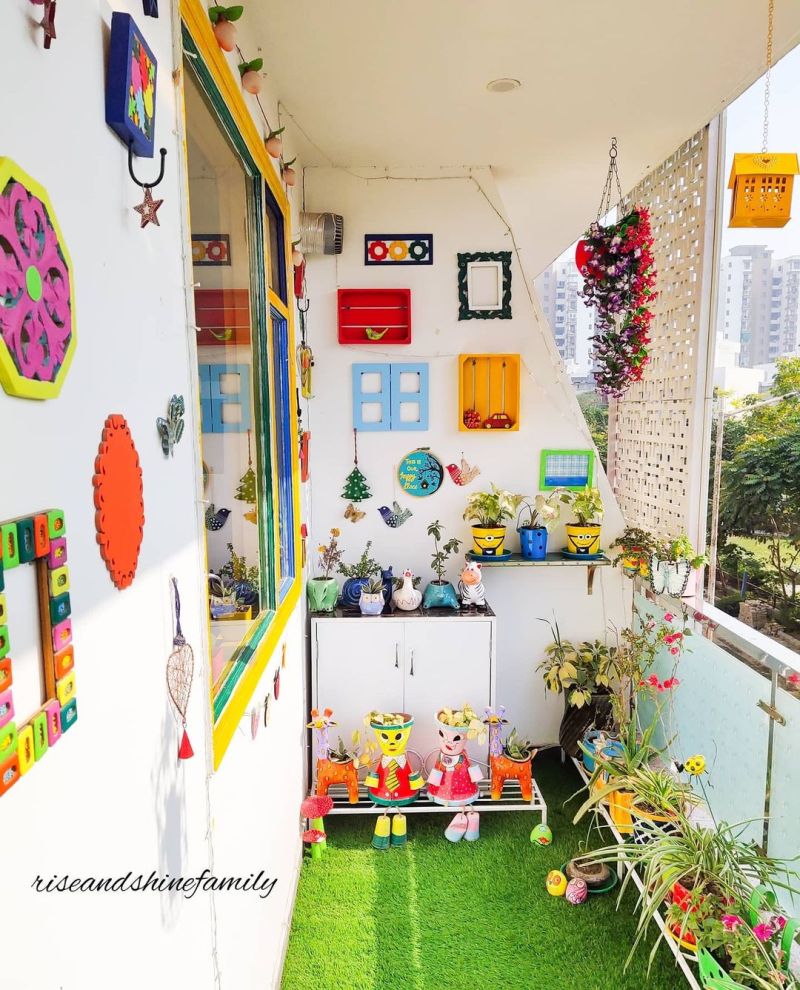 9) Follow @suppushome (Superna Roy)
Bangalore-resident and Instagram user @suppushome decorates her balcony with plants. She has also included metal sculptures and macrame wall hangings. The way she utilizes carpets and cushions in balcony decor is very inspirational.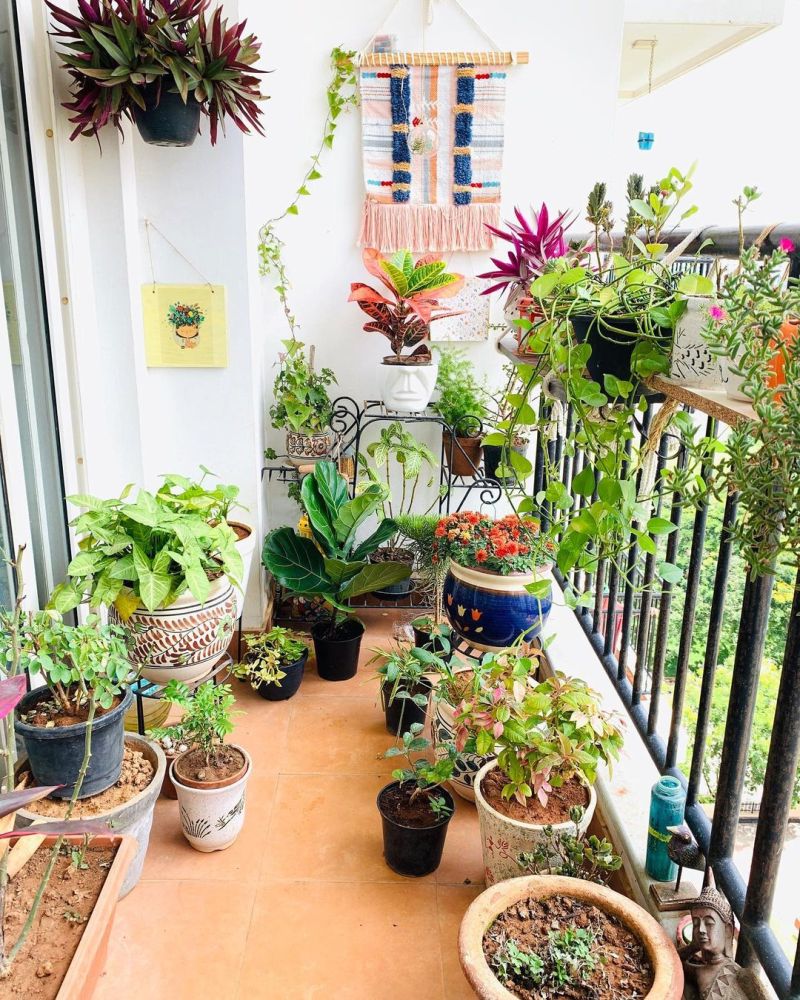 10) Follow @the_sassy_grihni (Amita Arya Anand)
A homemaker, Instagram user, the_sassy_grihni has renovated her home's balcony into a green corner, with a variety of plants, wall posters and furniture. She has also used a ladder as a stand for planters, which is surely a unique balcony decor idea. Her balcony is a good example of shabby chic decor.