Baby strollers are one of the important items that parents needs to buy. They not only make it easier for parents to move around with babies but also provide a comfy and safe place for babies from sun or cold. Buying the best baby stroller is not easy, as there are many different options available in the market. You should decide the perfect one according to your particular needs, required features, and the budget.
Before you buy a baby stroller, you should also be aware of the available options in the market. You may have heard of prams and strollers – both these terms are nearly similar products, however; there are subtle differences between them. Prams are designed to carry newborn babies in a sleeping position whereas the strollers are for toddlers who can sit.
If you are shopping for an infant or a toddler; be sure to check out the size, material, weight, convenience, safety, durability, maneuverability, and seat reclining facilities, etc. When buying a baby stroller – just keep the following factors in mind and you will be able to decide the best one for your baby easily.
What are the main features to look for when buying a baby stroller
Weight and capacity
Reclining positions
Canopy
Handle bar
Comfort and safety
Footrest
Additional storage
Airflow
Colors
List of some of the best baby strollers/prams to buy from Amazon India
1) LuvLap Sunshine Baby Stroller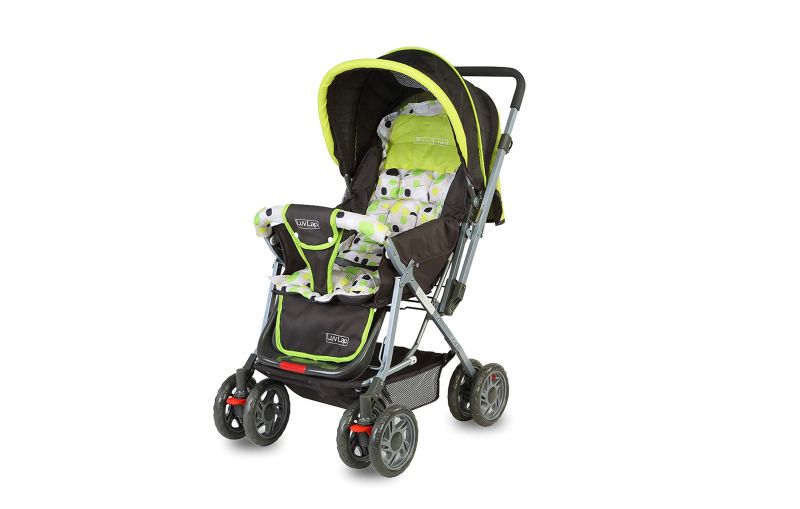 LuvLap is one of the best-selling stroller brands in the Indian market. They offer different options; however, the Sunshine Stroller is the most reviewed offering from the brand. It features a 3-position reclining seat for baby's comfort and 5-point safety harness child safety.
With 360-degree front wheel swivel with lock and rear wheel brakes, handling the stroller will be easy. The stroller is available in a variety of colors to match different styles.
Other features
Foldable design
Reversible handlebar
Detachable and washable seat cushions
Detachable mosquito net
Adjustable footrest
Storage basket
8.20 kgs weight
Carrying capacity of maximum 20 kgs
Price: ₹3,999
2) Daffodil Economy Newborn Pram by StarAndDaisy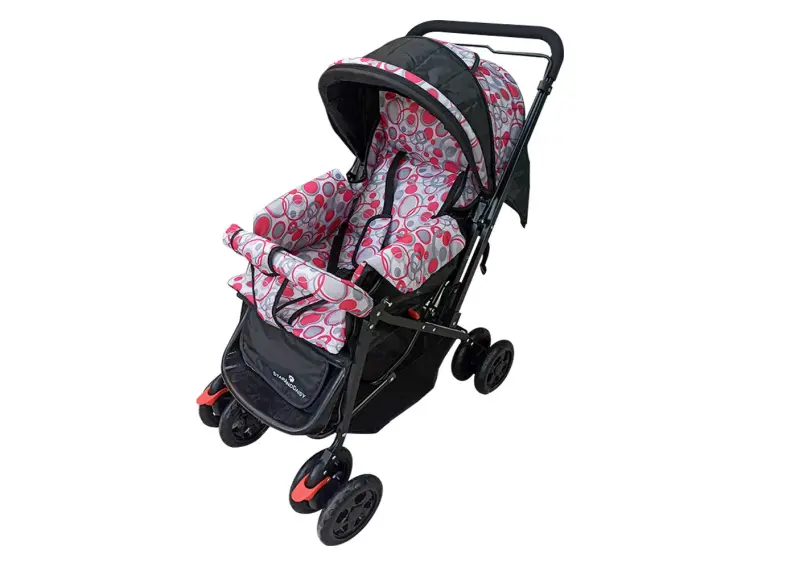 This stylish baby pram features floral prints and comes with detachable soft cushion. There are multiple choices for colors. This baby stroller is made using 1.8 mm thick steel tubes. The 5 point safety harness ensures the safety of the baby.
The stroller can be used for seating and can be turned into a sleeping bed. Its compact, foldable structure is travel friendly.
Other features
2-in-1 design
Canopy
Swiveling wheels and rear wheel brake
Reversible handle bar
Five colors choices
Over 8 kgs weight
15 kgs weight capacity
Price: ₹3,099
3) Mee Mee Baby Pram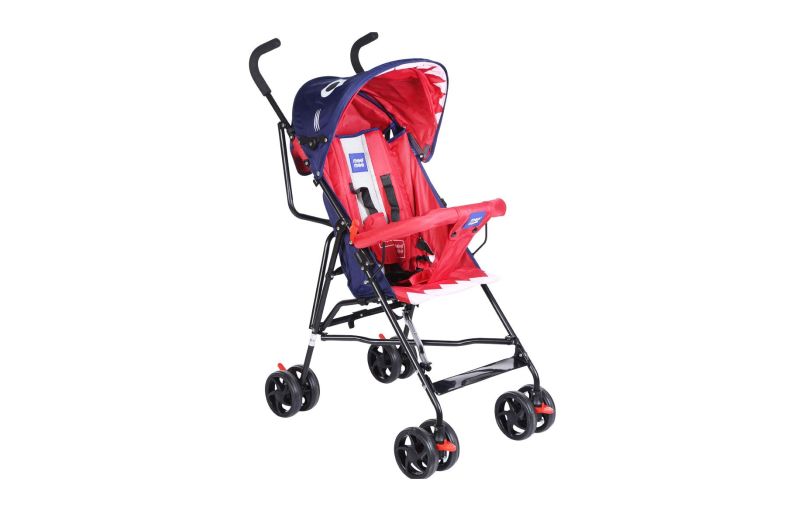 Mee Mee baby stroller lets your baby travel comfortably when you are out from your home with him/her. It is suitable for babies of 6 months and above. The multiple position seating allows adjusting the seat at the different angles for the baby.
Other features
Folding design
Soft foam handles
Wheels with brakes
Double protection safety lock
Adjustable 5-point safety belt
5.5 kgs weight
15 kgs weight capacity
Price: ₹2,659
4) Little Pumpkin Baby Stroller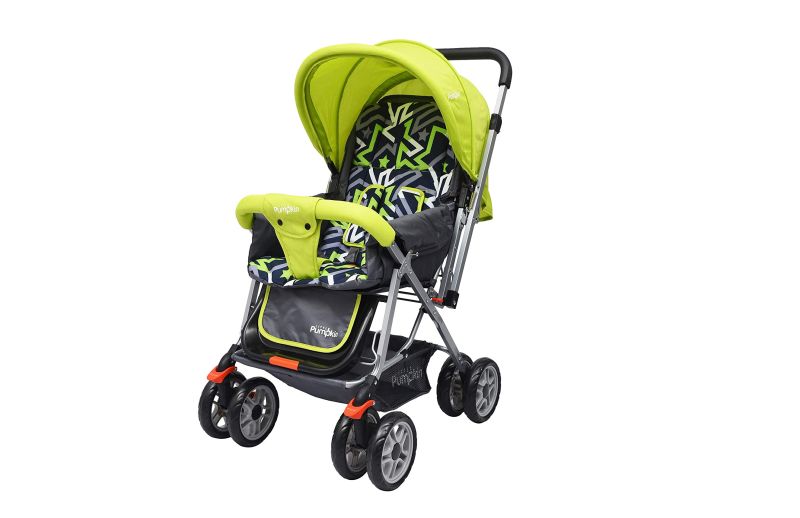 This is a compact stroller that can be carried easily during travel. It features all-terrain wheels with front suspension for a smooth ride. There is an onboard canopy for shading. It is usable for 0 to 3 years of babies.
Other features
Multiple colors available
Reversible handle
3 reclining positions
Easy one hand fold mechanism
Storage basket
Leg rest
Over 8 kgs weight
20 kgs weight capacity
Price: ₹3,749
5) POLKA TOTS Zebra Baby Stroller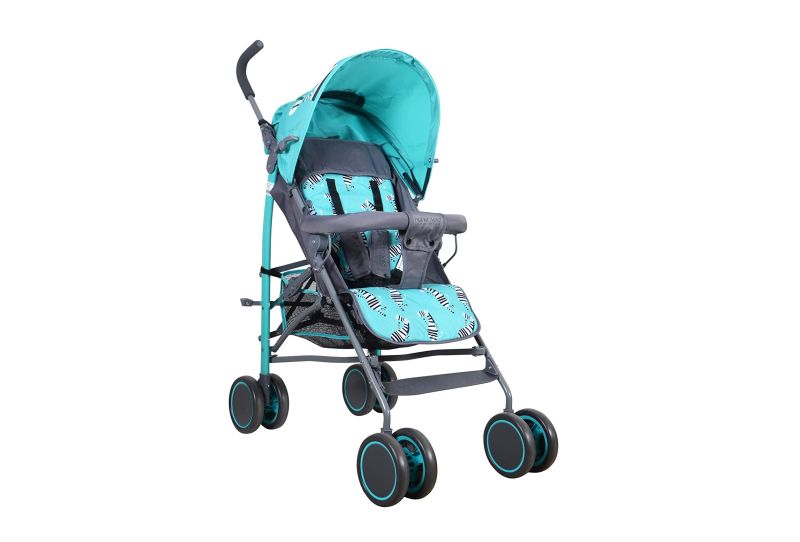 Designed with anti-shock front wheels and lockable rear wheels, this umbrella baby stroller is a safer medium to carry babies around. Its contouring design provides comfort and stability while the steel frame ensures durability. It has a breathable mesh window at the top to maintain airflow for the baby. The canopy is adjustable and removable.
Other features
6 reclining positions
5 point safety harness
Flip out sun visor
Easy folding design
Easy to carry adjustable strap
Footrest
Choice of colors
Storage basket
6 kgs weight
20 kgs weight capacity
Price: ₹3,699
ALSO READ: These Low Maintenance Houseplants are Perfect for Lazy Gardeners
6) DOTMOM Rainbow Buggy Baby Stroller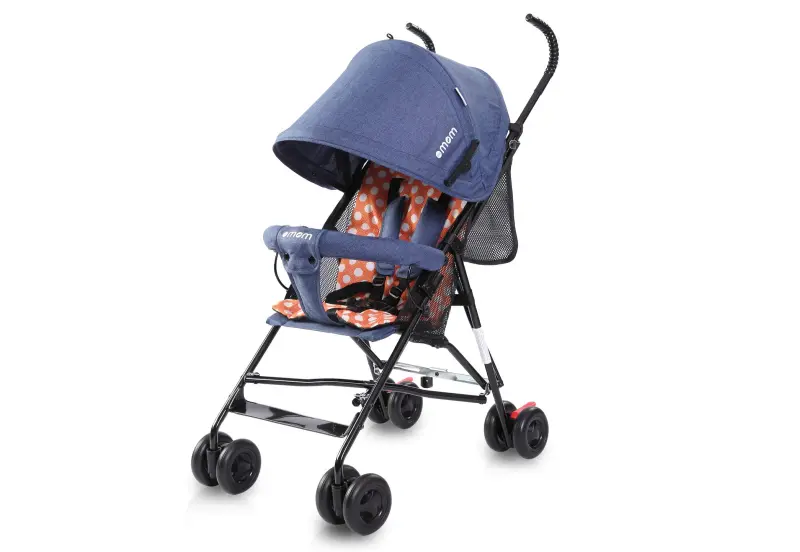 This quick folding buggy pram features a classy and lightweight design. It is lined with 300D Oxford fabric and comes with a cotton cushion. Its umbrella fold design saves a lot of space when not in use. Its steel frame is durable and the fabric is colorful.
It has 4.5" wheels with brakes for a smooth ride for the baby and a cotton padded safety bar at the front for an added safety. There is also a storage pocket at the back to keep the baby essentials.
Other features
Extended canopy
5 point safety harness
Three colors
2 kgs weight
Fit for kids weighing up to 15 kgs
Price: ₹2,399
7) Fisher-Price Lil' Master Baby Stroller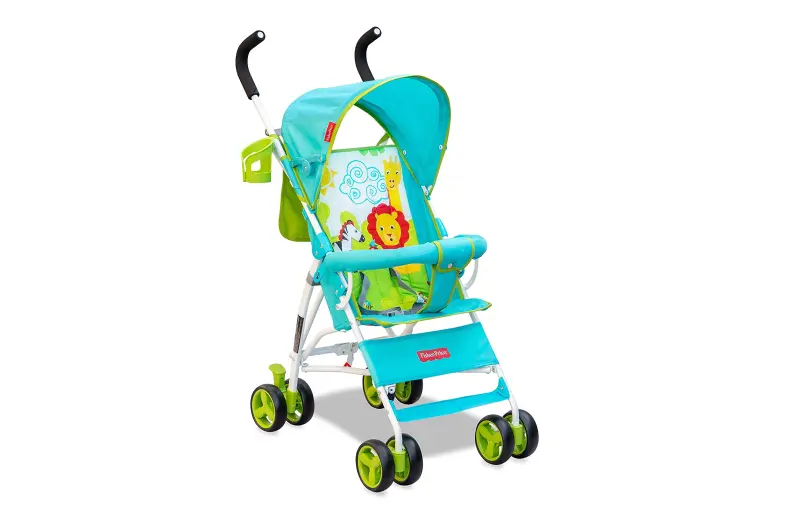 This umbrella baby stroller features fun characters of Fisher Price. The printed backrest is well cushioned to keep the baby comfortable. It is suitable for the baby from 6 to 36 months. There is a foot rest for the baby. The bottle holder and printed storage bag further add to the overall functionality.
The stroller folds down easily to a compact size that will fit easily into the car. It will be useful for travelling with a baby.
Other features
Easy assembly
Foam covered handles
Choice of colors
3-point safety harness system
6 kgs weight
15 kgs weight capacity
Price: ₹3,949
8) BabyGo Baby Stroller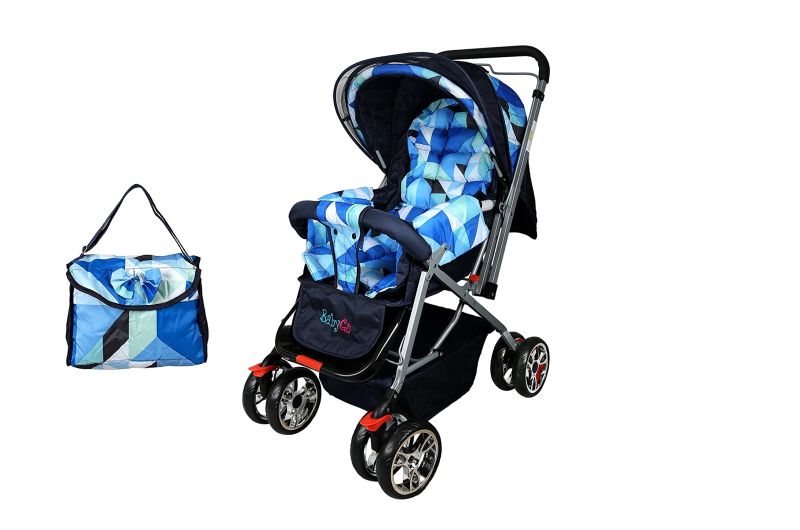 It is a modern-looking baby stroller featuring a large-size, adjustable canopy with a looking window. Lightweight and foldable, it is easy to transport. The rear wheels come with brakes and the front wheels have direction fixers.
Other features
3 reclining positions
2 point safety harness
Adjustable handle
Storage basket
Included mosquito net
Comes with a matching diaper bag
Color choices
Nearly 9 kgs weight
12 kgs weight capacity
Price: ₹3,699
Tiffy and Toffee Baby Stroller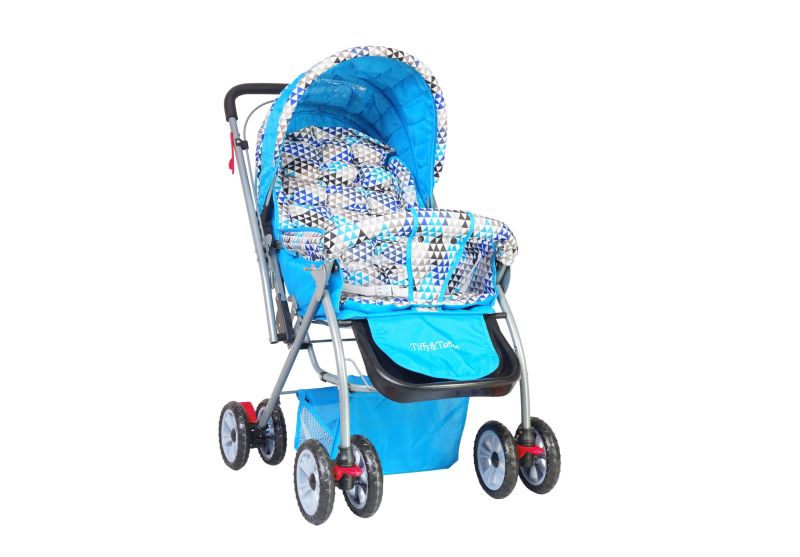 If you are looking for colorful baby strollers, Tiffy and Toffee has a variety of choices. From the cool black and purple to the combo blue and white, they are offering a variety of color choices. The stroller has a canopy with mosquito net and looking window. There are rear brakes and front wheel lock for safety during travel.
Other Features
3 position reclining seat
Padded cushion seats
Reversible handle with soft rubber grip
3 point safety harness
Back pocket and large storage bucket
Foldable design
Adjustable footrest
Musical toy
8 kgs weight
Weight capacity up to 15 kgs
Price: ₹3,478
Sunbaby Baby Stroller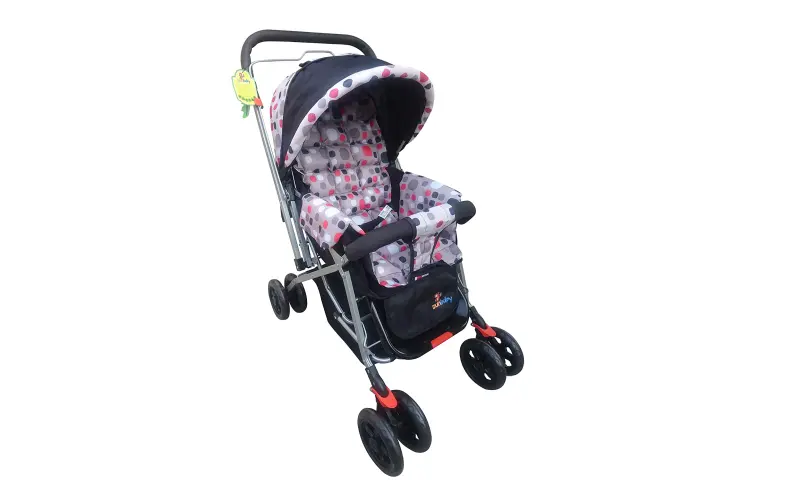 Ergonomically designed for baby's comfort and safety, Sunbaby baby pram is suitable for new-born babies up to 3 years. With an extra thick layer of cushioned seats, it is comfortable and when dirty, the padded seat can be removed for washing easily. Its rotatable front wheel helps the stroller to move in any direction.
Other Features
Adjustable seat angle
3 Point harness
Foldable design
Reversible handle
Adjustable footrest
Emergency brakes
Canopy with mosquito net
Variety of color choices
Weight 8 kgs
Weight capacity 25 kgs
Price: ₹3,498