Most of the Indian kitchens are small but they are full of appliances, utensils and other accessories. Having a fully equipped kitchen is everyone's dream but the real challenge is keeping all these cooking equipment organized for a clean, clutter-free look (which every homeowner wants). Kitchen utensils holders or organizers (Bartan Stand) are helpful accessories for kitchen organization. They can help you add make most out of the available space and also help with organization.
You can find a variety of kitchen utensils holders out there but choosing the perfect one from the available choices is a bit tedious task. When buying a kitchen utensils holder, you should consider the material, size, assembly, number of shelves carefully. Also keep in mind what utensils you should be storing in it. Some kitchen racks are only for plates and bowls while some others have hangers for cups and other utensils as well.
Also Read: 10+ Wind Chimes You can Buy Online from Amazon India in 2020
If you are looking for the best kitchen dish racks you can buy online in India, we have compiled a grand list for your help. The list includes more than 10 different kitchen storage racks from different companies. We have tried to include all the popular Amazon kitchen organizers on the basis of reviews and ratings. all the the kitchen dish racks can store multiple items.
So, without wasting any time, let's take a look at kitchen utensils organizers you can absolutely try for your Indian kitchen.
Royal Aakriti Kitchen Utensils Stand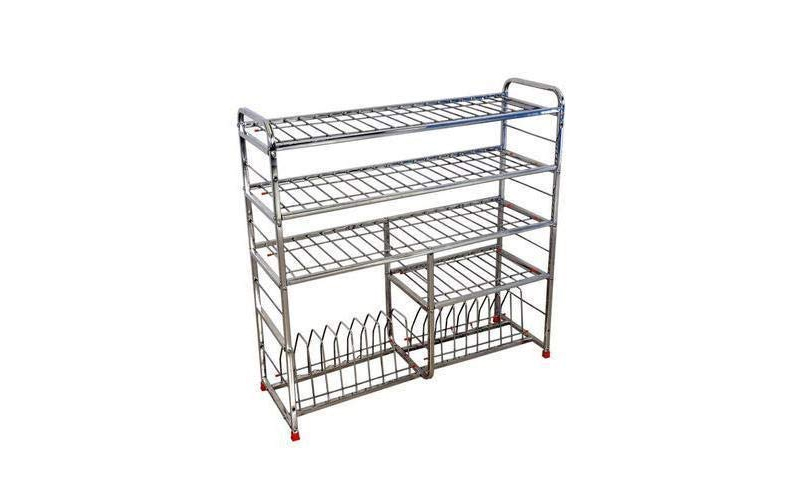 It is a 30 x 24-inch kitchen utensils organizer made from international grade AISI 446 stainless steel. There are multiple-tiered shelves that can hold a plenty of plates and bowls. It comes with a rust-proof finish.
Price: ₹1,499
HPR Kitchen Utensils Organizer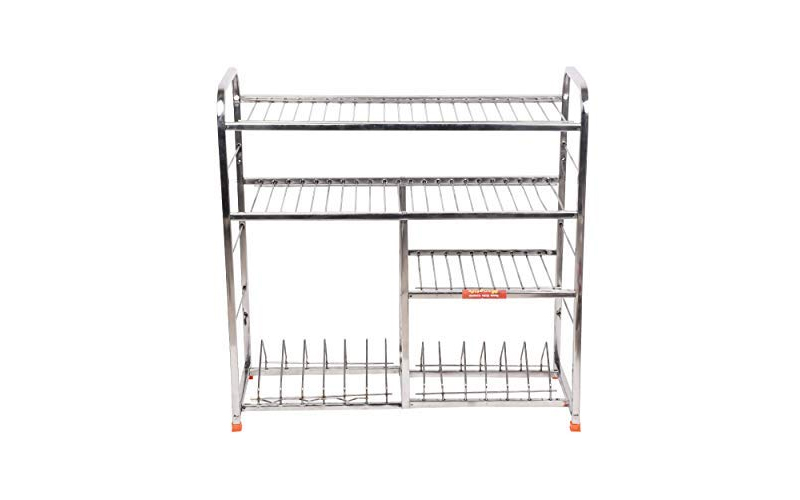 This kitchen utensils holder is one of the most affordable and good-looking products you can find online. It features a cool four-sided bar design with multiple-tiered shelves. It will provide efficient storage for kitchen utensils like plates, spoons, bowls and glasses.
Price: ₹1,199
Home Creations Kitchen Dish Rack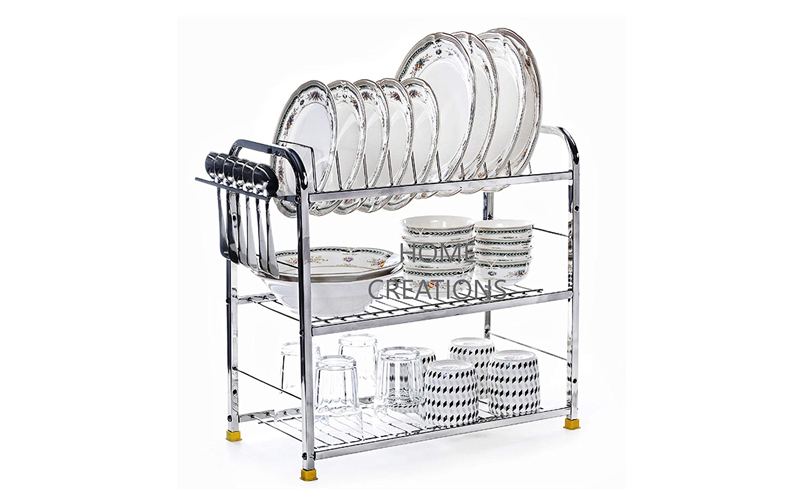 This 18.8-inch chrome kitchen dish rack features three layers. It has space for up to 17 plates or bowls and a side-mounted mug stand and cutlery holder. This rack can help you with kitchen organization. It is also a breeze to assemble.
Price: ₹1,099
Home Belle Kitchen Utensils Rack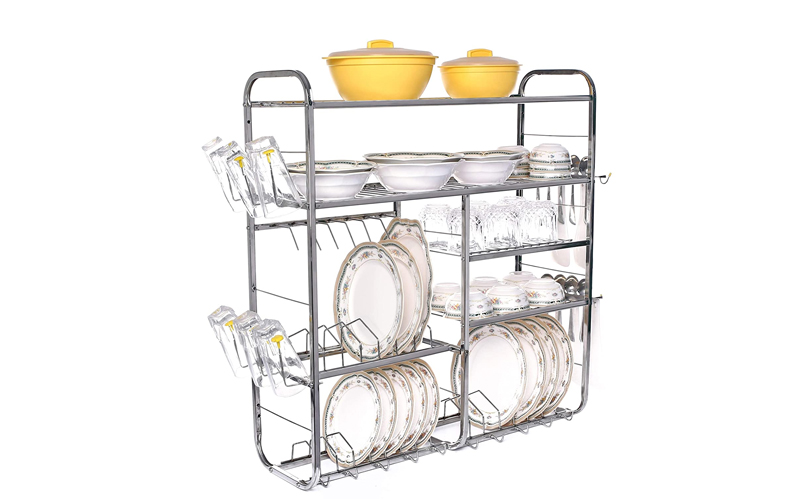 It is a 30-inch kitchen dish rack that holds plates and other cutlery. There are four levels in the rack and also separate storage for glasses and other small utensils. It has space for up to 60 plates and additional side holders.
Price: ₹1,999
SLIMSHINE Kitchen Storage Rack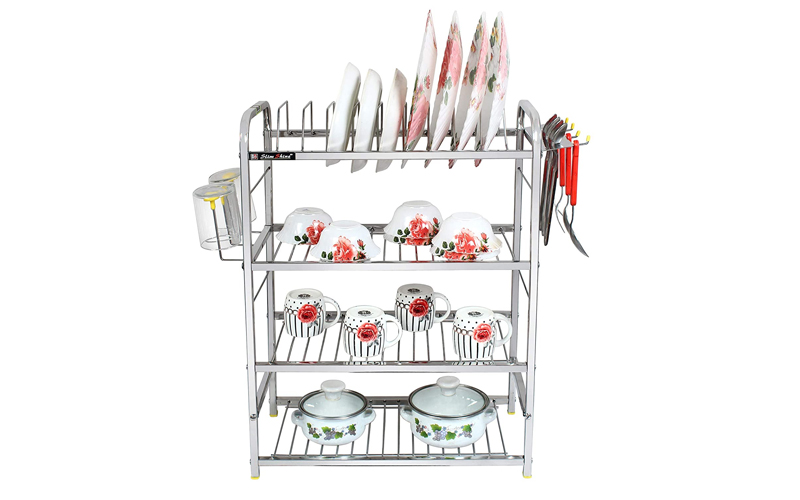 This 18 x 24 inch kitchen dish rack has four shelves and side hangers for additional storage. Its rounded pipe design looks lovely. It can hold up to 17 plates or bowls. If needed, it can be mounted on the wall.
Price: ₹1,299
PALOMINO Kitchen Utensils Holder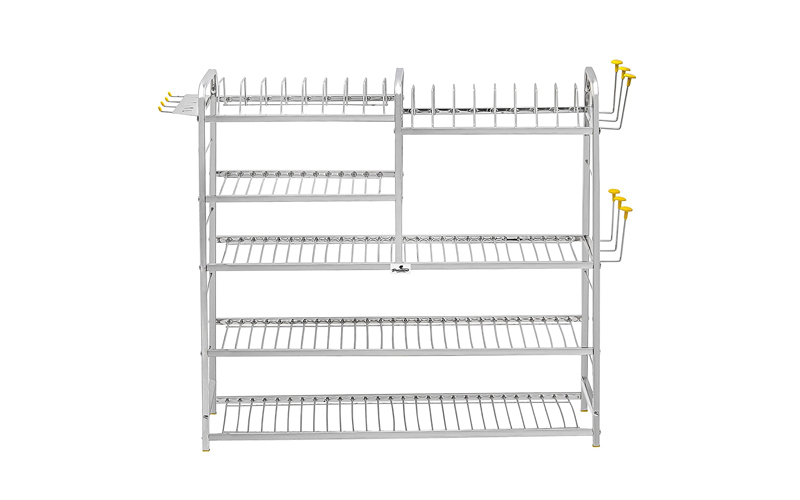 This 30-inch utensils storage rack will help in kitchen organization. It has 5 layers and other storage hangers. Its four-sided streamline pipes look strong and elegant. It holds up to 17 plates or bowls.
Price: ₹2,345
ROYAL SAPPHIRE Stainless Steel Kitchen Stand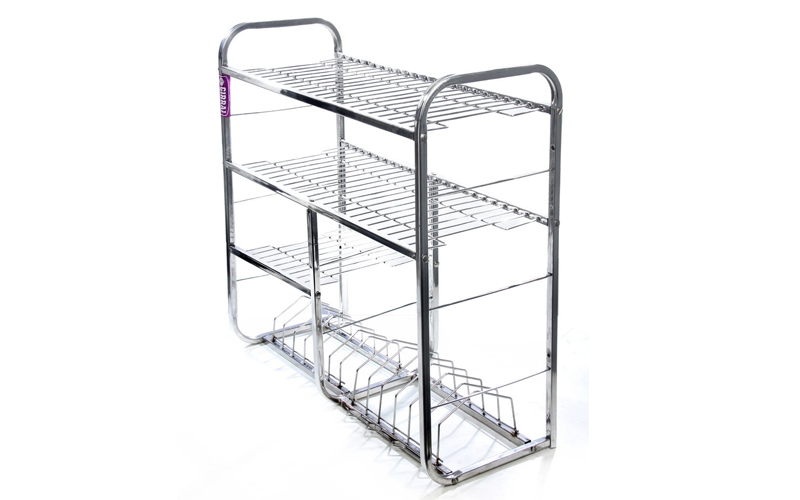 This 24-inch utensils stand will be ideal for small kitchens as it takes less space when placed against the wall. The feature to highlight is its construction in heavy gauge stainless steel. It is polished in silver for a stylish modern look. The rack is also wall mountable.
Price: ₹1,349
Callas Kitchen Organizer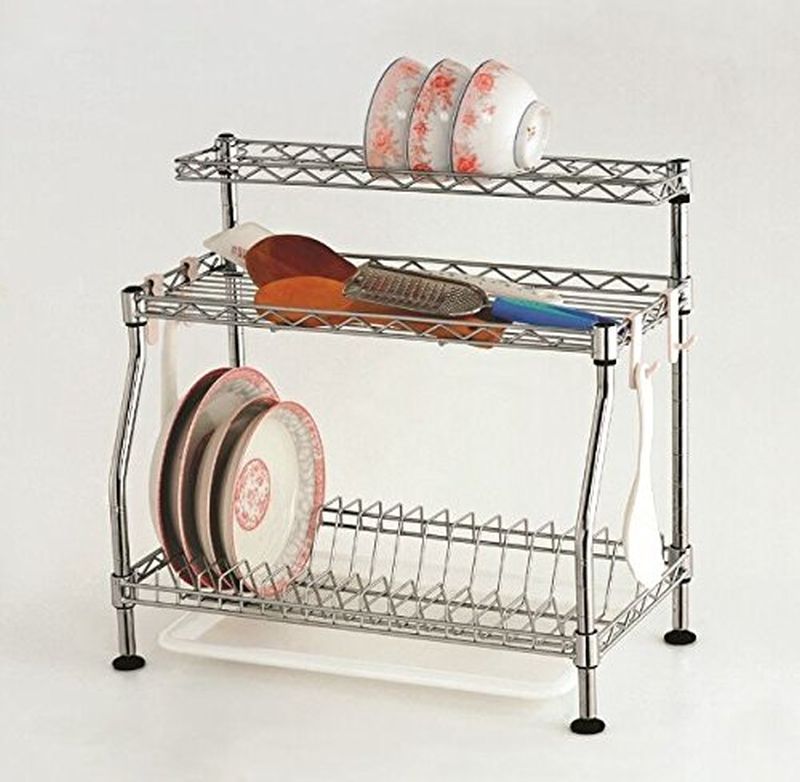 This rack is small in size but it looks elegant. The height of the shelf is adjustable, which distinguishes it from other options as well. It has one shelf to keep plates, and one shelf in the center to keep utensils of different size and weight, one semi round shelf on the top to keep bowls etc. and two plastic hooks on the side.
Price: ₹2,281
Kurtzy Kitchen Rack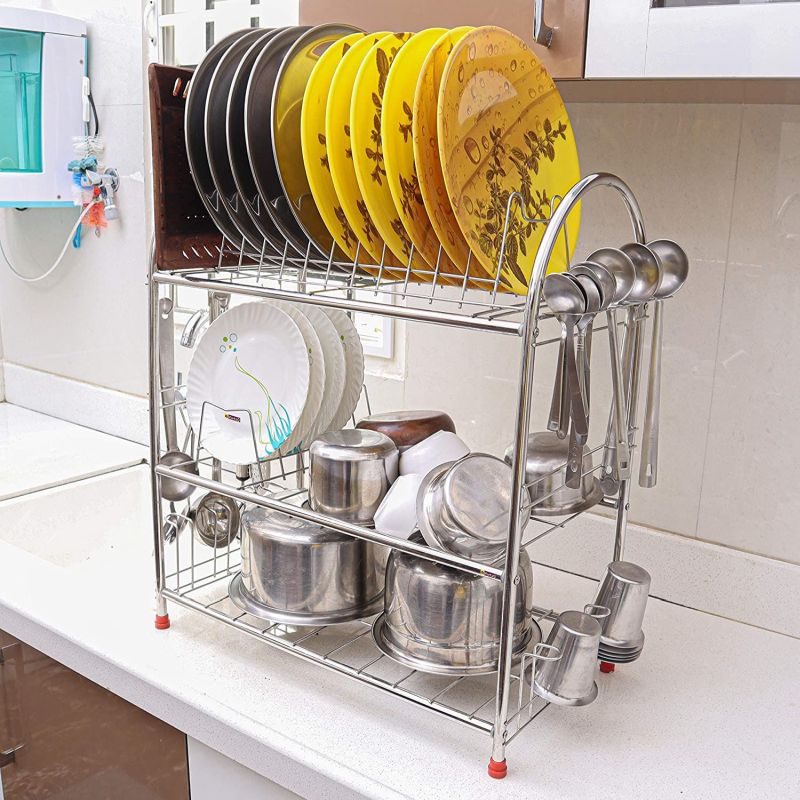 It is a 24-inch stainless steel kitchen storage rack that can hold dishes up to 15 Kgs. The rack has 3 tiers, from which the first one can conveniently store plates, the middle tier will store small bowls and quarter plates while pots and pans will be stored in the bottom tier. It can hold up to 11 plates with 2 cutting boards and has 6 hooks to hold different utensils. There are also tumbler holders in the rack. Lastly, it comes with anti-slip bush on the feet.
Price: ₹2,299
WINSTAR Kitchen Storage Rack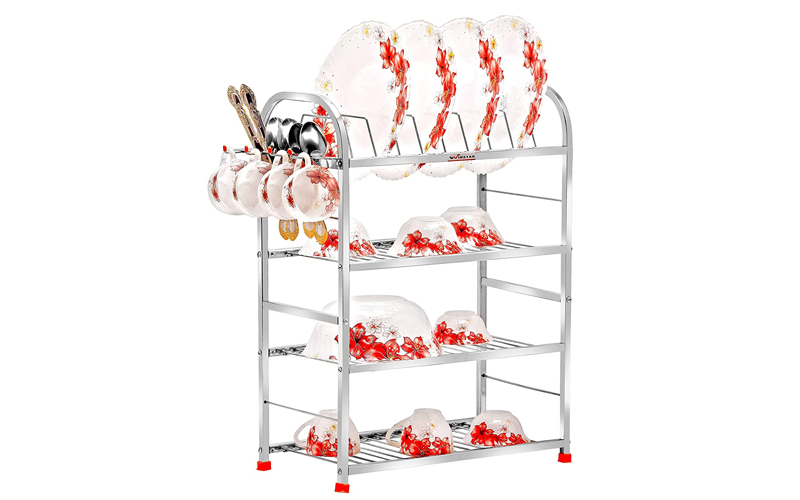 This rack can hold more than 17 plates and bowls. It is a good option for small families. The rack is a durable and wall mountable product that is made in India.
Price: ₹1,219
Levon Folding Kitchen Utensils Drain Organizer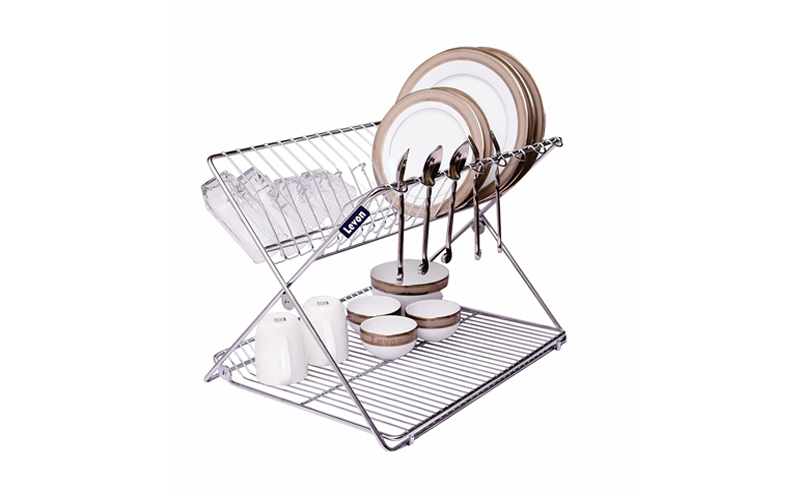 This two-tiered countertop utensils organizer is a space saving accessory for kitchen. It can be used to accommodate different sizes of plates, cups, bowls and glasses. Its metal frame with multi-layered chrome plating is sturdy enough to ensure long life and a fine look. It comes with a drip tray.
Price: ₹2,557
INDIAN DECOR Dish Draining Rack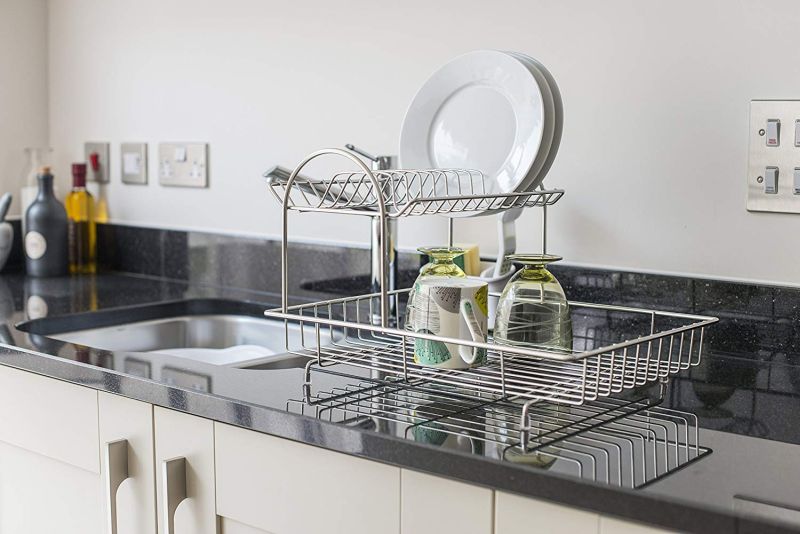 This 2-tier stainless steel dish rack can conveniently be placed on the kitchen countertop. It will take less space and help drying utensils. The first shelf is for glasses and bowls while the second one is for plates. A simple and graceful kitchen organization solution!
Price: ₹1,880