Balcony is an open place outside a home or apartment, usually meant for homeowners to soak natural light and absorb fresh air. It should be a comfy place where you can spend the whole of the day happily. You can easily elevate your balcony decor with furniture, plants, lights and other decorative pieces, however, wind chimes can also be a great addition that bring soothing music to your balcony when wind blows.
Wind chimes not only look beautiful but also sound wonderful. You can find a variety of wind chimes in the market and in different online stores. They come in different materials, which you should consider carefully. Go for metal wind chimes if you are looking for the one that produces pleasant sound effects. The ones made from terracotta and wood would not produce that much sound.
Want to buy one but confused among the varied choices? We have compiled a list of the best wind chimes you can buy online. Hope you would get the desired one from the following:
Best Wind Chimes to Buy from Amazon India
# This colorful, 24-inch metal wind chime from PARADIGM PICTURES is one of the most beautiful offerings you can find online. It consists of 7 colorful aluminum pipes that are hung on a wooden base. Perfect item to add colors and pleasing sounds to balcony.
USP: Its most recent reviews are positive. Many reviewers have praised its vibrant colors. PARADIGM PICTURES also offers many other metal wind chimes that are popular among people. It's an Amazon's Choice product with 4.5 stars.
Price: ₹521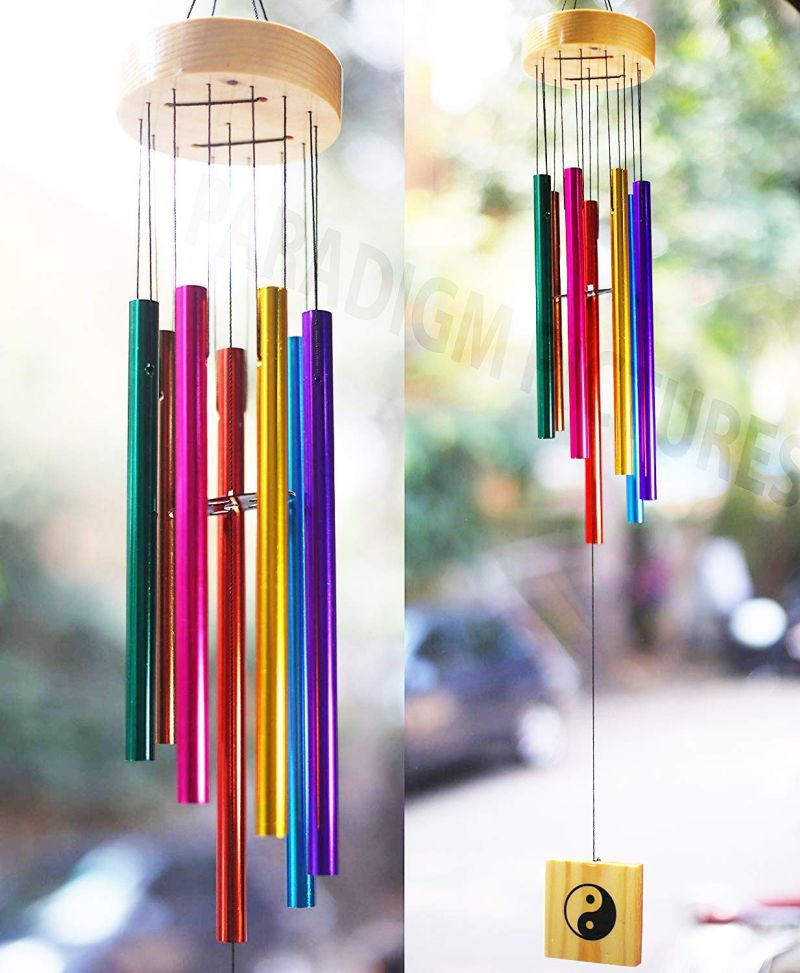 # Featuring six aluminum tubes and nylon strings, the Nature's Melody Aureole Tuned Wind Chime generates soothing tones that delight senses. The tubes are coated with a corrosion-resistant black powder finish.
USP: Its sound is bliss for ears. It has a pretty good rating as well. One reviewer said the chimes are peaceful and would give your house a monastery feel.
Price: ₹2,000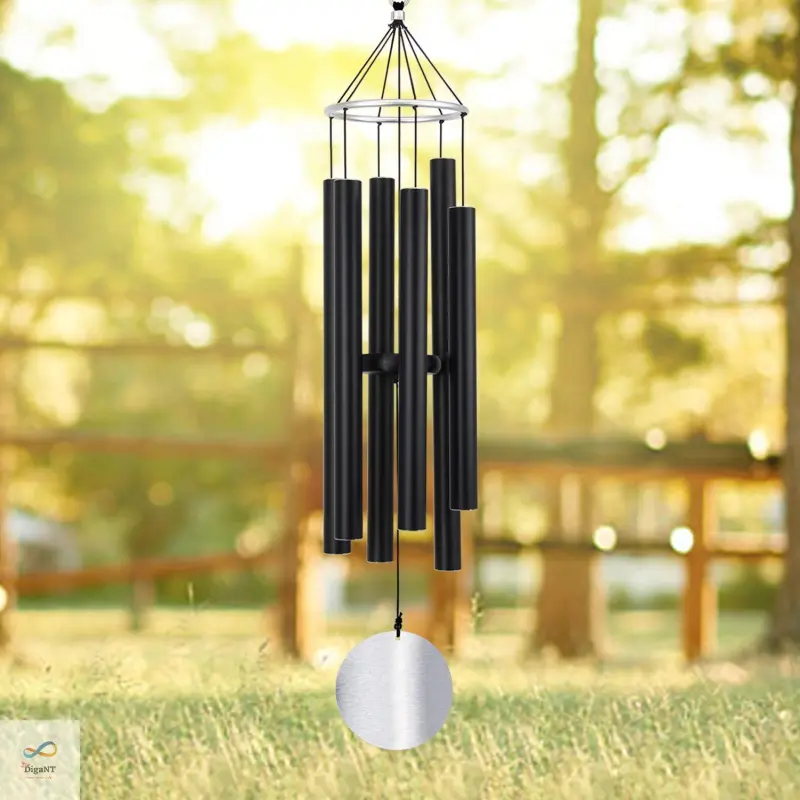 # The LEIGARF large wind chime with multiple 14 aluminum tubes in different colors will be a cool addition to your balcony, even the bedroom. It will produce ear-pleasing sounds.
USP: It is ideal for gift purposes. The wind chime has 4.4 stars and 628 ratings.
Price: ₹999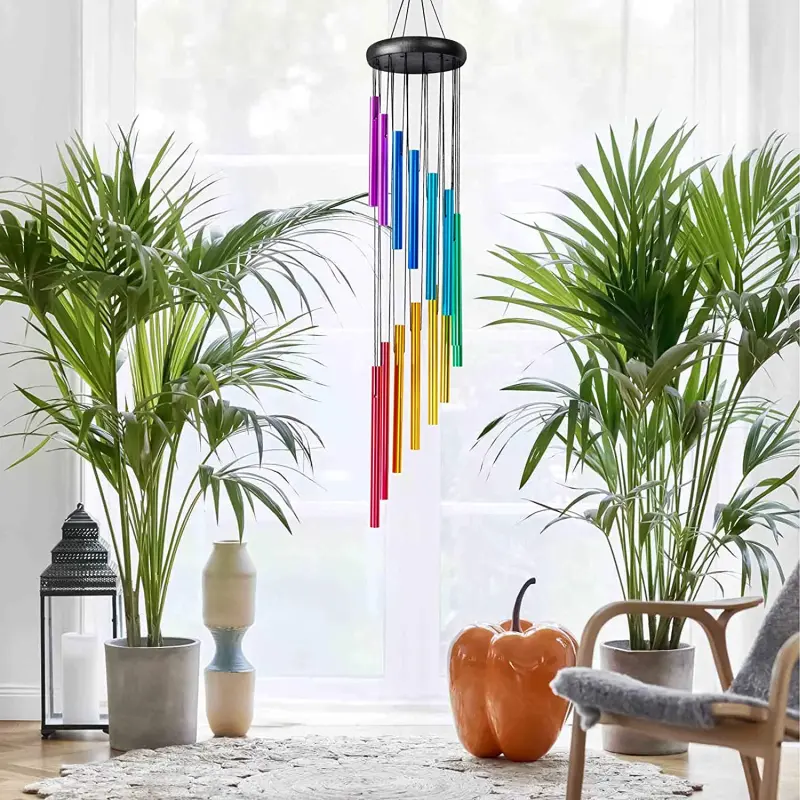 # This aluminum wind chime by Plusvalue can be used for home and office decor. It is built as per – Vastu Shastra and Feng Shui Experts to help bring positive energy to space. It has seven pipes and a wooden structure at the top.
USP: It is ideal for gift purposes. The reviews also say it is a worthy product.
Price: ₹999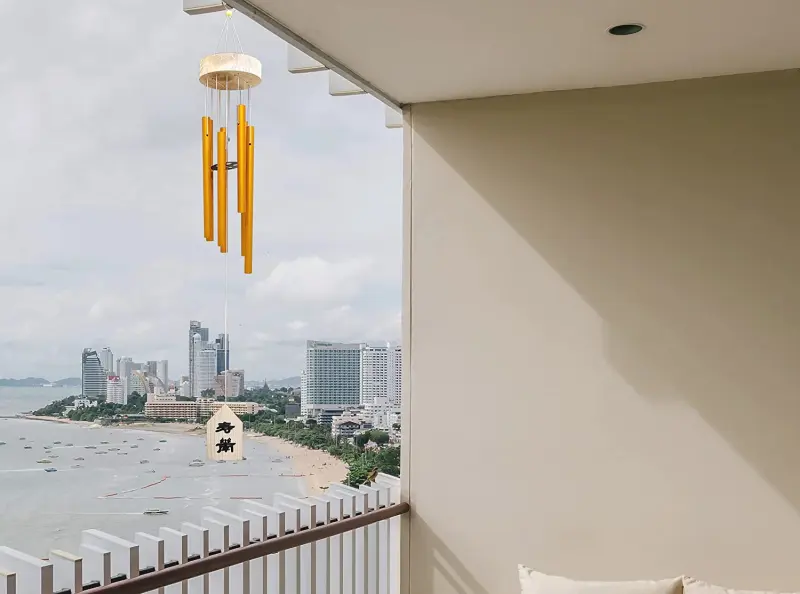 # Ryme offers different kinds of religious wind chimes. You can also buy a pair of two. One of them has 5 golden-colored pipes and the other one consists of Om symbols and Rudraksha.
USP: The low price makes it definitely a tempting offer. The ratings are also up to the mark.
Price: ₹375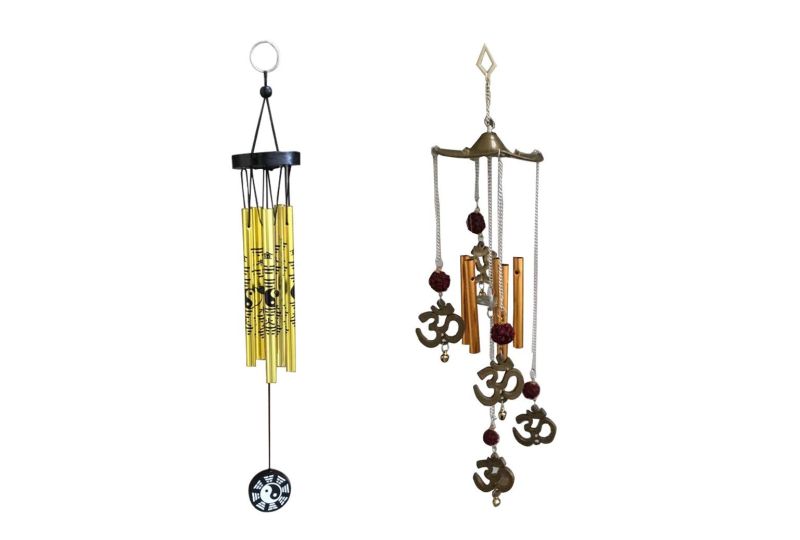 #  This wood and metal wind chime from Craft Expertise comes with 4 metal bells and a heart symbol on top and bottom.
USP: Low price and good quality. Someone has reviewed that it needs strong winds to create a proper chiming sound. The golden finish makes it look kind of fancy. It has a rating of 4.1 stars.
Price: ₹198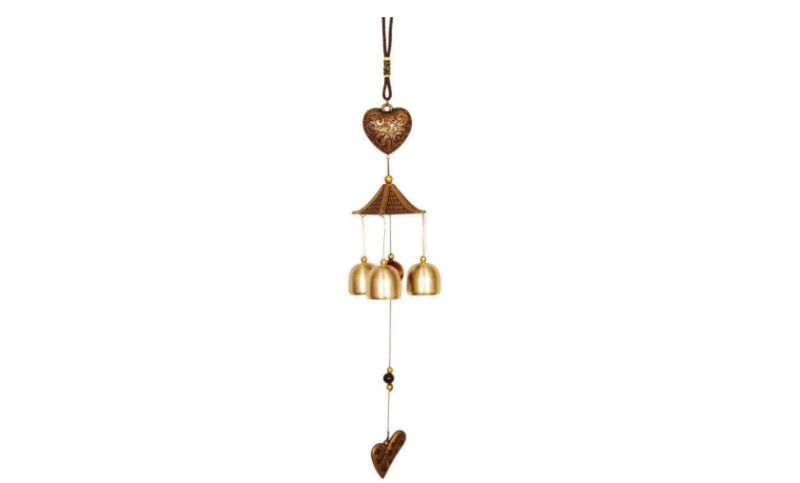 # This 45cm wind chime sold by Craftomanic comes with metal bells that swing in breeze and make nice sounds. The bells are hand-painted in bright reds, yellows and greens, making them an attractive décor piece. The red strings with colorful beads complete the look.
USP: Its price is reasonable, one of the main factor people consider while buying anything. No reviews yet.
Price: ₹225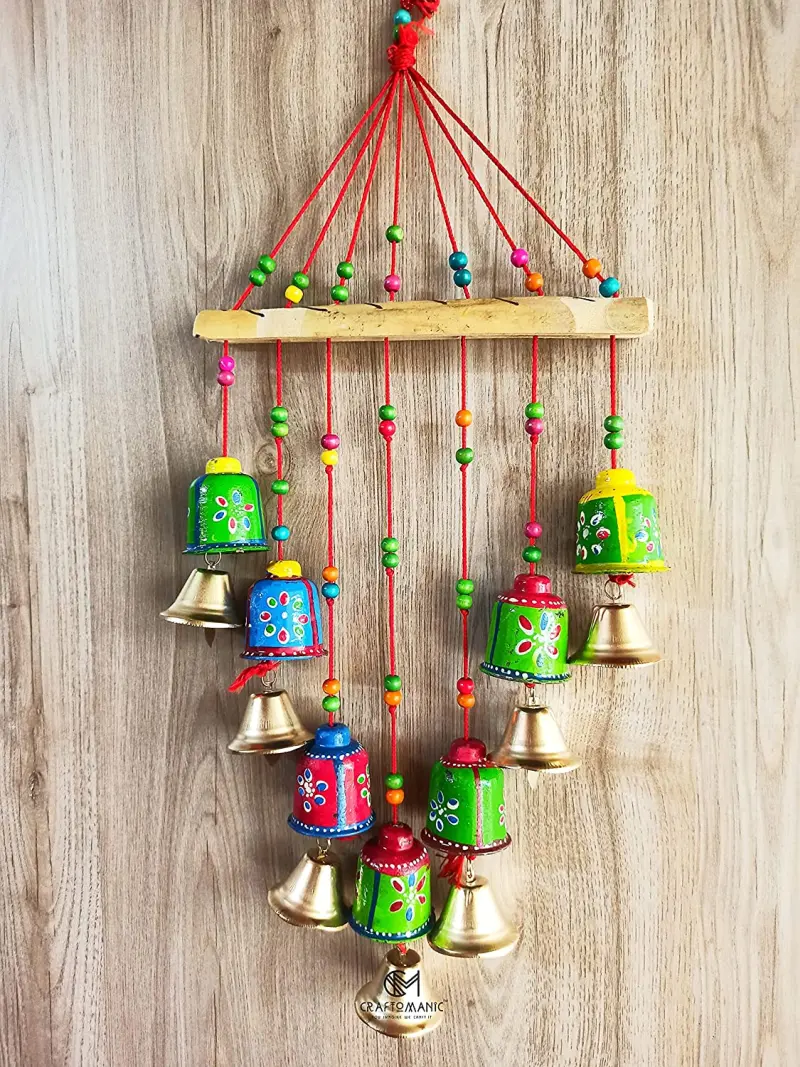 # This 77cm wind chime from DreamKraft is made of paper mache and wood. It features small parrots and small gold-colored bells to make sound with blowing wind. The strings with beads in red, yellow and green blend into the overall color palette pretty well.
USP: Its creative design with elegant colors makes it a good product. No detailed reviews yet. DreamKraft also offers many other types of wind chimes. The reviews are positive, however, it is recommended to ask the seller about the sound quality earlier.
Price: ₹230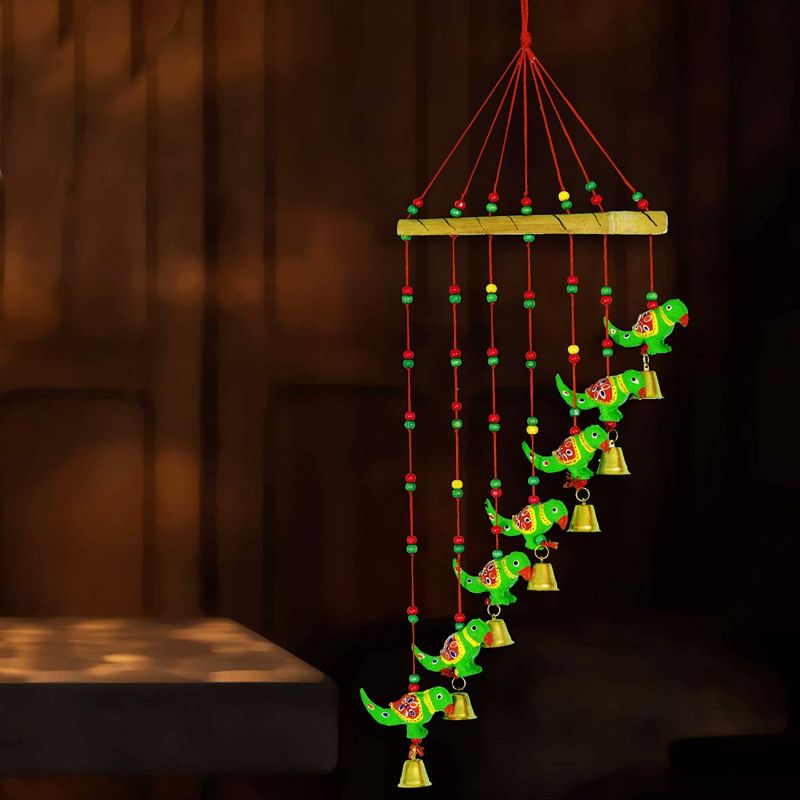 # This 20-inch wind chime from Lilone Gifts features an Eiffel Tower at its top, making it a perfect gift for any loved one. It has 5 copper bells that offer sweet sound. Place it in your balcony or inside your home as a decorative piece.
USP: You can get the Eiffel Tower wind chime at many stores, even in lesser price, but keep in mind that Lilone Gifts is a well known name. The customer reviews are average, ranging from positive experiences to negative ones. Some reviewers have complained about the quality of threads.
Price: ₹280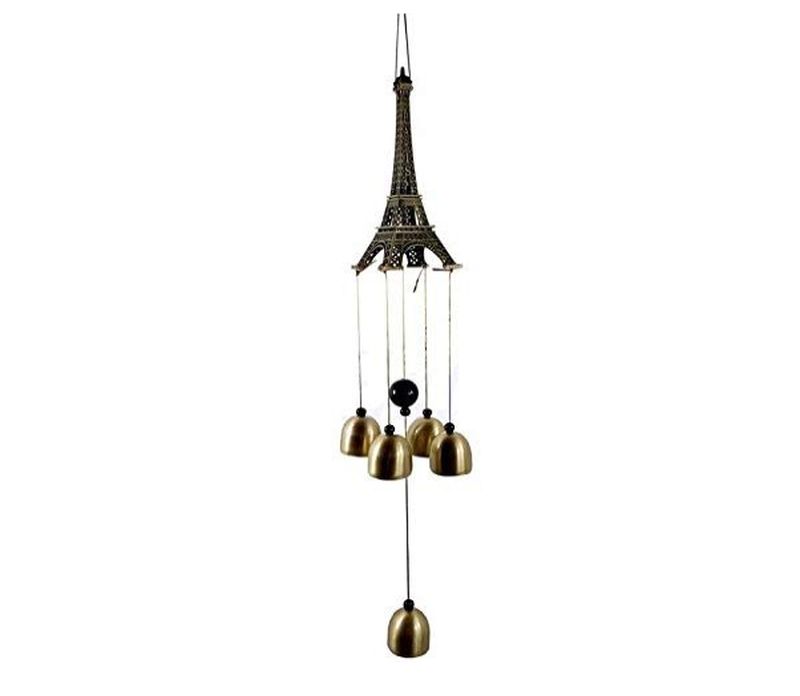 Also Read: 10+ Balcony Railing Planters to Buy from Amazon for Under ₹1,000
# This wind chime with eight ceramic bells from Tomar Trading will look great indoors or in a balcony. The multi-color bells will not only improve the balcony décor but also make a soothing sound with a breeze of wind.
USP: It is among Amazon's New Releases. Most probably, you will not find such beautiful looking wind chime anywhere else. As per a reviewer, it produces less sound that can be a matter of concern.
Price: ₹429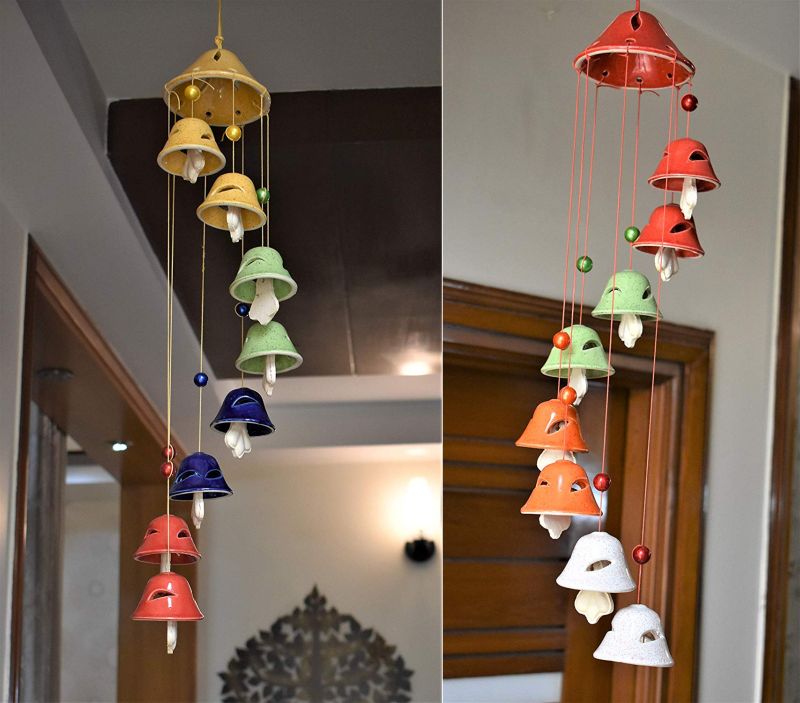 # Looking like a hanging decorative piece, the Raaya wind chime has small metal bells that will produce sound as wind blows. There is also a big colorful bell at the top and even an OM symbol in the center.
USP: A latest wind chime you can buy in 2020. Its sound quality need to be under debate. No reviews yet.
Price: ₹497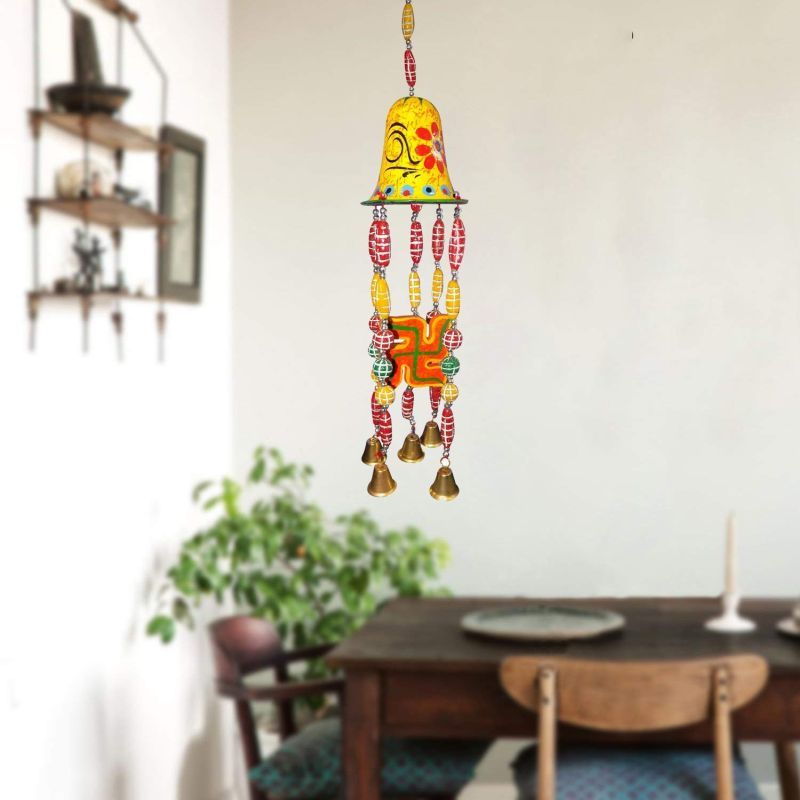 # This modern metal wind chime from ExclusiveLane has 5 colorful hand-painted bells. There is a loop on the top to easily hang it in balcony. It will be a piece of attraction for passersby.
USP: The elegant design and colors will give a luxurious look to outdoor space. No recent reviews, means people have less interested in it. ExclusiveLane has more offerings, check them out too.
Price: ₹1,099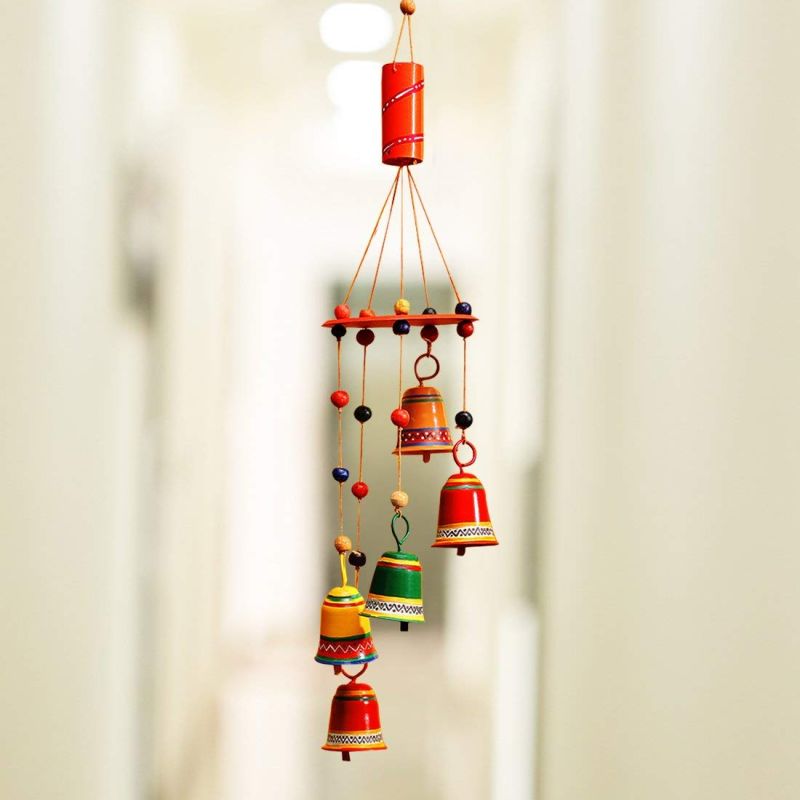 # Exotic Art's metal wind chime is sure to fascinate with its raw and rustic design. Each piece measures 18.5-inches long and consists of 4 wrought and cast iron cow bells in a rustic antique brass finish. The bells stringed up in a rope complete the look.
USP: Simple yet cool metal wind chime. The ratings indicate value for money with the product.
Price: ₹699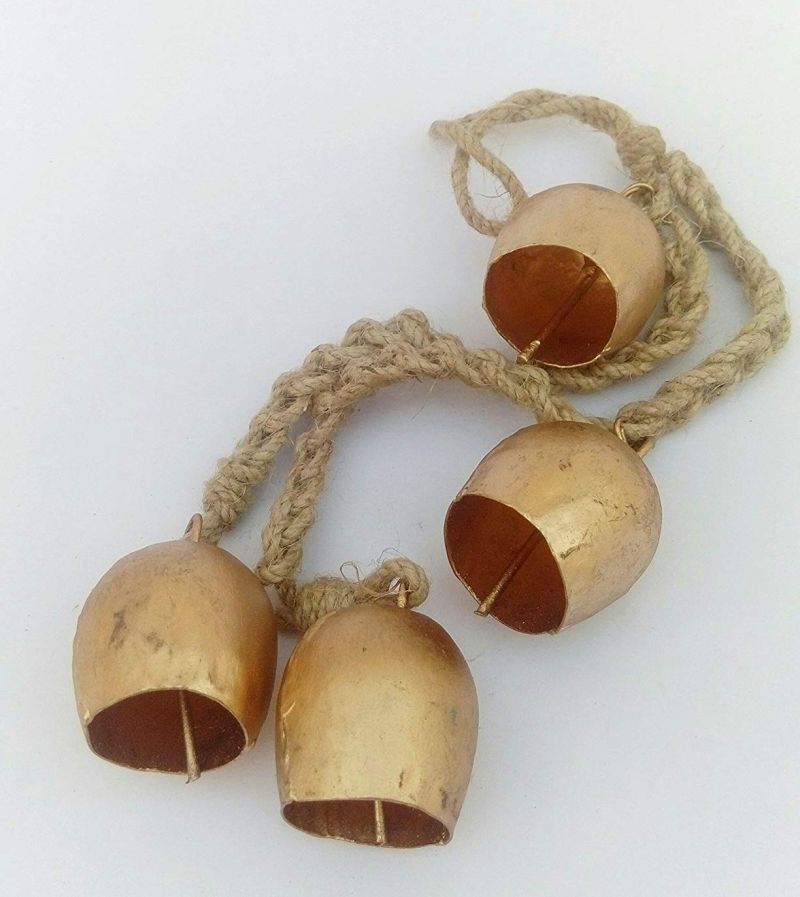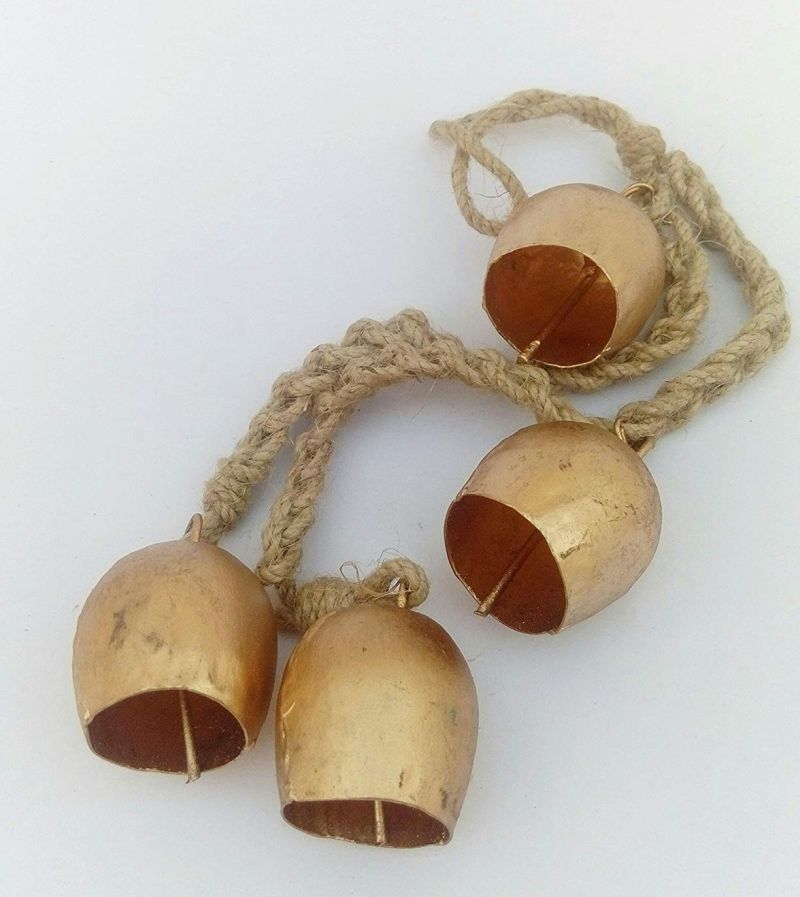 # This unique wind chime from Shellkrafts is made from sea shells. With a rattan header, it will be a coastal addition to your balcony. It is a 23 inch long product.
USP: The natural sea shells will make different sounds.
Price: ₹599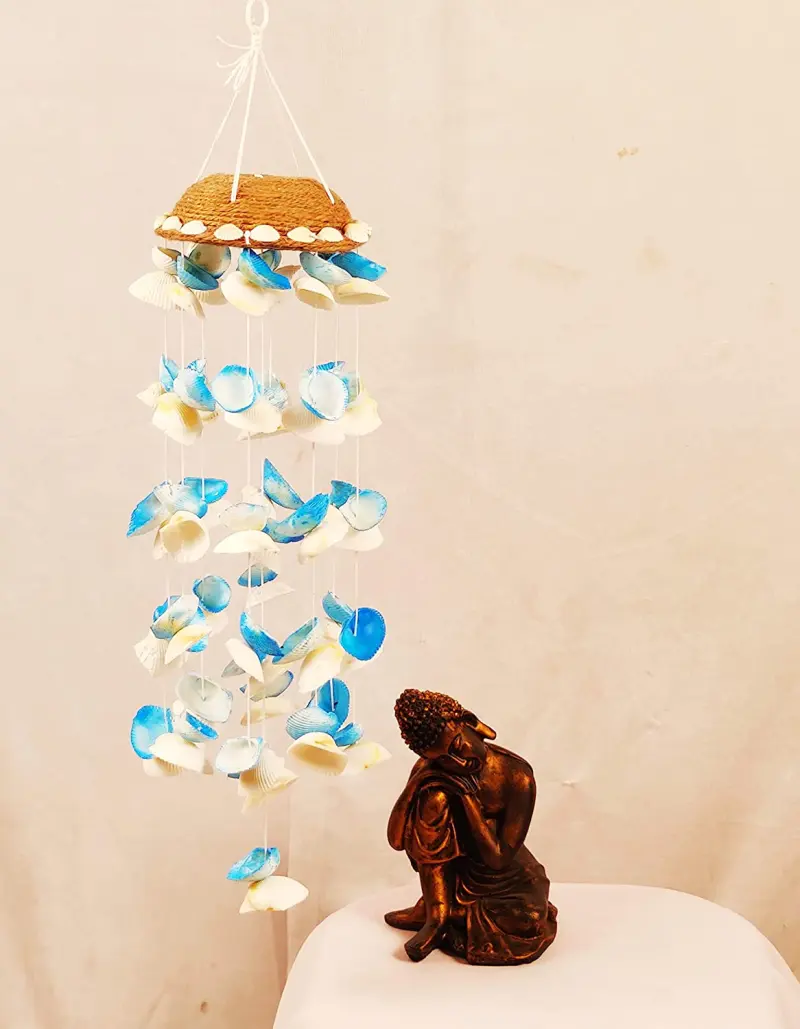 # This wind chime from CALDIPREE has eight pipes that will produce a decent sound.. It is made from renewable resources and is ideal for outdoor decoration due to its weather resistant nature.
USP: It is a nature friendly product. The ratings are also good and it is an Amazon's Choice product.
Price: ₹599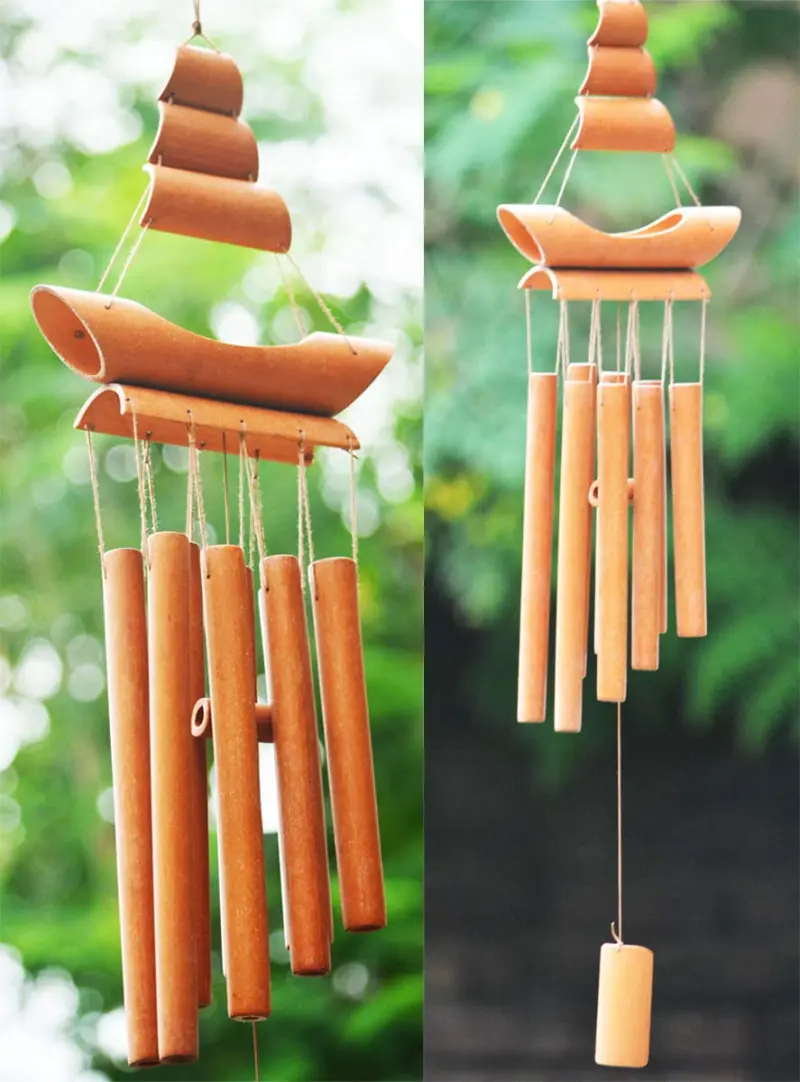 # The HASTHIP wind chime features color-changing LED hummingbirds made of glass and plastic that glow at night. The lights will charge with sunlight and turn on in night automatically. Its waterproof design is resistant to rain and moisture.
USP: It will make the balcony look cool at night. It has a rating of 4 stars.
Price: ₹1,622