What fills the room and calms the soul like the aroma of freshly brewed coffee?
From kitty parties to mid-day breaks or a rainy evening, coffee has become an indispensable part of our everyday lives. We forget the cares from yesterday and energize our way for today, all with a coffee.
Having an abode for your coffee mug adds an extra layer of elegance to your home decor efforts. Not only does a coffee table make for an excellent canvas to display all your favorite books, but it also makes space to showcase items that you adore.
With that said, here are 10 best coffee tables you can buy on Amazon India. We have chosen the popular brands/shops that offer quality furniture. You can always click on the brand names and find more related stuff.
List of Best Coffee Tables in India
Ikriya Coffee Table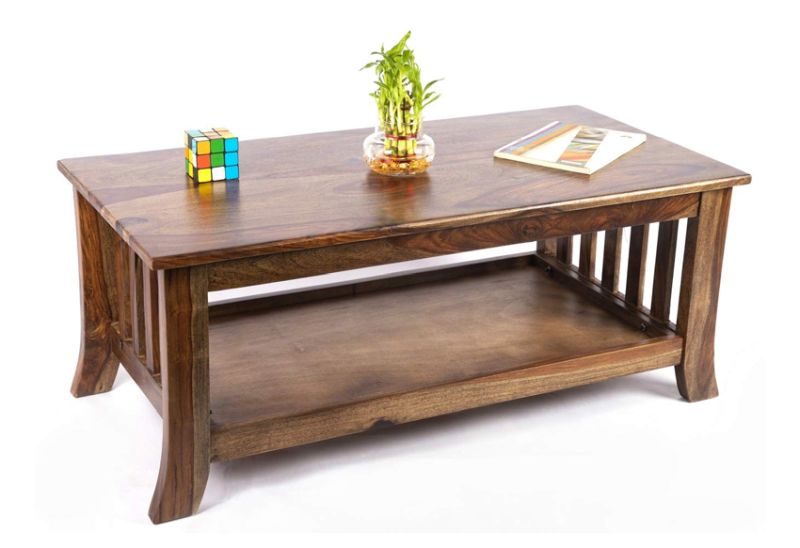 Handcrafted in the city of Jaipur, this coffee table from Ikriya makes for a sturdy surface to place coffee. Made out of solid rosewood, it has a teak finish for a semi-glossy look. The table measures 258 x 129 x 103 cm in size and weighs over 17.1 kgs. Its rectangular-shaped structure also has storage at the bottom, where you could rack up your favorite books and magazines.
Price: ₹6,999
Inmarwar Bean-Shaped Coffee Table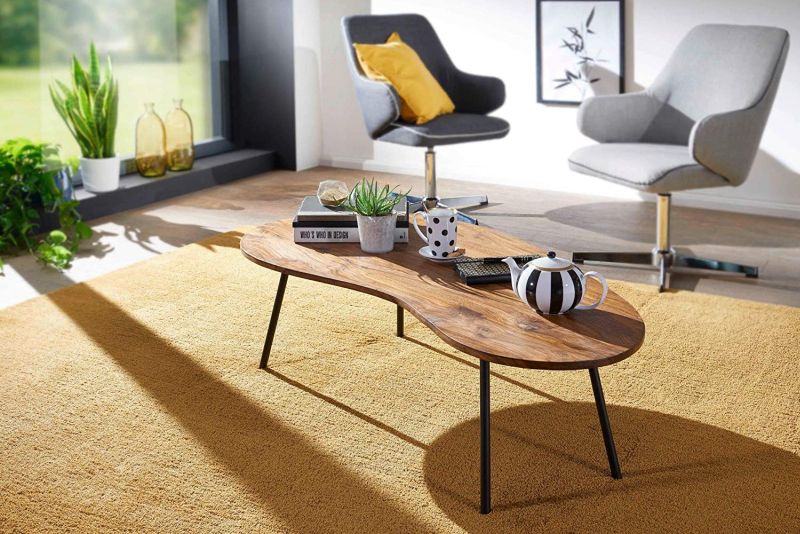 Next on our list is a bean-shaped coffee table from Inmarwar. Made of Sheesham wood, this table comes in four different sizes and shapes. There are also two color variants: Natural Acacia and Rustic Teak with black as a common color for the legs. The tabletop also varies in round, square and oval shapes while the metal base is either sled or cross-shaped. This coffee table will complete your living room with a touch of modern design. The variant in the picture above measures 122 x 63.5 x 38 cm.
Price: ₹9,499
Home Centre Oak-Ford Table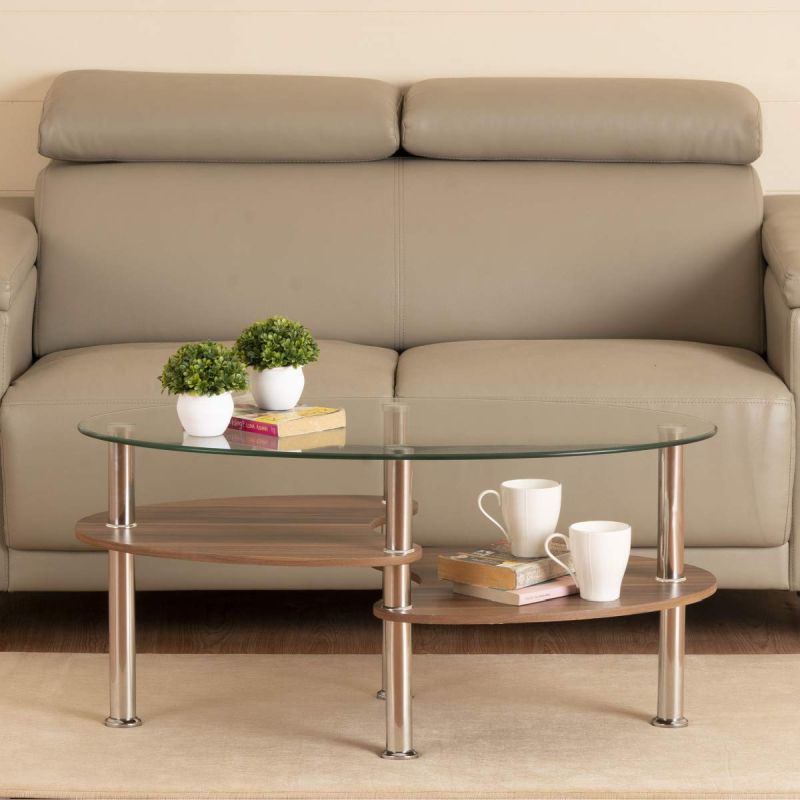 Made of glass and engineered wood in beige finish, this oval-shaped coffee table is characterized by its stunning design with multiple shelves and shiny legs. It measures 90 x 50 x 43 cm and weighs about 12 kgs. It is a commendable pick for those looking for a small glass coffee table.
Price: ₹7,950
Bluewud Coffee Table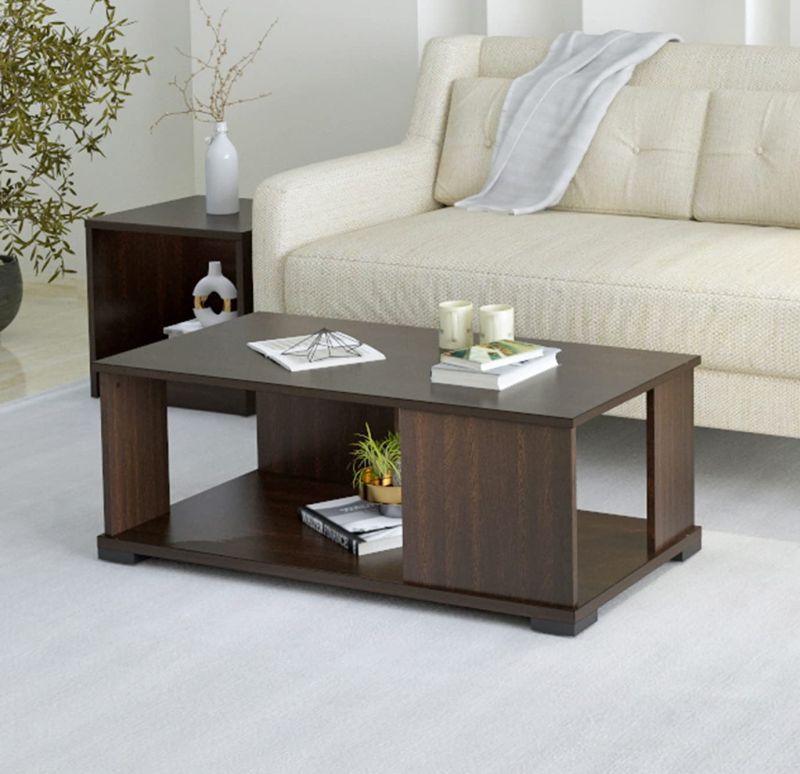 Made with engineering wood, this rectangular coffee table by Bluewud flaunts straight lines and contemporary style. It comes in two color variants – Walnut and Wenge. The table measures 120 x 60 x 43 cm and weighs over 30.6 kgs. It also has a storage area at the bottom to rack up books and other frequently used items.
Price: ₹3,149
Also Read: These Color Trends will Help You Choose Interior Paint Color for Your Home
Decornation Coffee Table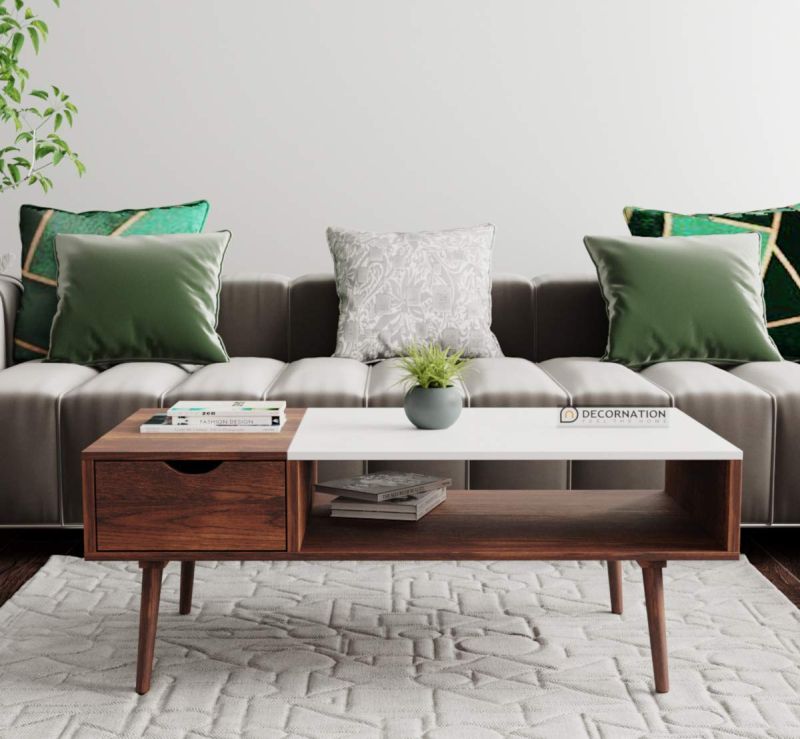 Coming up next, we have the Tyla coffee table by Decornation that looks highly stylish with its top in two colors: wood and white. Made of Sheesham Wood with shiny coating, this rectangle-shaped table comes with 42 x 20 x 16 cm size and weighs over 20 kgs. It also has a drawer and a shelf for storing books, papers or even larger items.
Price: ₹7,999
Driftingwood Coffee Table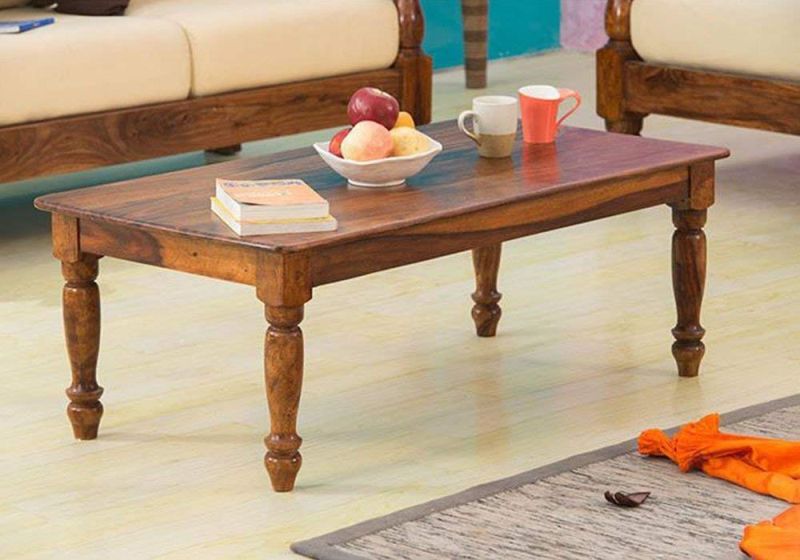 Made of Sheesham wood with honey finish, this coffee table with traditional style legs from Driftingwood will be a simple and beautiful centerpiece in your living room. It measures 99 x 58 x 38 cm and weighs about 22 kgs. Combination of functionality and aesthetics, this coffee table will be a statement piece in any room.
Price: ₹7,999
Chetan Interiors Table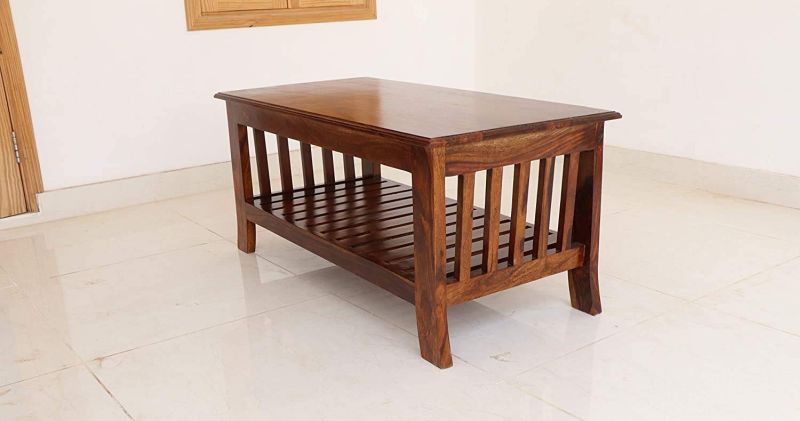 Sturdy and beautiful, this Sheesham wood Coffee table from Chetan Interiors comes in two colors, namely Teak and Walnut. It features uniquely shaped legs for a cool look. Its dimensions are 20 x 40 x 18 cm and weighs around 20-30 kgs. The table also has an open storage area in the base. It is one of the best rated coffee tables on Amazon India.
Price: ₹6,399
Amazon Locronan Coffee Table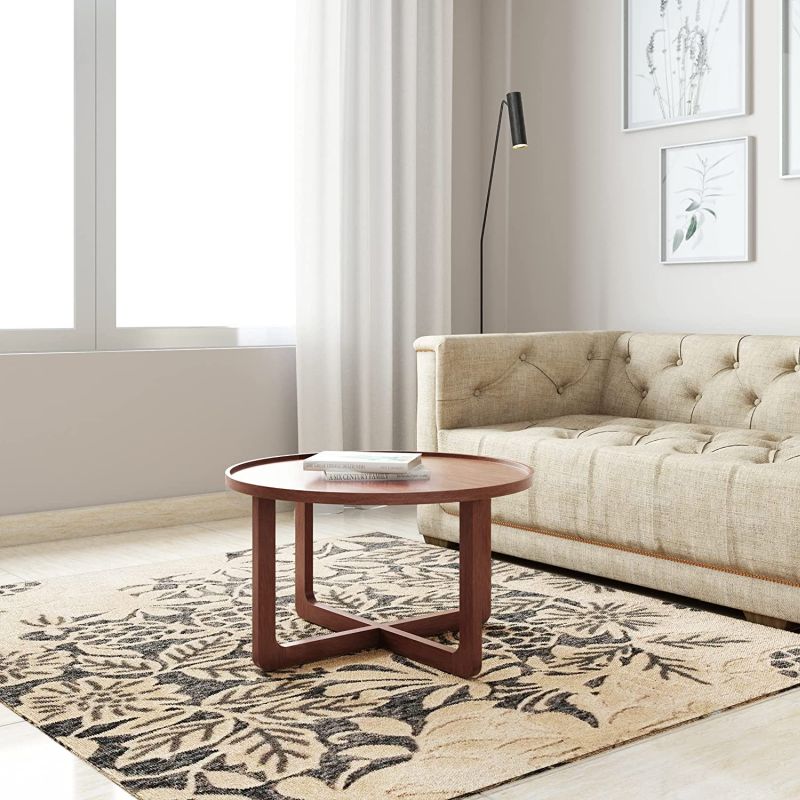 This beautiful round coffee table is made from acacia wood known for its sturdiness and appealing grain texture. There are two finishes Tan and Walnut to choose according to personal choice. The dimensions are 70 x 70 x 40 cm and weighs over 20 kgs. It also has a quite big tabletop with a lipped edge that gives it a cool look and prevents stuff like TV remote and phones from falling down.
Price: ₹6,999
D Obair Coffee Table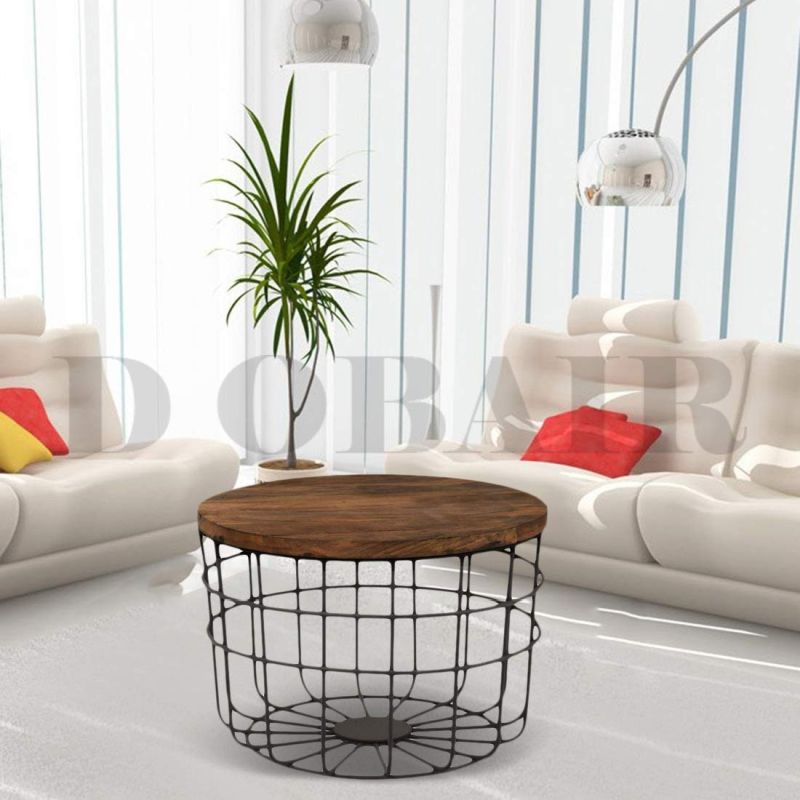 Crafted from mango wood, D Obair's coffee table featuring a round tabletop with a unique metal base will add a touch of elegance and sophistication to your home. The dimensions are 63.5 x 63.5 x 45 cm and weighs about 9 kgs. The space under the top can also be storing some small accessories or household items.
Price: ₹2,998
DeckUp Siena Coffee Table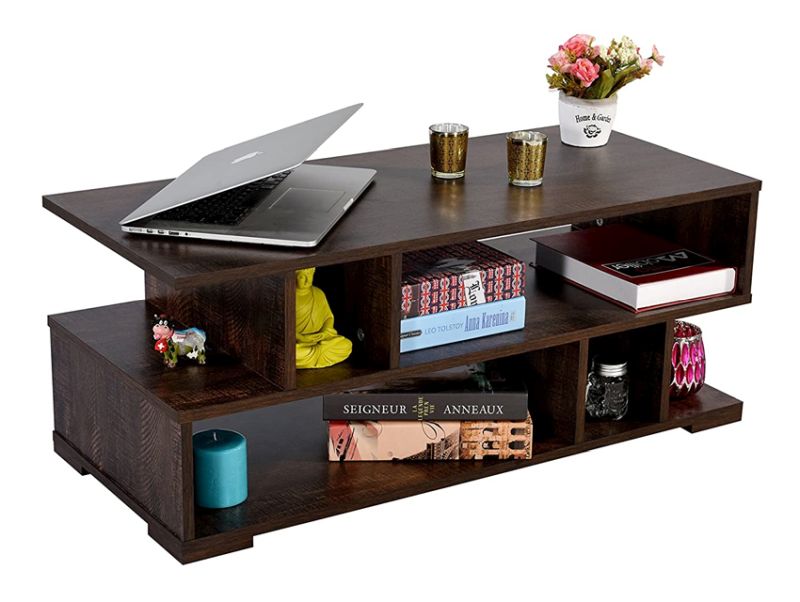 Last on our list of the best coffee tables in India is a uniquely crafted furniture piece from DeckUp Siena. Made from engineered wood with matte finish, this table has a size of 40 x 90 x 37 cm and weighs around 18 kgs. There are multiple lower shelves in the table to stash your favorite books and magazines. It comes in three different color variants.
Price: ₹3,799