As the name implies, a sofa bed is a kind of sofa that can be converted into a bed. It is a multifunctional furniture that serves two purposes: it is a seat in the day and can also be used for sleeping in the night. Nowadays when floor space is too premium, it becomes highly important for us to make use of such space-saving furniture that can be stored easily after use or is convertible into some other furniture.
There are a variety of sofa beds available in the market which you have to choose as per your particular requirements. If you're looking to buy a sofa bed, search no further as this feature covers all things you need to know.
Things to Consider Before Buying A Sofa Bed
Type: When buying a sofa bed, the first thing you need to know is its mechanism, which means how the sofa transforms into a bed. Most of the sofa beds you will find in India are like a big mattress that can be folded up into a sofa or lounger. There are also some options like a sofa with an adjustable back that can flattened down to create a makeshift bed or wooden ones that come with a pull-out base. In short, the smooth and easier the open-closing process, the better it is for you.
Size: A sofa bed has two dimensions so you should carefully check them both so that you know how much floor space it requires in open or closed position. Choose the one that will fit into the space and decor.
Comfort: Sofa beds are much like sofas so you should pick the one that comes with softer mattress and pillows. Also see what upholstery material is used as it will also decide the look and feel.
Durability and warranty: You should also check what materials are used to make the sofa bed. The better material you choose, the price will go up. It is quite obvious that wooden or metal sofa beds would be more durable but add into the final cost. Don't forget to see the warranty period as it will be helpful if something wrong happens with your sofa bed in the future.
Customization options: Make sure you choose the sofa that comes in different colors and also has other customization options. Removable pillow covers are great as you can wash them.
Additional features: There are some designs, with built-in storage that can also be used to keep small items.
Budget: In India, you will find mostly mattress-like sofa beds that are cheaper than wooden or metal ones. They are the most affordable pieces you can buy online.
Best Sofa Beds to Buy in India
For our list, we have researched nearly all the available options on Amazon and chosen the best ones from proper shops. All the sofa beds are selected after deep comparison. You can also check out the shops for more stuff.
Dr Smith Sofa Bed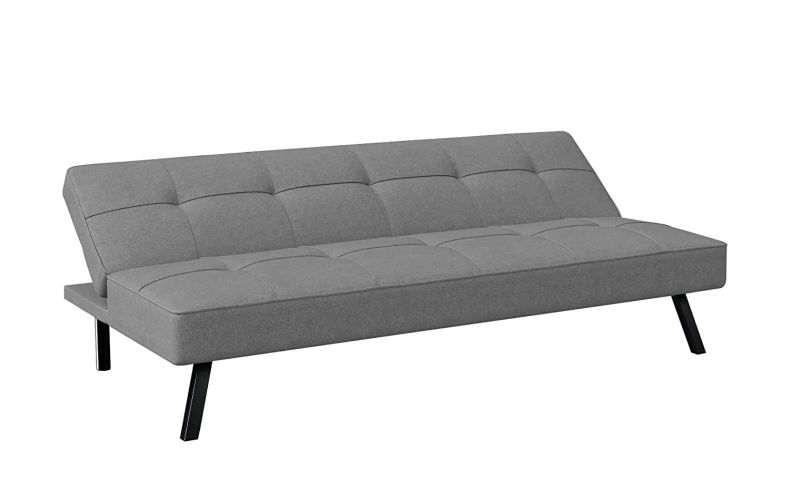 This 3-seater sofa is designed to blend into modern living spaces and turn into a guest bed when needed. It has a wooden frame, soft fabric and black legs. It's not a standard sofa but a small sized sofa ideal for small spaces.
Other highlights
Size: 5.28L x 3W x 2.3H foot
Available in 3 styles
7 color options
Supports up to 240kg weight
Price: Rs. 10,200
SOLISPRIMUS Sofa Cum Bed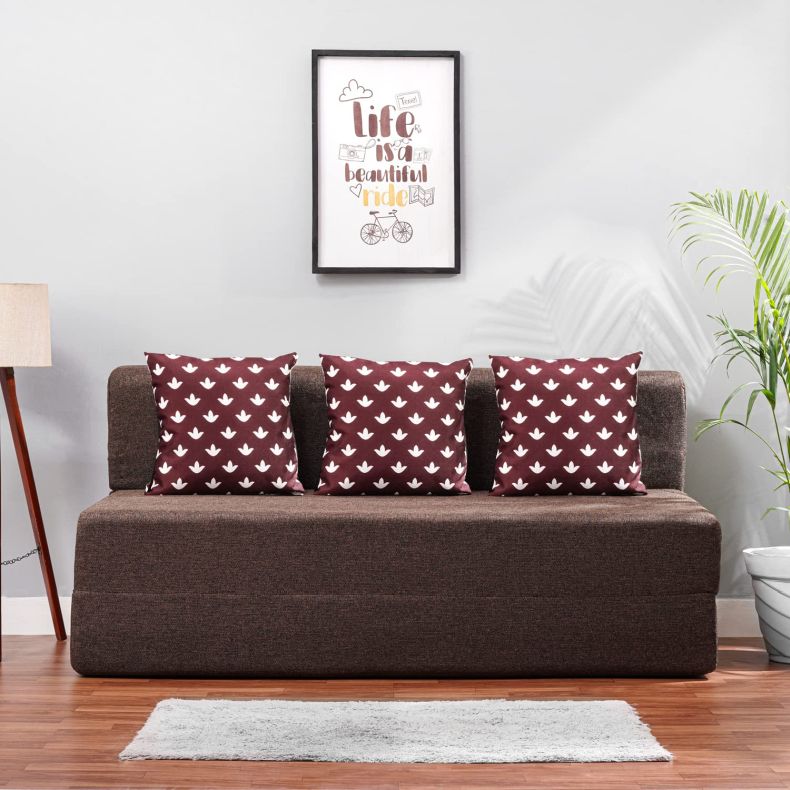 It is the common type of sofa beds available in India online. You will not mind this little thing lying in some corner of your home as it can serve different purposes. Use it as a sofa and simply spread it on the floor to make a small bed. It transitions from a sofa to lounger to bed in less than 15 seconds.
Other highlights
Size: 5 x 6 foot
Available in 8 styles
Fabric choices for cover
Removable cover
1 year warranty
Price: Rs. 11,549
Metallika Sofa Cum Bed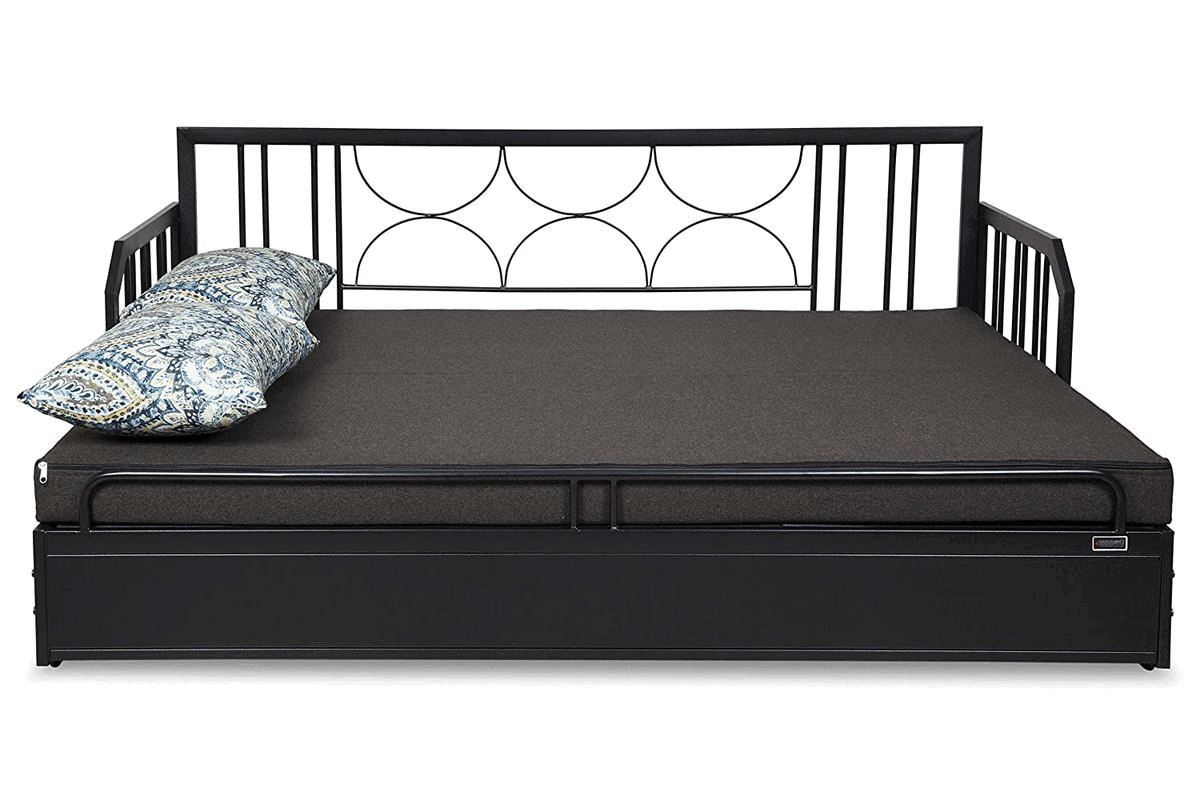 This sofa bed features a metal frame with powder coating paint that ensures its durability. Unlike others in the list, it also serves as a storage unit apart from seating and a bed. The box you slide out from under the sofa has storage space that can be used to keep 6 to 8 pillows. As per most of the reviews, the mattress coming with the sofa bed is a bit hard.
Other highlights
Size: 6.4L X 2.15W x 2.6H foot and 6×5.5 foot after opening
The storage unit has plywood parts
Comes with 2 mattresses and 3 pillows
3 years warranty
Price: Rs. 22,890
Adorn India Aspen Sofa Bed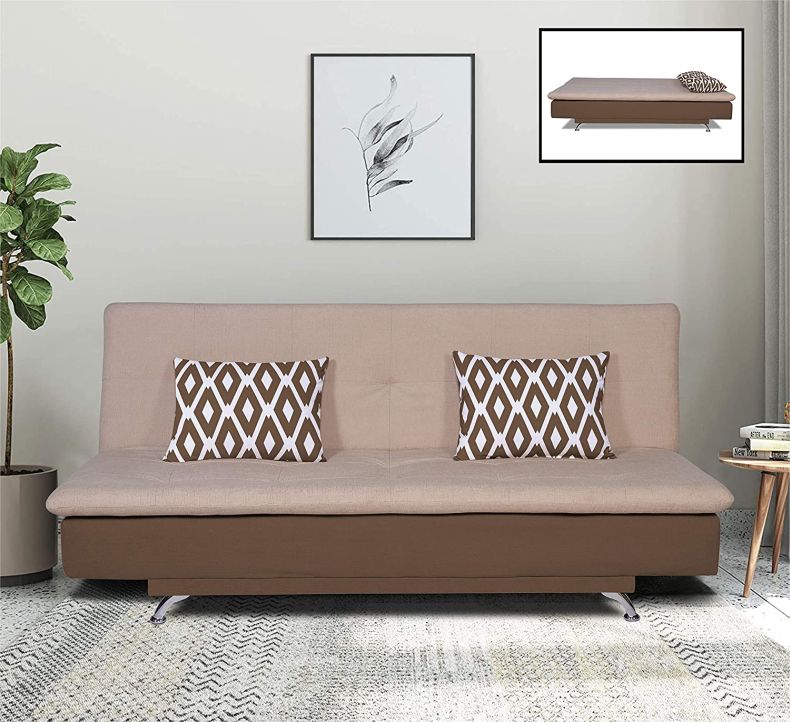 This two-tone, modern sofa will be a classy addition to any living or bedroom. It has a wooden frame and shiny legs. The string mechanism in the back allows it to transform into a bed.
Other highlights
Size: 6.25L x 3.25W x 3.3H foot and 6×6 foot after opening
11 color options
Comes with 2 pillows
Only legs need to be attached after delivery
80 degrees reclined back support
1 year warranty
Price: Rs. 19,999
Also Read: 10 Best Coffee Tables to Buy on Amazon India
Skyler Standard 5-seater corner sofa cum bed by sofaarchitect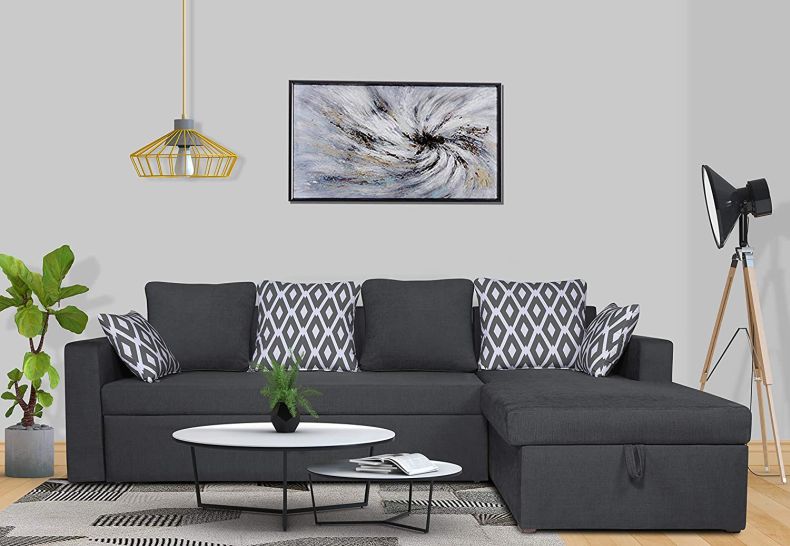 It is a large size sectional sofa that can also be turned into a bed. It is made of wood and is completely upholstered in gray fabric. Each unit consists of two parts, out of which one has a slide out section that completes the bed. There is also storage space in one of the parts of the sofa.
Other highlights
Size: 8.5L x 2.6W x 2.5H foot
4 color options
Comes with 4 big pillows and 2 small pillows
3 years warranty
Price: Rs. 45,999
Wooden Sofa Cum Bed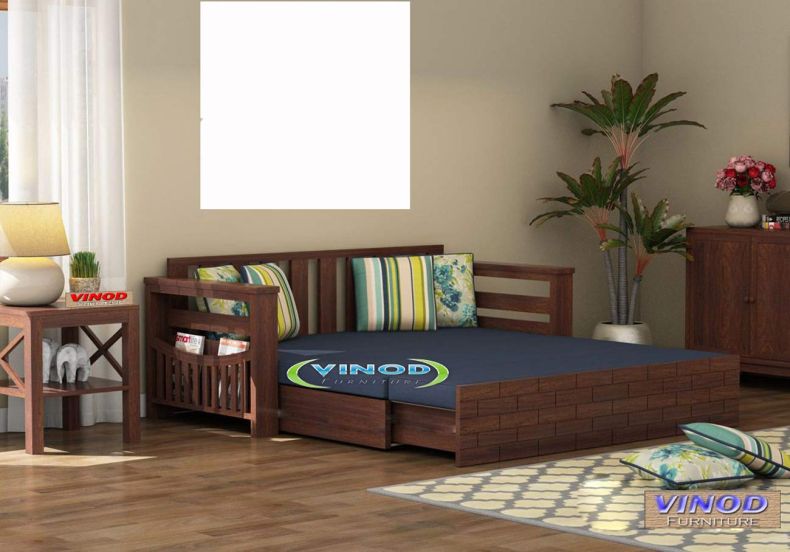 Everyone loves wooden furniture so it would not be wrong to rank this a 3-seater sofa bed by Rajasthan-based Company on the top of our list. It will be a great investment that will be present in your home for years. You will require assembling it on arrival.
Other highlights
Size: 5.16L x 2.5W x 2.54H foot and 6H foot x 4.33W foot x 2.25H inches after opening
Available in 3 styles
6 finishes are available
10 day warranty
Price: Rs. 35,899
Sleepyhead Foldable Sofabed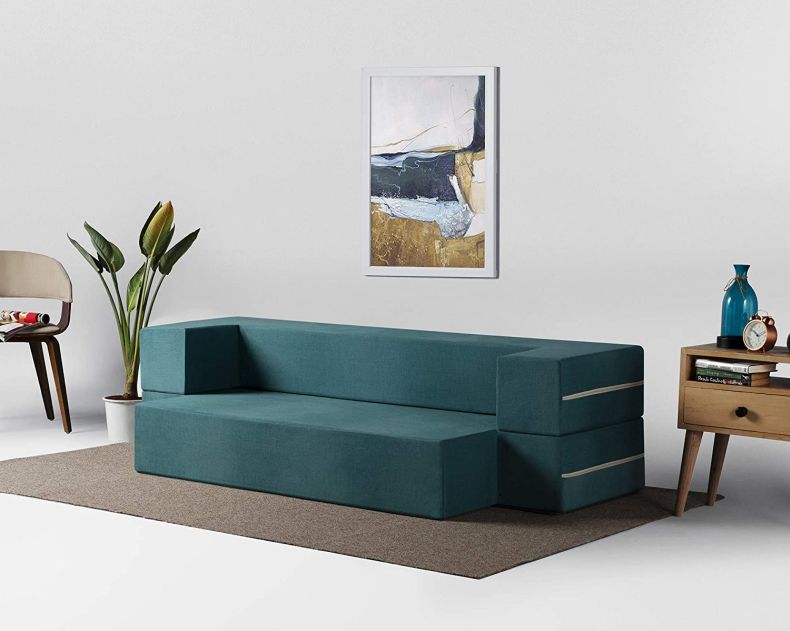 If you are looking for a simple sleepover alternative for your apartment, you can definitely go for the Sleepyhead sofabed. It is like a handy mattress that can be transformed from a small sofa to a full bed in a few folds. No installation is required; you simply start using it after delivery.
Other highlights
Size: 6.25L foot x 4W foot x 25H cm
4 color options
Comes with removable zipper cover
Optional sofabed base
5 years warranty
Price: Rs. 14,999
Also Read: Best Sofas to Buy Under Rs. 20,000 in India
Seventh Heaven Modern Sofa Bed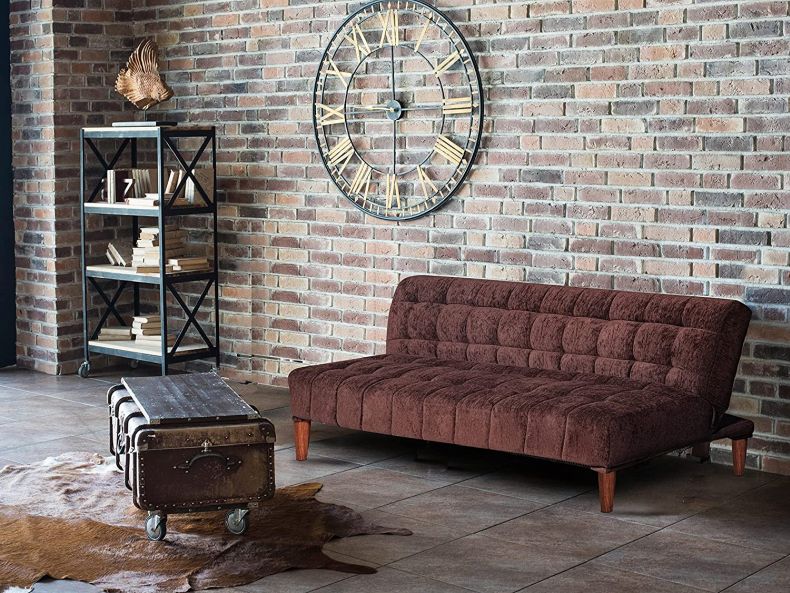 This 4-seater futon is a stylish entry in our list. It can also be turned into a single bed with the onboard zinc coated metal mechanism. The furniture piece comes with lush upholstery and is padded with PU and EPE foam. The luxe Molfino fabric and wooden legs add a unique soft, plush charm to the furniture piece.
Other highlights
Size: 3L x 6W x 1.3H foot
7 color options
3 years warranty
Price: Rs. 11,500
Furnline 1 Seater Metal Folding Sofa Bed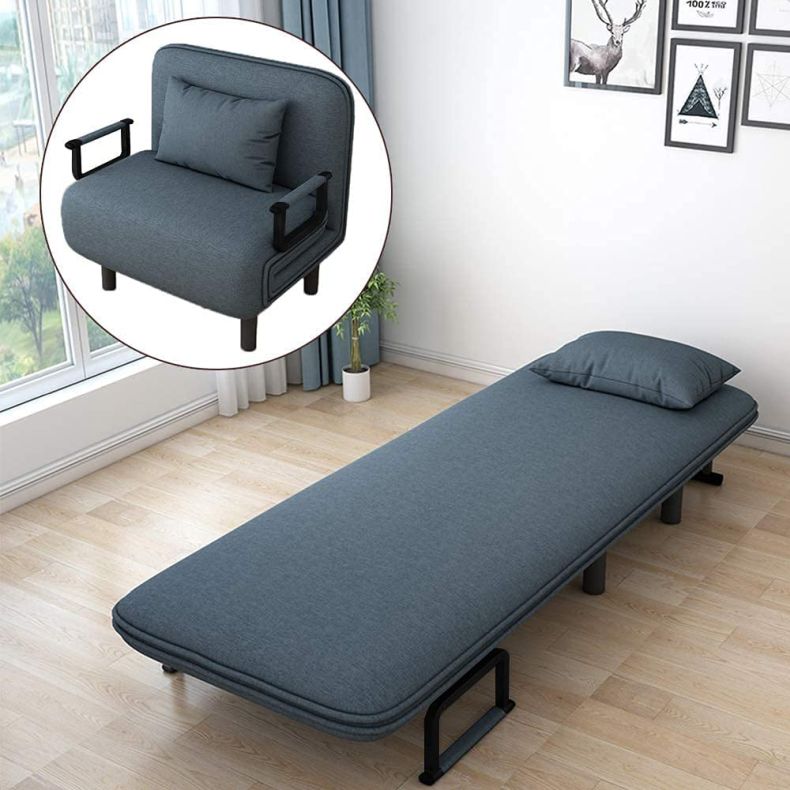 This quirky furniture piece will make sleeping space for your family and friends quickly. It uses a special folding design to switch between sofa and bed. The furniture unit comprises a metal frame and comfortable and soft filling and upholstery. It can also be adjusted on different angles according to different position requirements.
Other highlights
Size: 2L x 2W x 2.6H foot and 6.2H foot x 2W foot x 9.8H inches after opening
Available in 3 sizes
Price: Rs. 19,999
uberlyfe 3-Seater Sofa Bed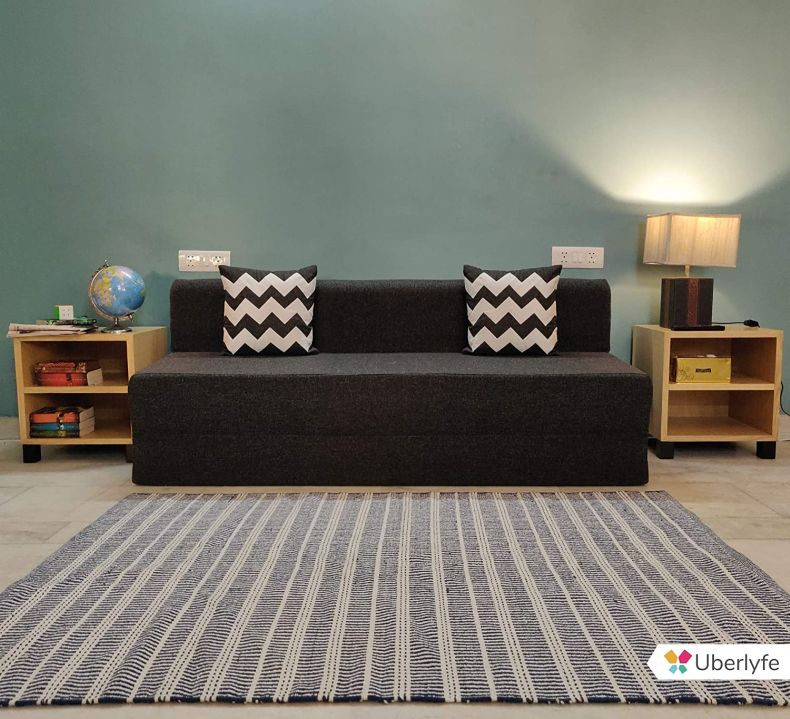 If you're living in a studio flat or small apartment; this sofa bed is a good option for you. It is easy to set up and comfortable to sleep on. It can provide seating to three people and even serve as a bed or lounger. Its cover is made of a 450 GSM fabric.
Other highlights
Size: 6 x 6 foot
Available in 10 styles
Comes with two pillows
Removable cover
1 year warranty
Price: Rs. 10,260