Shoe racks are much needed furniture for any home, providing both organization and space-saving benefits. They not only keep all of your shoes in one place, but also allow you to easily view all of your options at once. There are a wide range of shoe racks available in the market so you have to choose as per your budget and needs.
If you are planning to buy a shoe rack online in India, you must keep certain things in mind to ensure that you get the right item according to your needs. You need to consider the size, material, finish, and assembly procedure for the product. To help you choose the best, here we have compiled a list of the 10 best shoe racks you can buy in India. We have included different materials, brands and configurations.
DeckUp Muvo Shoe Rack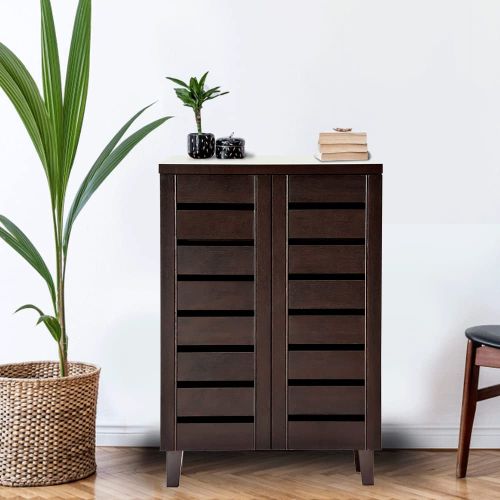 This rectangular shoe rack is made of 15mm engineered wood with melamine coating that ensures a scratch resistant surface. There are two slit-embedded doors with metal knobs and hinges that provide air circulation inside the shelves, preventing odor and deter mold growth. The dimensions are 24L x 13W x 34H inches and the weight is 20 kgs. The shoe rack has four shelves and the flat top can also be used to place flower pots and books, etc.
Other highlights
No lock
Contemporary style
Three finishes
Price: ₹4,399
Home Centre Lewis Shoe Rack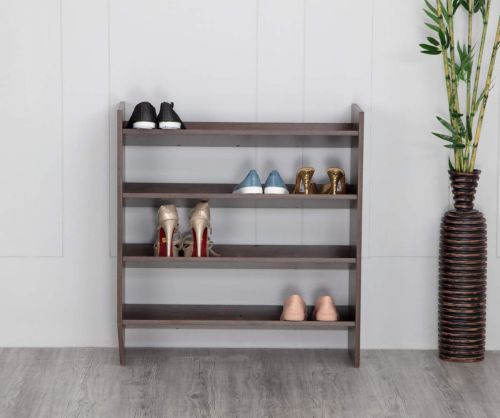 This shoe rack is made of engineered wood in a natural brown finish that will add a rustic touch to space. The four shelves provide ample space to keep up to 16 pairs of shoes. The shoe rack measures 30H x 11.6W x 31.4 inches and weighs 17 kgs. The product needs carpenter assembly that will be provided by the seller.
Other highlights
1 year warranty
Sharp corners
Price: ₹3,299
LIVINGBASICS Stainless Steel Rack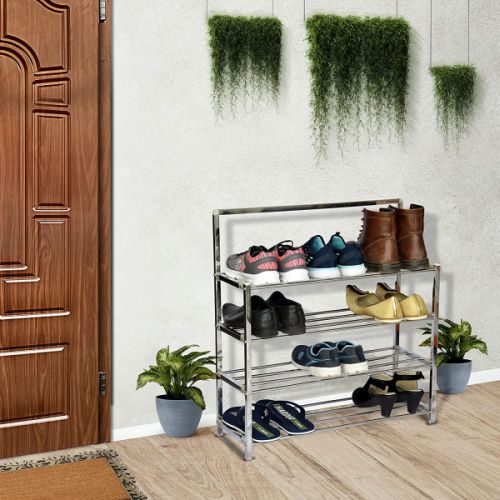 If you are looking for a sturdy shoe rack, you can surely go for LIVINGBASICS stainless steel rack. The rack measures 9D x 25W x 26.7H inches and weighs 2.6 kgs. There are four shelves that provide enough space for shoes of an entire family. Its folding design makes it a space saving product. It can also be used to store utensils in the kitchen.
Other highlights
Plastic connectors
Locking system
1 year warranty
Price: ₹1,938
Star Work Shoe Rack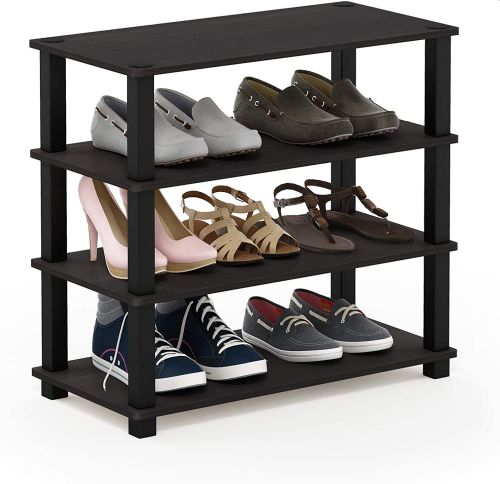 This 4-tier black shoe rack is made from engineered particle board and PVC Tubes. It is a good choice for those wanting more shelves at a lesser price. The dimensions are 22D x 23.5W x 11.6H inches and weighs 4.5 kgs. Each shelf holds up to three pairs of shoes. The product is simple to clean and maintain thanks to its open design.
Other highlights
Weatherproof
Rounded edge design
Price: ₹1,489
Sleepyhead Footsie Shoe Rack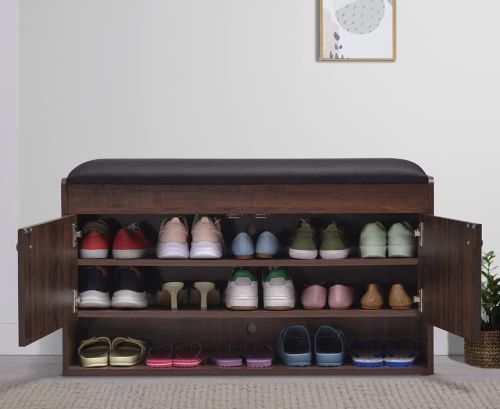 This wooden shoe cabinet with seating is made from 0.7 inches-thick engineered wood in dark walnut finish. It will help you organize your footwear in a tidy way. The product measures 15D x 39.3W x 20.8H inches and weighs 34 kgs. There are two doors and three shelves that can hold up to 15 pairs of shoes. The rack also has an upholstered seat to let you sit while wearing shoes. The open shelf in the bottom will provide easy access to daily footwear.
Other highlights
1 year warranty
Three styles
Free installation support
No lock
Price: ₹6,569
Also Read: 10 Best Sofas You can Buy Under Rs. 20,000 in India
Livzing 3-Tier Shoe Rack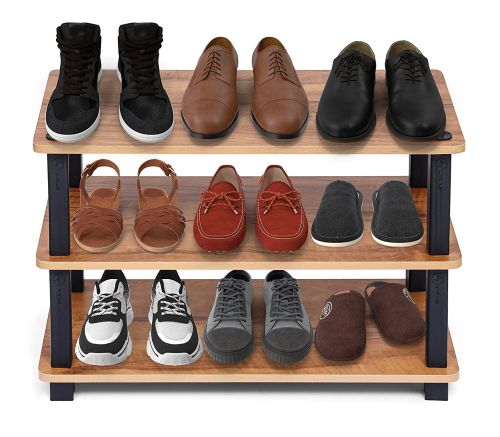 This is another shoe rack made of wooden boards, reinforced with plastic connectors. The dimensions are 24D x 12W x 15.7H inches and the weight is 4.5 kgs. Each shelf can hold up to three pairs of adult shoes easily. The product is designed with plastic fittings that are simple to assemble. the
Other highlights
Available in three, four, and five tier configurations
Easy to assemble
No warranty
Price: ₹1,499
Nilkamal Astero Shoe Cabinet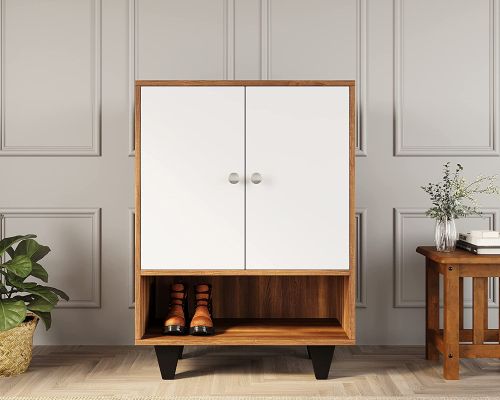 This shoe rack is made of engineering wood in classic walnut and white finish. It is one of the most stylish shoe racks in the list. The dimensions are 11.8D x 23.6W x 32.6H inches and weighs 17kg. There are three shelves behind the door and one bigger open shelf. The holes in the back ensure ventilation for the shoes inside.
Other highlights
Sharp edges
1 year warranty
Price: ₹3,999
TNT Stackable Shoe Rack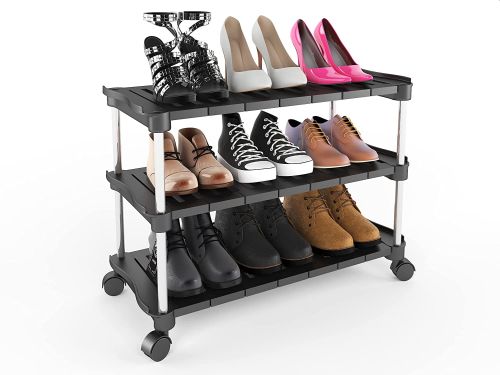 If you are looking for a durable and less expensive shoe rack, then the TNT shoe rack is the right choice for you. It measures 23.6L x 10.6W x 23H inches and weighs 2.7 kgs. Made of thickened metal pipes and plastic, the 3-tier rack can hold up to 12 pairs shoes.
Other highlights
Wheels
Easy to assemble
Available in four sizes
Price: ₹999
Cello Novelty Plastic Shoe Rack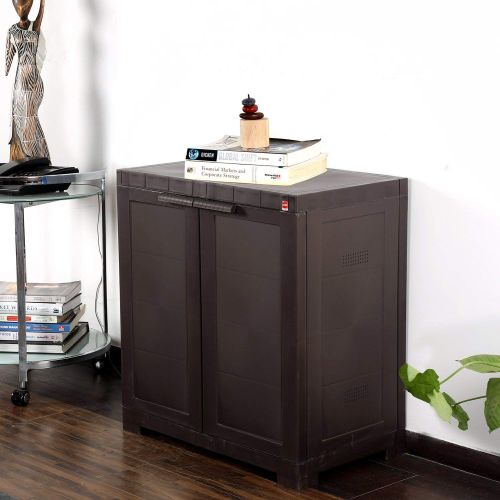 The Cello Novelty plastic shoe rack is a stylish and affordable solution for a small family. You can place it outdoors without the fear of weather damage. Available in multiple color combinations, the rack measures 23.3D x 14.6W x 25H inches and is easy to handle due to its lightweight construction (5.6 kgs). There are two hinged doors and three shelves consisting of six rods that can also be adjusted as per size of the shoes. Air vents on the side keep shoes away from odor.  
Other highlights
No lock
One year warranty
Price: ₹3,259
Gadroad Shoe Rack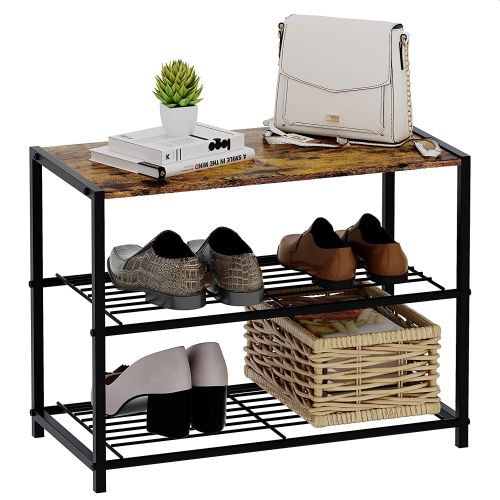 If you are looking for an indoor shoe rack, this one can be a good option for you. It consists of two metal shelves along with a wooden top that gives it a cool look. The top can also be used as a mini planter stand. The dimensions are 23.23L x 11.8W x 16.9H inches and weight is 2.7 kgs. Each tier can hold up to 3-4 pairs of shoes and fits all kinds and sizes of shoes.
Other highlights
Easy to assemble
Stackable design
Plastic foot pad
Price: ₹2,699