Wearable technology, also known as "wearables" are electronic devices like smart watches, rings, glasses, VR headsets, fitness trackers, and healthcare tech that can be worn on the body to boost activity and extend connectivity. These devices can be used for tracking daily activity, exercise, sleep and other metrics on a real time basis, plus for a new virtual reality experience. Some popular examples of wearables are the Apple Watch, Fitbit and Sony PlayStation VR.
There is indeed a wearable future ahead as a number of researchers and companies from around the world are coming up with the newest uses of wearables in fields like healthcare and entertainment. CES, the world's most prestigious annual tech trade show has also brought forth some interesting wearable devices. We have compiled a list of interesting wearable devices spotted at the show. Have a look below:
List of The Best Wearable Tech Devices from CES 2022
1) Razer Zephyr Pro Mask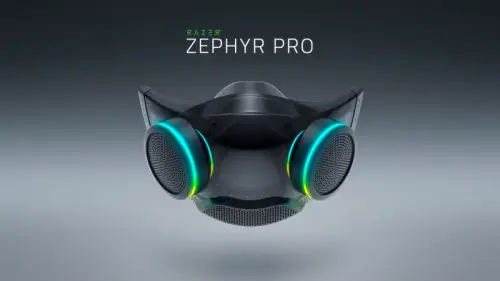 This high-tech mask with 99-percent bacterial filtration efficiency is created by the Gaming lifestyle brand Razer. It features a voice amplification feature that will ensure you are heard properly after masking up. The mask comes with replaceable filters for greater protection and has Chroma RGB lighting for a cool look. The company says its filters last 3x longer than daily disposable masks.
The Razer Zephyr Pro will cost $150 (Rs. 11,141) and is supposed to release sometime in 2022.
2) Ible Airvida E1 Headphones with Air Purifier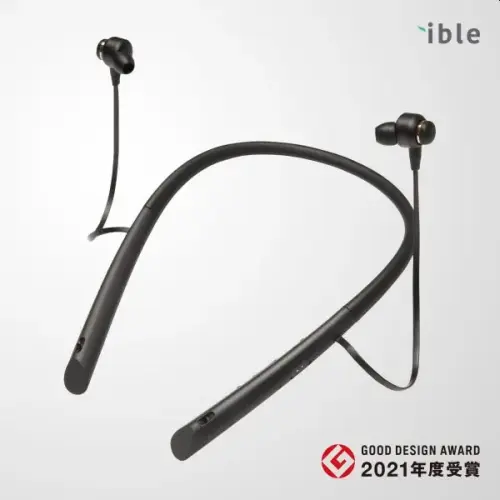 The concept of wearable air purifier has finally been given a solid shape in the form of a headphone. While you listen to your favorite music, it cleanses the air for you using the unique Breathing Pathway Eco Ion Technology. You can also place the E1 on the supplied stand for using as a mini desktop air purifier.  Its battery can run both features for 8 hours while only headphones can be used for more than 30 hours.
Airvida E1 can produce negative ions around the user's face which can effectively reduce inhalable airborne coronavirus, PM2.5, pollen, allergen, and bacteria. Furthermore, the companion app can provide instant PM2.5 & pollen information according to the user's location and can notify users to turn on the air purifying function. There are no details about the release date and pricing information.
3) Movano Health Tracking Ring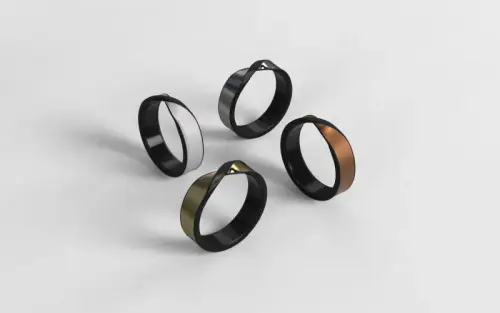 Aimed at women, the Movano Ring comes loaded with health sensors to provide users with accurate, useful data. This smart rig can measure a wide range of parameters, including sleep, heart rate, temperature, steps and calories. The company says, it can tell you why you slept the way you did, and that your resting heart rate is higher after a few glasses of wine. The wide choice of styles, colors, and form factors is what makes it different from others. The company has revealed no pricing details and release date.
4) Linklet Wearable Camera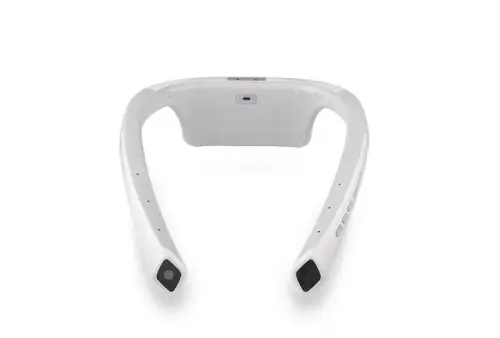 This LTE enabled camera is worn around the neck, which means your hands will not be occupied. It enables users to make Zoom calls or live stream hands-free. There are also 5 built-in microphones for clear voice. The device is dust proof as well as waterproof. It has a 1350 mAh battery with standby time of 13.5 hours.
5) DeepOptics 32 North Adaptive Sunglasses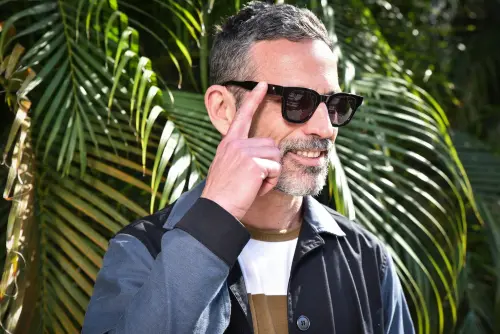 These high-tech glasses can switch from sunglasses to reading glasses with a single swipe. They use the patented dynamic Liquid Crystal lenses that can adjust itself to a prescription and the companion app can be used to make modifications.
6) TCL NxtWear Air Wearable-Display Glasses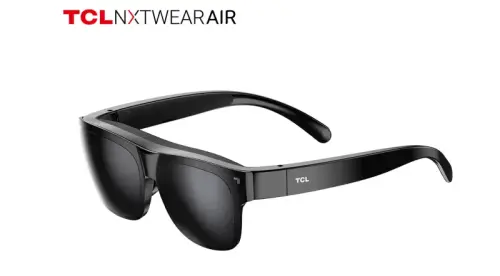 The TCL NxtWear Air is new, stylish glasses with a secondary, personal display embedded in the frames. You can call them TV glasses as they can be plugged into any device with a USB-C port and serve as a monitor. With dual 1080p Micro OLED displays, it provides an immersive viewing experience.
7) Garmin Venu 2 Plus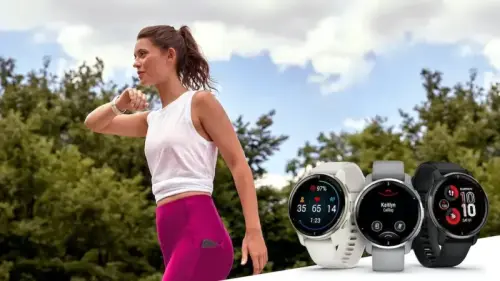 The Venu 2 Plus GPS smartwatch lets users take calls and use a compatible voice assistant to send texts, ask questions, and do much more. It works with Siri, Google Assistant or Bixby. Users also get fitness monitoring features like sleep score with insights, stress tracking, energy monitoring, Pulse Ox1, women's health features and a wide variety of fitness and workout options. It can even play playlists from Spotify, Amazon Music, and Deezer4.
The Garmin Venu 2 Plus has a bright AMOLED display and a battery life of up to 9 days. Charging it for about 10 minutes adds up to 1 day of smartwatch mode battery life or 1 hour of GPS + music battery life. Available in three colorways, it has a suggested retail price of $450 about (Rs. 33,300).
8) NOWATCH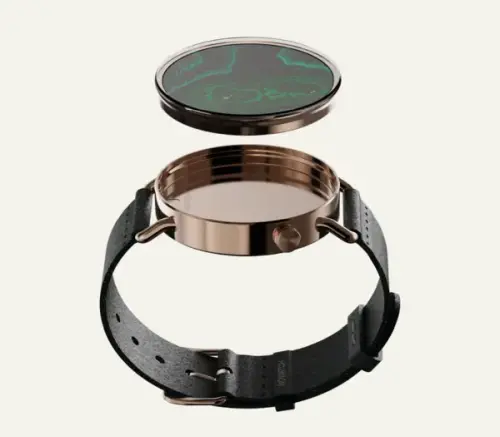 Touted as 'Awareable', NOWATCH looks like a smartwatch but it has features of a fitness tracker. It senses stress levels in real-time using an EDA sensor also known as skin conductance and warns the user in advance. Its front dial comprises a stainless steel disc with precious stone that can also be interchanged to suit different tastes.
NOWATCH measures stress, temperature, heart rate, movement and sleep, plus a range of other factors to help you enjoy a healthy lifestyle. NOWATCH pre-sales open on the 1st of February starting at $599 (Rs. 44,300) or at $299 about (Rs. 22,200) with a monthly membership.
9) Liteboxer VR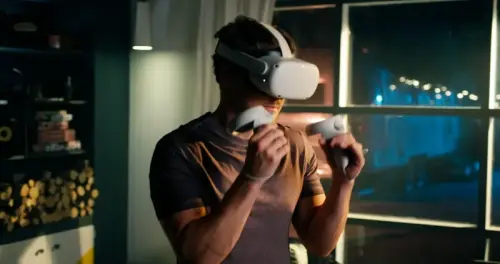 This product is designed to provide fitness-first virtual at-home experience. The Liteboxer VR allows users to compete in direct challenges with friends, family or fellow Liteboxers around the world. This fitness wearable tech will also offer an extensive music library in partnership with Universal Music Group. It will be available for purchase on the Quest Store beginning March 3, 2022 and will set you back for $19 (Rs. 1,400) per month.
10) Sony PlayStation VR2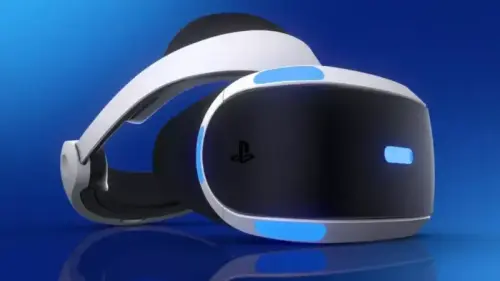 Sony's latest PlayStation VR2 takes VR gaming to a whole new level. Equipped with an OLED display, it offers 4K HDR, 110-degree field of view, and foveated rendering. The display resolution is 2000×2040 and it offers frame rates of 90/120Hz. It utilizes eye tracking, headset feedback, 3D Audio, and the new PS VR2 Sense controller to create a deep feeling of immersion in gaming. It's due to launch towards the end of 2022.