Diwali is the festival we celebrate with great enthusiasm and do many things that make us happy including decorating the home. There are plenty of ways to decorate the home for Diwali; however, most of the people light up diyas and candles. Some also decorate with string lights, rangoli, flowers, urlis, and other handmade pieces.
If you think you are a DIY type, then try out making some decor items by yourself this time. It will be a fun activity that will also help you explore your creativity and even save some money.
Here is a list of some easy handmade Diwali decorations for your inspiration.
1) Leaf Door Hanging Toran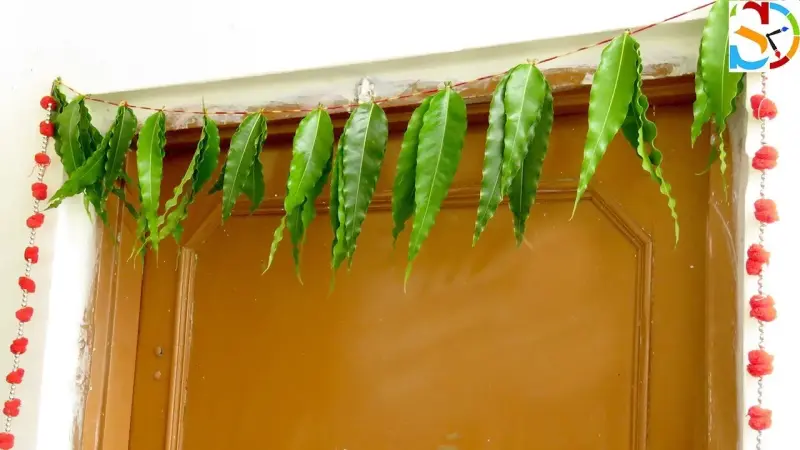 Torans are traditional home décor items for Diwali. You can make one using green mango leaves and mauli (thread). Peepal tree leaves can also serve the same purpose. This DIY Diwali decoration will ensure the presence of Mother Nature on the entrance. Check out the video for help.
2) DIY Toran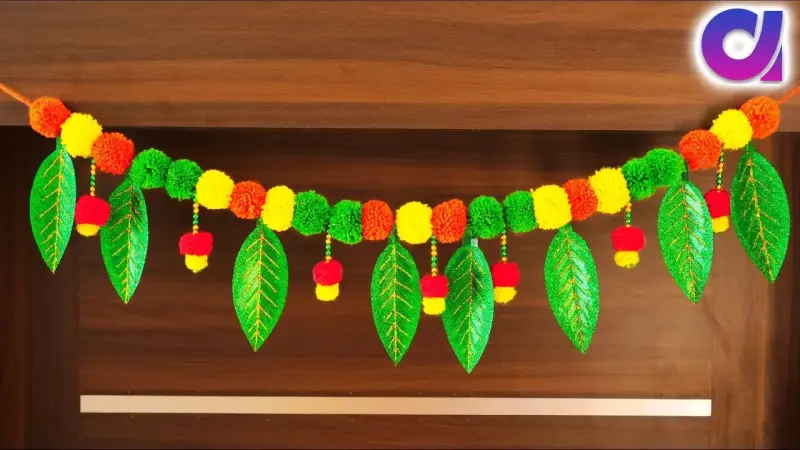 No trees near your place? You can make a Diwali toran using plastic bottles and wool. Cut leaf shapes from a plastic bottle, paint in the desired color, and lastly string them up along with handmade pom-poms.  You can check out the video for full tutorial.
3) Crepe Paper Toran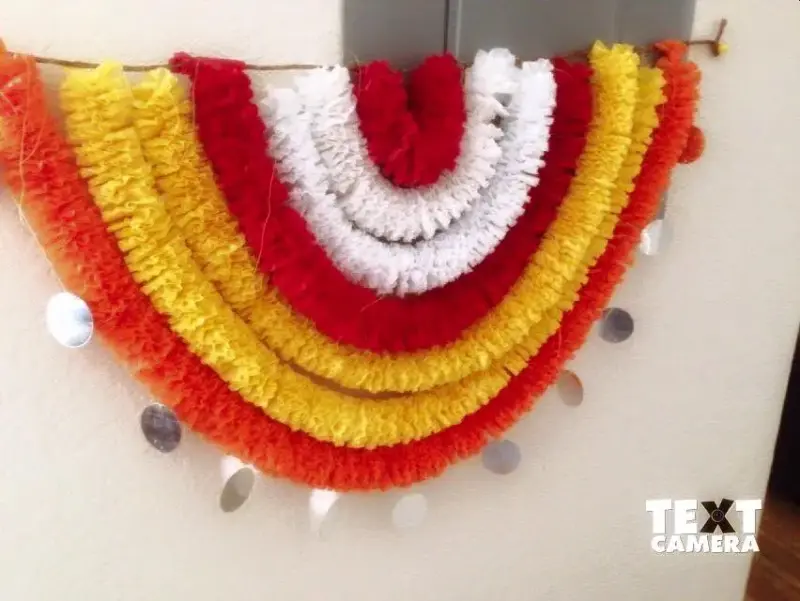 Crepe paper streamers can be used to create decorative door hangings for Diwali or any special occasion. You will need to sew a basic stitch through the center of the paper and twist it using the thread like a garland. See the tutorial at Simple Craft Idea for help.
4) Paper Diya Garland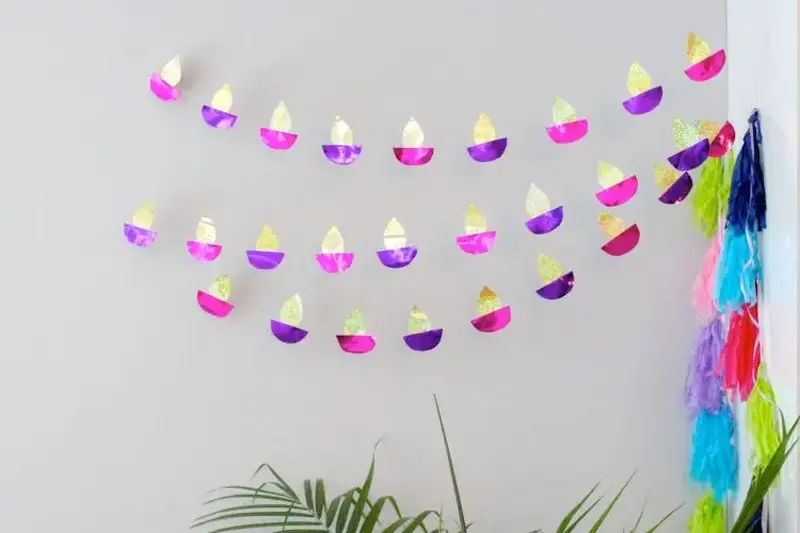 Go eco friendly by recycling unused gift-wrapping paper into a diya garland. You will need to cut diya shapes from the paper and then glue them on a thread like a garland. It makes a delightful home decoration piece for Diwali. See the tutorial at Love Laugh Mirch.
5) Hand Painted Diyas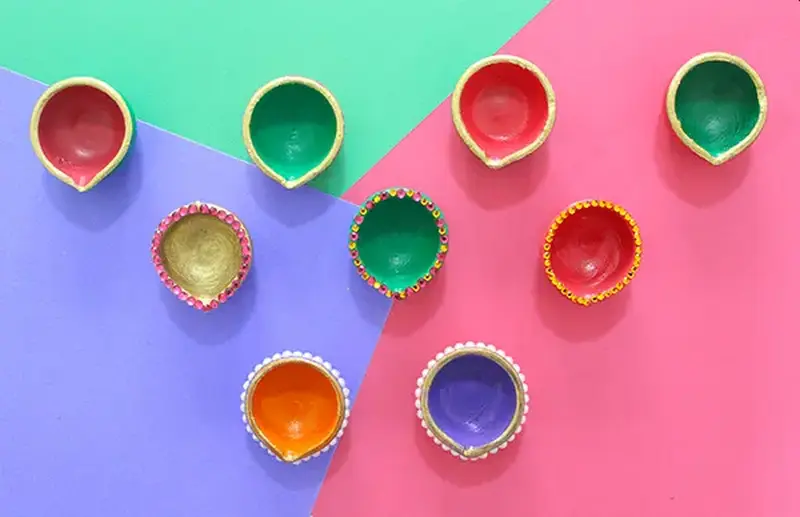 Traditional diyas can be given a cool twist with colors. You can paint beautiful designs on the diyas which makes them even more elegant. Painted diyas can be showcased inside the Diwali pooja corner in the home. Interestingly, kids can also be involved in the task. See step by step instructions at The Craftables.
Also Read: 10 Unique Tea Light Candle Holders for any Special Occasion
6) DIY Paper Lantern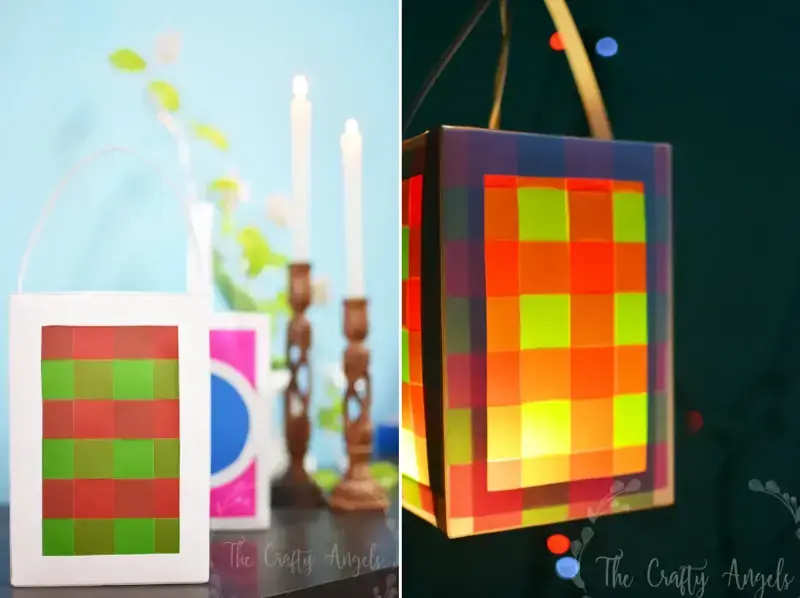 Create this colorful paper lantern aka aakash kandil for Diwali. The task is to cut and fold card-stocks into a cuboid form and then wrap up all the sides with stripes of colored paper. It will function as a makeshift lampshade. You can even draw a doodle or design – the creativity options are unlimited! See the tutorial to make a paper lantern at The Crafty Angels.
7) Handmade Diwali Lantern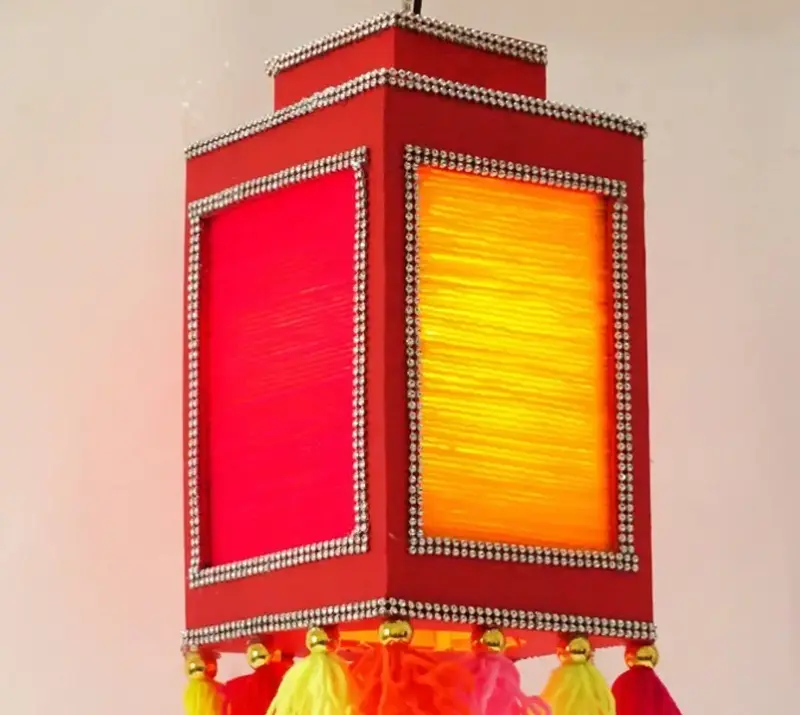 There are various types of Diwali lamps you can make at home but we found this one really unique. You will need to get colorful yarn and cardboard to create this hanging lantern. The build process starts from making a square frame using cardboard and then wrapping it up with yarn to complete the lamp. Watch the video for help.
8) Glass Jar Candle Holder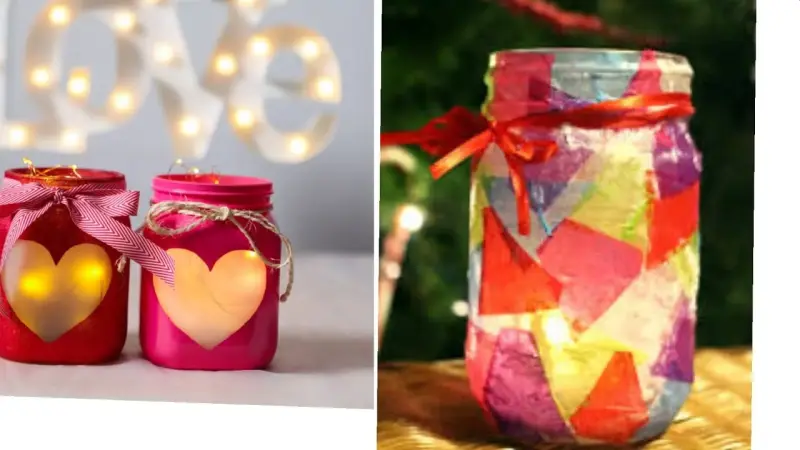 If you have a creative mind, you can easily turn a mason jar into a quirky candle holder. The simplest way is to glue some colored paper pieces all over the jar or just paint some creative doodle or pattern on it. This way, it becomes a homemade tea light candle holder that you can proudly display inside or outside your home. See the video for more ideas.
9) Glitter Candles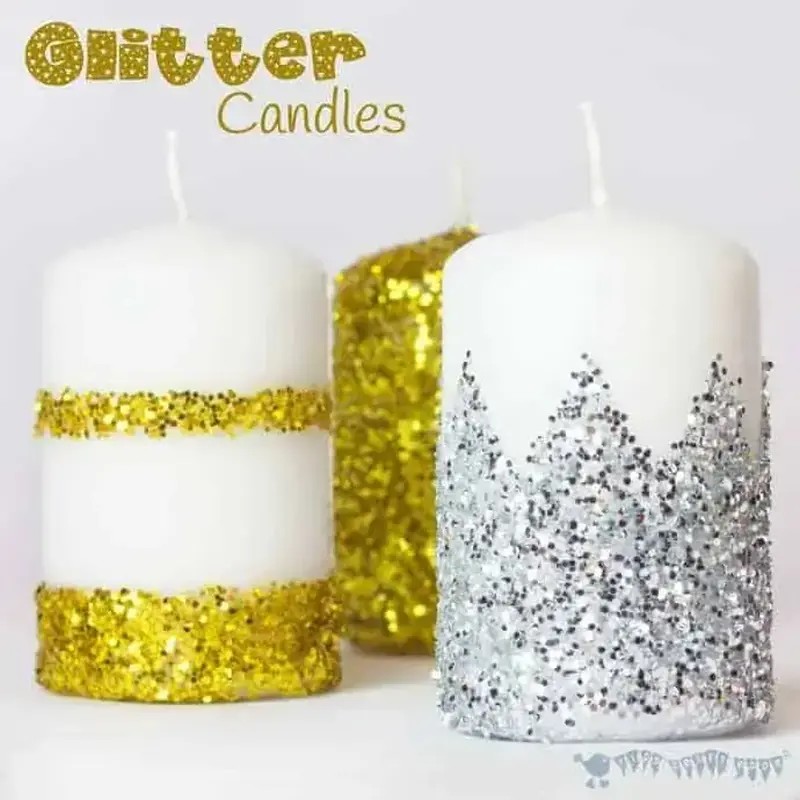 Turn boring white candles into festive glitter decorations for Diwali! You will need to paste glitter in different designs over the candle. It is an easy and inexpensive DIY Diwali decoration. Check out the detailed tutorial at Kids Craft Room.
10) Paper Cup String Light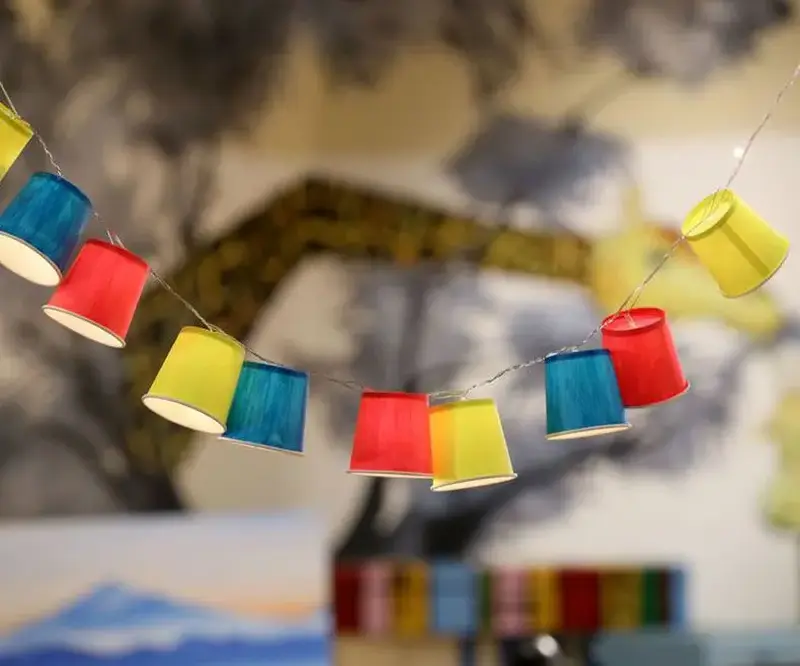 This colorful garland is made of a few paper cups and a string light. You need to make small slits on the bottom of the paper cups for affixing the light bulbs. It will become outer case for the bulb to emit warm light. The paper cup lights can be placed in the living room or balcony.
11) Chandelier from Fairy Lights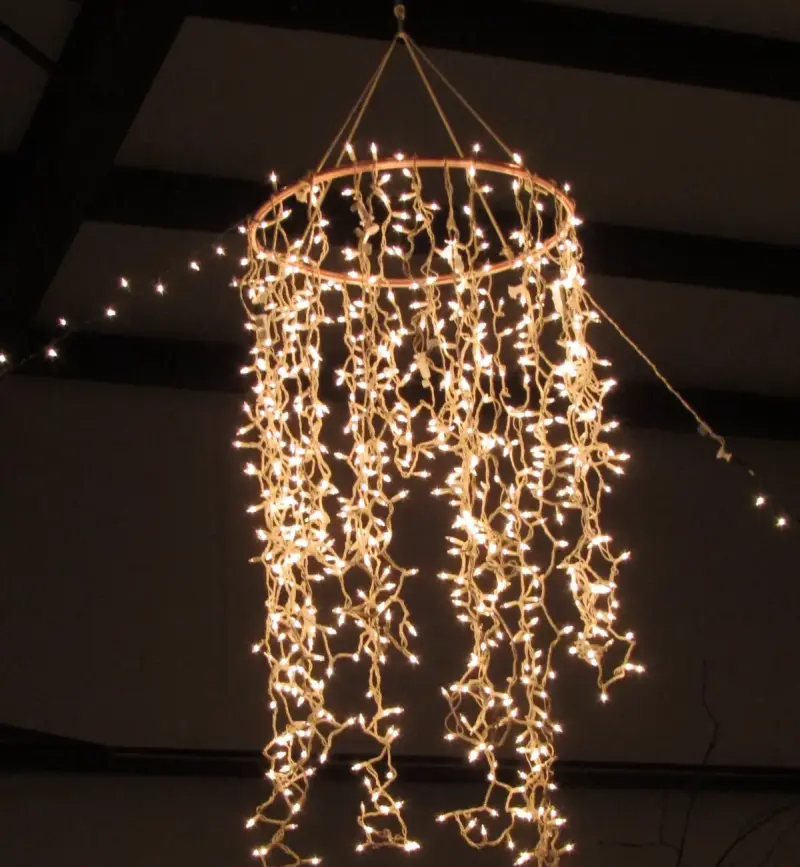 Add a sophisticated charm to your balcony with a chandelier made from a hula hoop, a string light and electrical tape. You need to make loops of the string light on the hula hoop, making a chandelier like object. This DIY Diwali lighting decoration will be an eye-catcher. Check out the tutorial at WikiHow.