Zebronics, the Indian brand largely known for its affordable and well-performing audio products has launched its first Alexa-powered, smart speaker in India. Named Zebronics Zeb-Smaxxx`rt Bot, it can be used to voice control non-smart home devices with IR receiver like AC, TV, etc. Users can also makes use the companion mobile app to control the speaker.
Zebronics Zeb-Smart Bot is a black, boxy-shaped device with rounded corners. The speaker is powered by 5V USB connection and is equipped with a 5W speaker. It can play songs over Wi-Fi or Bluetooth or using Amazon Prime Music, Hungama Music, Gaana directly.
The controls are set on the top along with a LED ring to signal an operation. It has features of a smart speaker including smart home control with built-in 360-degree infrared (IR) blaster, playing music, reading news, setting up alarms and appointments, even telling stories to kids. The smart speaker also has a microphone off button to disconnect microphones for ensuring privacy.
Also Read: Google's Latest Nest Audio Smart Speaker
Zeb-Smart Bot is latest entry to the Zebronics' smart home slew that includes Wi-Fi security cameras and plugs. The smart speaker is priced at Rs. 5,999 but is currently available at a discounted price of Rs. 3,559 on Amazon.
Smart home market is steadily growing in India and some reports even say that the shipments of smart speakers have exceeded 1 million units in India. This is definitely a good signal for the launch of the Zebronics smart speaker. It would be surprising to how it carves its market amidst strong competitors like Amazon Echo Dot.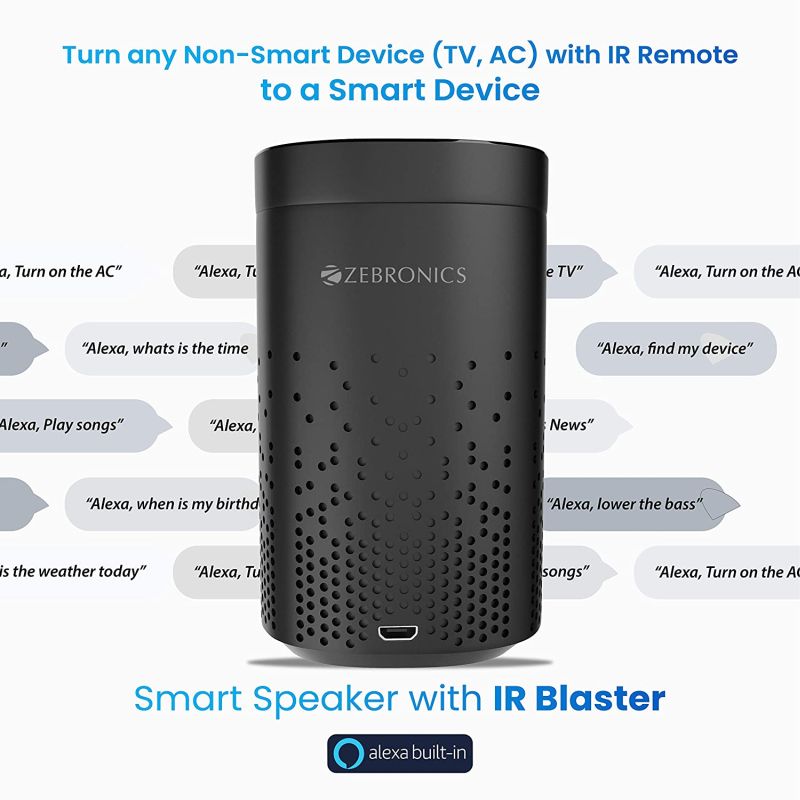 Via: Zebronics