Our homes are full of electronic devices, and sometimes we find it difficult to power them with a single wall outlet. This shortage of power sockets can easily be dealt with by extension boards or sometimes called power strips. You can find a number of extension boards so you must choose carefully as per your requirements.
These simple accessories have multiple socket points so that you can power multiple gadgets at a time. You will basically be able to power up multiple phones by your bedside or table – they are really helpful. Extension boards come with a cord so you can reach the areas away from a power socket easily.
Things to keep in mind when buying an extension board
The first thing to consider is the number of plug points in your extension board but it is never recommendable to use more than 2-3 general purpose electric appliances to one unit. This is directly related to load capacity of the extension board and the cord itself. Check it is used for 3-pin and 2-pin plugs?
You should also decide the cord length per your needs so that you don't have to regret later. The thickness of the wire is also an important factor. Also keep in mind the number of switches and LED indicators on the board. The warranty period of the product is also valuable.
Surge Protectors Vs. Power Strips
You may have heard of these terms earlier but most probably, you have considered them a similar thing. Below, we will be clearing up all your doubts about them. Both products provide outlets for powering multiple devices from a single wall outlet but surge protectors are considered safer. They can guard your electrical devices against sudden power surges and spikes. You should choose a surge protector on the basis of joule rating that determines how much energy it can absorb before the built-in MOV fails.
Best extension boards / power strips in India
After going through a large number of extension boards available online in India, we have finally rounded up some great options from Amazon. We have included the best ones, mostly with surge protection, from all the renowned brands.
GM 3058 – GPower 4+1 Spike Guard Adaptor (Best Overall)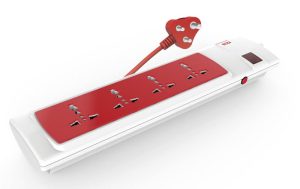 Plug your multiple electrical equipment into one power outlet with the GM power strip. It is designed to control any unexpected or potentially dangerous spikes in electricity with a surge protector. The cord length is 2 meters and there is a master switch to turn on and off the adaptor. One of the best rated products, it also comes with thermal trip technology and fire retardant protection. This 1200W extension board also has a reset button in case supply trips on overload.
What we like
Red color
Red light power indicator.
1 year warranty
What we don't like
No USB port
Lacks individual switches
Price: ₹604
Ajanta Extension Board (Best with Long Cable)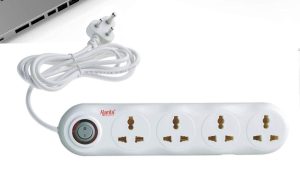 This white colored extension board has four AC outlets with brass plugs with support for 1350 Watts if applied 230V. It comes with a 4-meter long PVC insulated power cord. There are keyhole slots on the back to mount it to a desk table or counter. The board has an integrated circuit breaker with reset switch and automatic shutdown technology for surge protection.
What we like
Durable build
Rounded design
Safety
What we don't like
Price: ₹653
Portronics Power Plate 10 (Runner Up)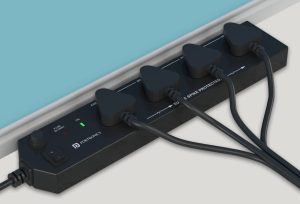 This extension board from renowned computer electronics maker Portronics is designed to power a whole computer and its accessories. It has four sockets and can transmit 1500W power at a time. The 3-meter long cord can help you set up your home office. The built-in surge protector keeps electronic devices safe from sudden voltage fluctuations.
What we like
Brass components
Fuse indicator
1 year warranty
What we don't like
Price: ₹489
Belkin Essential Series Surge Protector (Most Popular with 6 Sockets)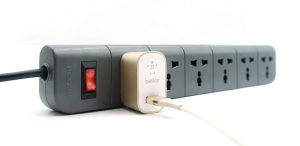 You may have heard of the American consumer electronics company Belkin that is one the top most makers of surge protectors so included in the list. This 1500W extension board has six sockets and one switch. The sockets are at a distance to each other so you will be able to plug multiple devices with large plugs.  The 2 meter cord is large enough to plus TV and set-top box. It can also protect your appliances from sudden power fluctuation.
What we like
Brass sockets
Separate switches
LED indicator on plug
ISI marked wire
Shutters for safety
5 years warranty
What we don't like
No LED indicator
No individual switches
Price: ₹1,349
Honeywell Power Strip (Best Surge Protector)
If you are looking for a safe extension board for your laptop, you can definitely give a try to the Honeywell brand. It has eight sockets and comes with a 2-meter cord. There is also a LED indicator and an automatic reset switch on the board. It has a rating of 700 joules or 20,000 Amps.
What we like
Fire resistant material
LED indicator on plug
Shutters for safety
3 years warranty
What we don't like
Single on/off switch for all sockets
Price: ₹1,399
Also Read: 10 Best Storage Organizers You can Buy in India
Hoteon Extension Board (With USB ports)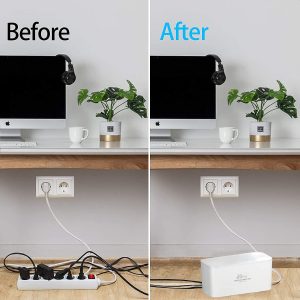 This 2500W power strip comes with a cable management box that allows you to hide the clutter over your home office desk or bedside table. There are five sockets and also three USB A ports to directly charge your electronic devices. The wire is 5 meters long which is sufficient enough to reach distant corners of the home. Made from fireproof material, it has overload protection for up to 1200W and also a reset button.
What we like
Switch with LED indicator
Kid or pet-safe
1 year warranty
What we don't like
No individual switches
High cost
Price: ₹2,999
SYSKA Plastic Surge Protector SSK-EBS-0401 (Budget Friendly)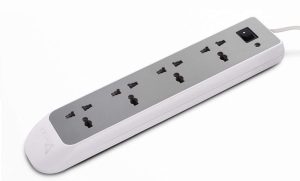 This 1500W black and gray power strip by renowned brand SYSKA is a great choice for any homeowner due to its reasonable price. There are four sockets compatible with Indian and international plugs and devices. The wire length is 2 meters and it has a 6A fuse for surge protection.
What we like
LED indicator
1 year warranty
What we don't like
No independent On/Off buttons
Price: ₹392
Smart Anchor Power Strip with Individual Switches
This 2400W power strip with 1.5 meter long wire gives you freedom to use each socket independently. There are LED indicators that let you know about the status and also for the fuse blown case. The switchboard can be used at homes and offices. Place it in your home or office and plug-in desktop, scanners, printers, and other devices conveniently.
What we like
LED indicators
10A spike guard
Child Safety Shutter
1 year warranty
What we don't like
Price: ₹670
Zebronics Extension Cord Reel – (Easy to Handle)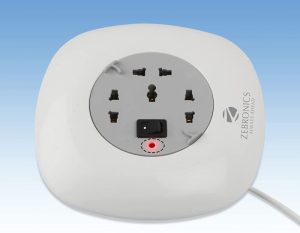 If you are looking for a small power strip that can be handled easily by your bedside table, you can go for the Zebronics 1500W extension cord reel. You can easily roll out the desired length of the cord. It looks really cool in white and blue. There are three sockets and a switch to turn it on/off. It comes with a 4-meter long retractable cord.
What we like
LED indicator
Brass sockets
1 year warranty
What we don't like
Price: ₹415
Palfrey High Power Extension Board – (High Power)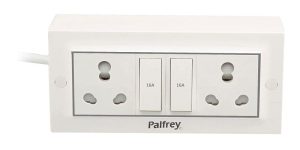 Your need for a high power extension socket that can be used to power equipment like geyser, room heater and refrigerator can be resolved with the Palfrey 16A/20A power strip. It is made from unbreakable white polycarbonate material. This 2200W extension board comes with 2 meter long and 1.5 mm thick wire with 3-core to support these appliances.
What we like
Brass sockets
Separate switches
LED indicator on plug
ISI marked wire
Shutters for safety
What we don't like
Price: ₹767
Note: All electrical devices can lead to hazards if not handles properly. Inspect your equipment before use to make sure it is in good condition and use carefully. GrihaSajjaBlog is not responsible for any kind of loss or injury.