The popularity of scented candles is going up day by day. They not only serve as a symbol of celebration but also uplift the mood and accent the home décor. When you wish to feel fresh like outdoors in your bedroom, scented candles can be a great alternative that fills your home with freshness of nature.
Scented candles have become home decor elements that can bring instant change into ordinary environment of any space. There is no need for a special occasion and place – you can burn them wherever and whenever you want to soothe your senses and feel relaxed.
These candles can attract a person visually with the warm, flickering glow and also through the sweet fragrance. They create a multi-sensory experience that will evoke memories. There are various kinds of scented candles available in India so we suggest going for your favorite scent. Consider the design, material, weight and burning time before buying a scented candle.
If you are looking to buy online, read the following list of the best scented candles available on Amazon India right now. The list includes products from different brands and you can explore their pages more.
List of Small Scented Candles in India
1) The Philotree Scented Soy Candles (400g) (3 scent choices)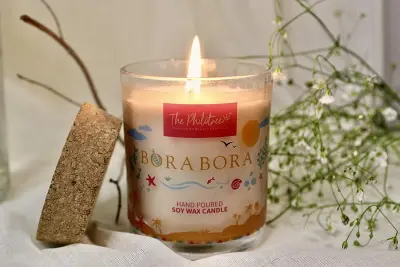 This glass jar soy wax candle comes with a cork lid for a contemporary look. There are three fragrance choices: Woody Himalayan Mist, Beachy Bora Bora and Passion Fruit. It has a burn time of approx. 40 hours and is suitable for room size up to 250-300sq.ft.
Price: ₹599 (Pack of 1)
2) Song of India Wax Jar Candle (350g) 
(6 scent choices)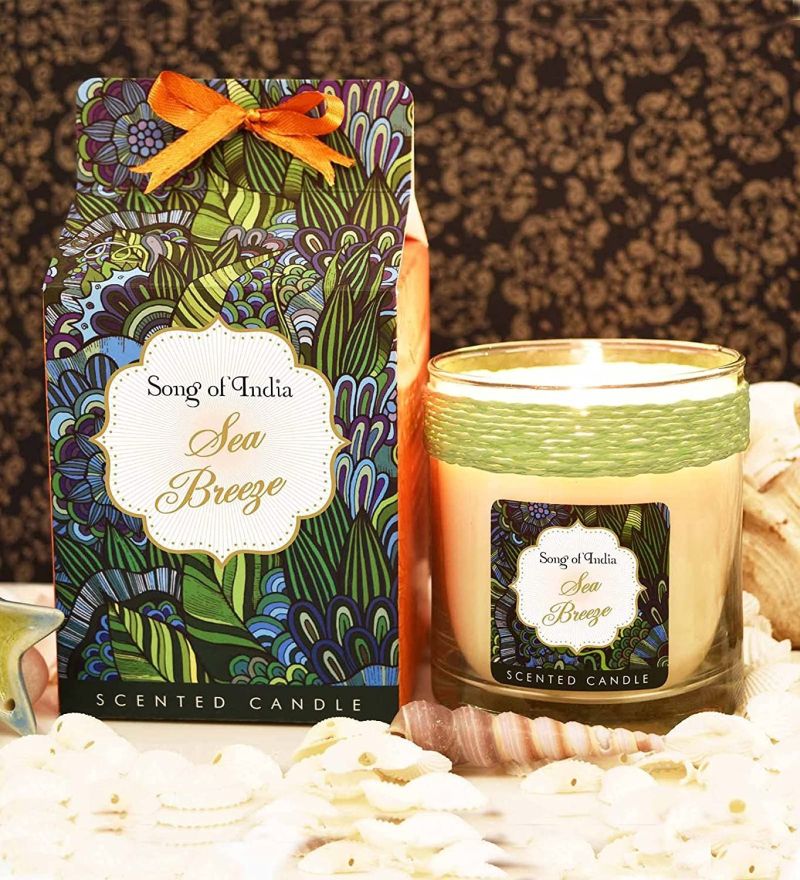 This scented candle jar uses a lead-free cotton wick. You can choose the scent from French Lavender, Honeysuckle, Ivory Musk, Lily of the Valley, Neroli Bergamot and Sea Breeze. Each candle can burn for up to 30 hours. Its fragrance will stay for longer.
Price: ₹575 (Pack of 1)
3) EKAM
Zodiac Sign 

Scented Candles (199g) 

(12 scent choices)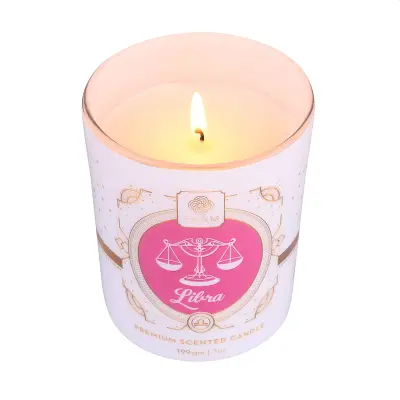 Celebrate your zodiac sign, and fun scents with EKAM scented candles that represents a zodiac sign. The fragrance are Aries, Cancer, Capricorn, Gemini, Leo, Pisces, Saggitarius, Scorpio, Taurus, and Virgo.  The candle has 30 hours of burn time. They can also be a cool gift item.
Price: ₹765 (Pack of 1)
4)
Bryan & Candy Scented Candle Set
Scented Candle (368g)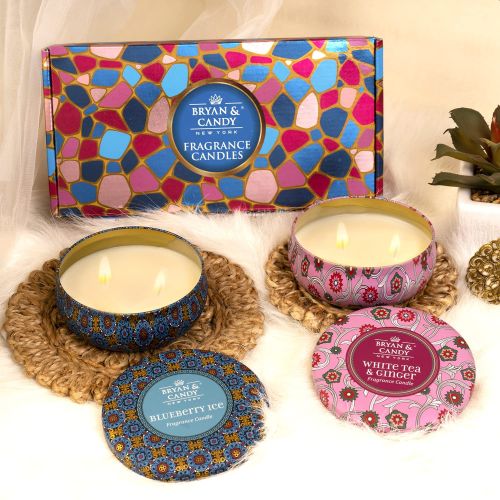 These 3-wick aromatherapy candles are made from vegan soy wax and essential oils. With charming pattern on the tin container, the candles will add charming vibe into any space, whether office or home. The scents are White Tea & Ginger, and Blueberry Ice. 
Price: ₹1,049 (Pack of 2)
5) MINISO Scented Candle (150g) (8 scent choices)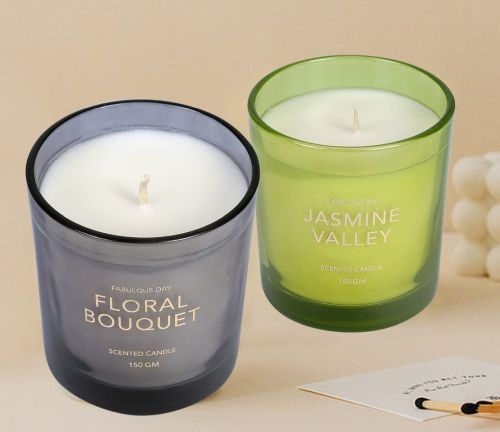 Freshen your home with MINISO scented candle is available colored glass jars. You can choose from Black Floral, Fruity Wonderland, White Elegant Rose, Pink Rose Charming & Black Floral Bouquet, etc. Each piece has 36 hours of burning time.
Price: ₹379 (Pack of 2)
6) 
Bella Vita 

Soy Wax Candle (240g)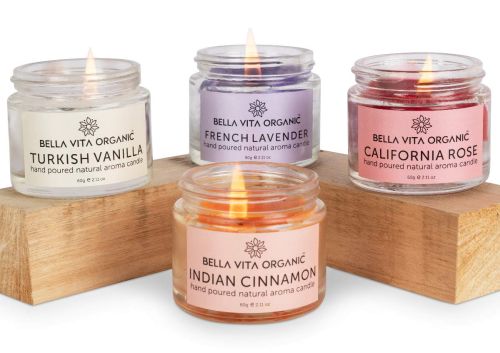 This soy wax scented candle set of our comes in Vanilla, Cinnamon, Lavender & Rose fragrances that will provide a feeling of happiness and relaxation in your home. Made from natural ingredients, it can burn for 30 to 35 hours.
Price: ₹324
7) wiSDom by Sheetal Desai Luxury Scented Candle (300g)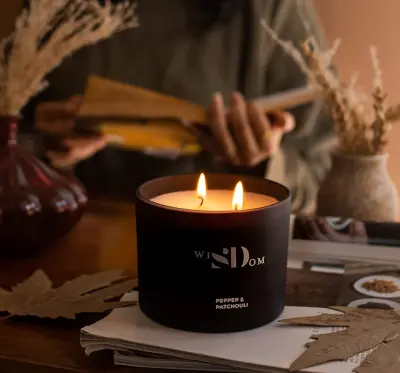 This two-wick candle comes in a black container that looks very classy. You can use it at home or offices. The choice for scent is limited to only the combo of Orchid & Vanilla. The burning time is 40 hours.
Price: ₹2,700 (Pack of 1)
8) Divine Senses Beeswax Scented Candle (560g)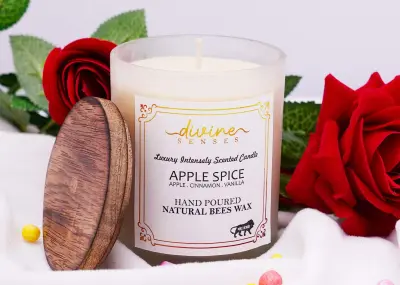 This candle comes in black and white glass jars. Each piece combines two or more mood-lifting aromas. There are a total of 16 choices, including Caramel & Plum, Cinnamon Vanilla &  Apple, Peach & Cranberry, Vanilla & Lavender, etc. It comes with a with wooden cap that gives it a cool look. The operating time is about 40 hours.
Price: ₹525 (Pack of 1)
9) Indian Crystal Company Cloche Bell Jar Candle (500g)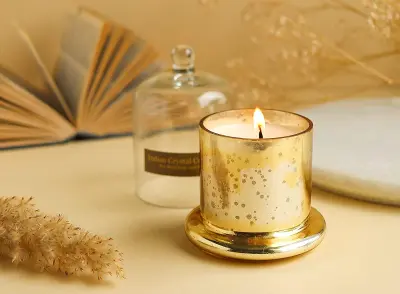 This plant-based soy wax scented candle comes in a jar that will be a statement piece itself. Burn the candle and cover with the cloche bell after use. You can choose from Sea Breeze, Lemon Grass, Frankincense, Lavender, Ylang Ylang, Tea Tree, Coffee, Eucalyptus, Vanilla, Mandrin, etc. It has burning time of up to 48 hours.
Price: Starts from ₹475 (Pack of 1)
10) Omved Vegan Scented Candle (420g)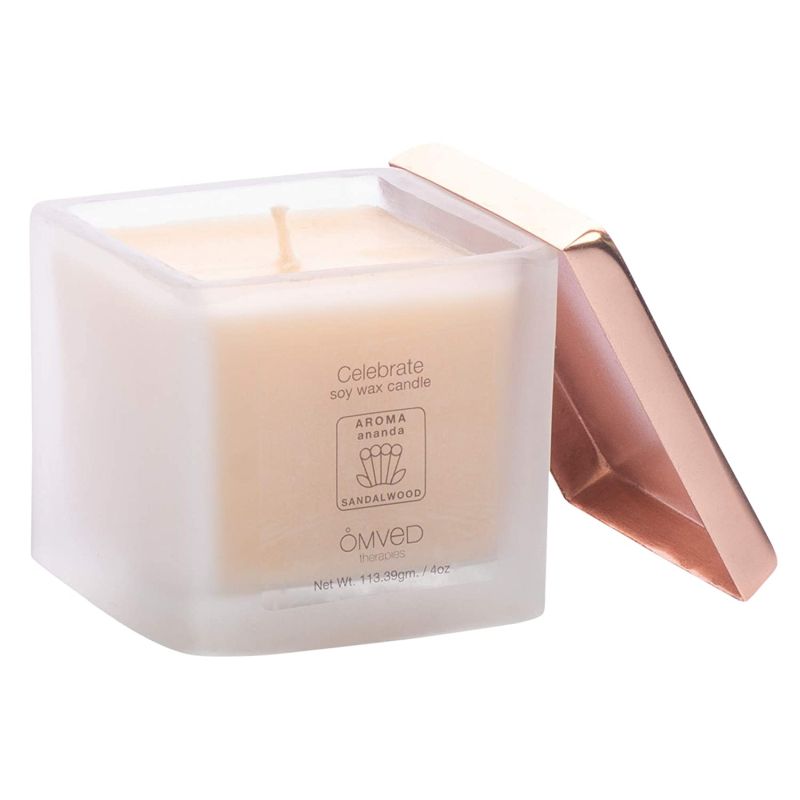 This 100-percent natural, aromatic soy wax candle contains essential oil of Sandalwood which will uplift the mood. The candle lasts up to 35 hours and jar is reusable.
Price: ₹799 (Pack of 1)
11) VEEDAA Crystal Glass Scented Candle (300g)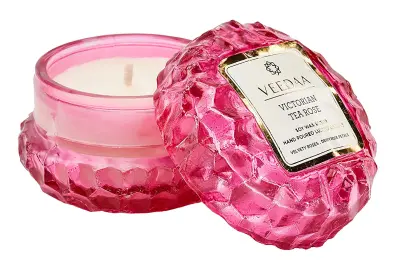 This Tea Rose scented cupcake jar candle comprises the blend of soy wax and essential oils along with a pure cotton wick. It has 15 hours of burn time. Once finished, you can use the jar for keeping jewelry and other small things.
Price: ₹650 (Pack of 1)
12) Shalom Soy Wax Jar Candle (780g)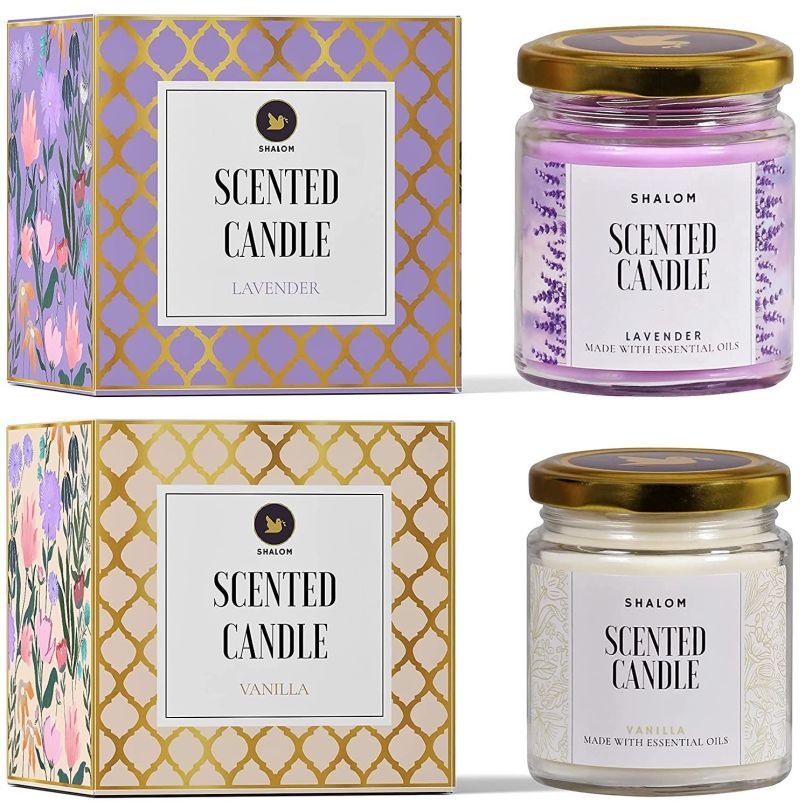 This set of lavender and vanilla scented candles will help you add ambiance in living room or bedroom. It can burn for up to more than 32 hours. The soothing fragrances can also help in creating a relaxing and calming effect.
Price: ₹547 (Pack of 2)
13) WiseLife Organics Scented Candles (200g) (4 scent choices)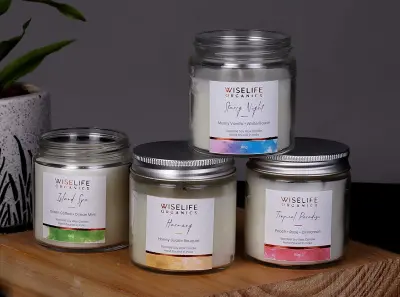 Infuse your home with a delightful fragrance with scented candles from WiseLife Organics. It come in classic glass jars with tight caps that do not let the original fragrance lose. The burn time is up to 18 hours. There are four choices of fragrances.
Price: ₹282 (Pack of 1)
14) B-URBAN Organic Scented Candles (300g)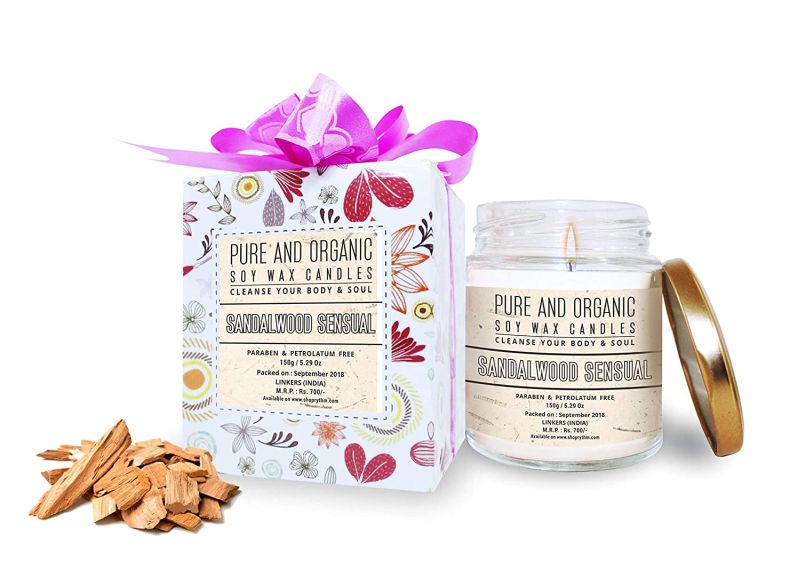 B-URBAN scented candles come in classic jars with shiny caps. They use organic essential oils and lead-free wicks. Different choices of fragrances are available including Apple Cinnamon, Citronella, Pineapple Delights, etc.
Price: ₹390 (Pack of 2)
Also Read: 10+ Beautiful Coaster Sets Made of Different Materials
15) Eliora
Vanilla Scented Natural Wax
Candle (280g)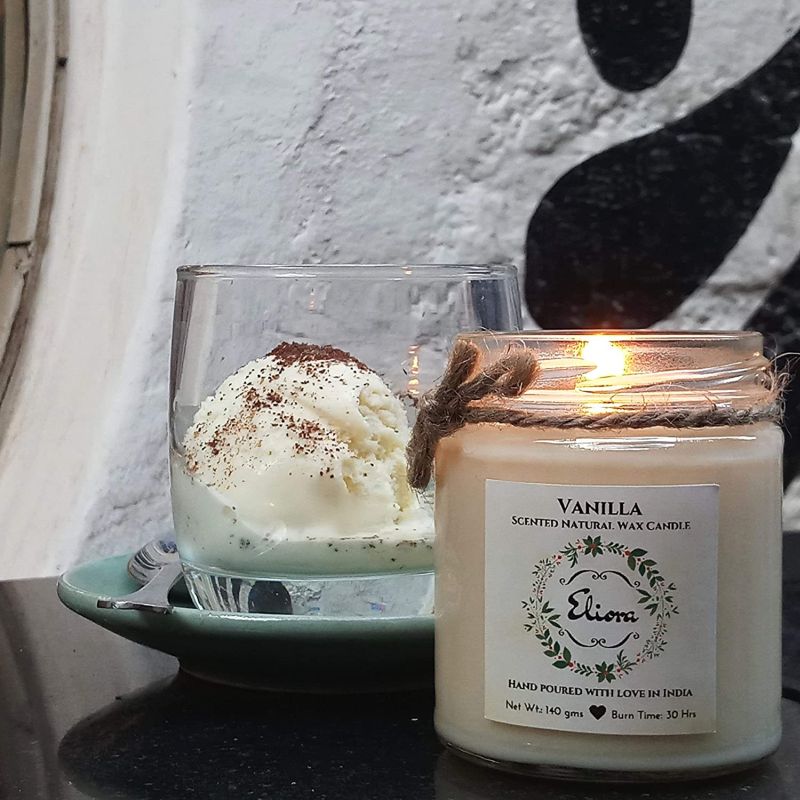 This vanilla scented natural wax candle jar will spread sweet fragrance across your living space. Each candle has burn time of approx 30 hours. Its fragrance is floral mild and has a moderate throw.
Price: ₹498 (Pack of 1)
16) Pure Source India Scented Candle Jar (499g)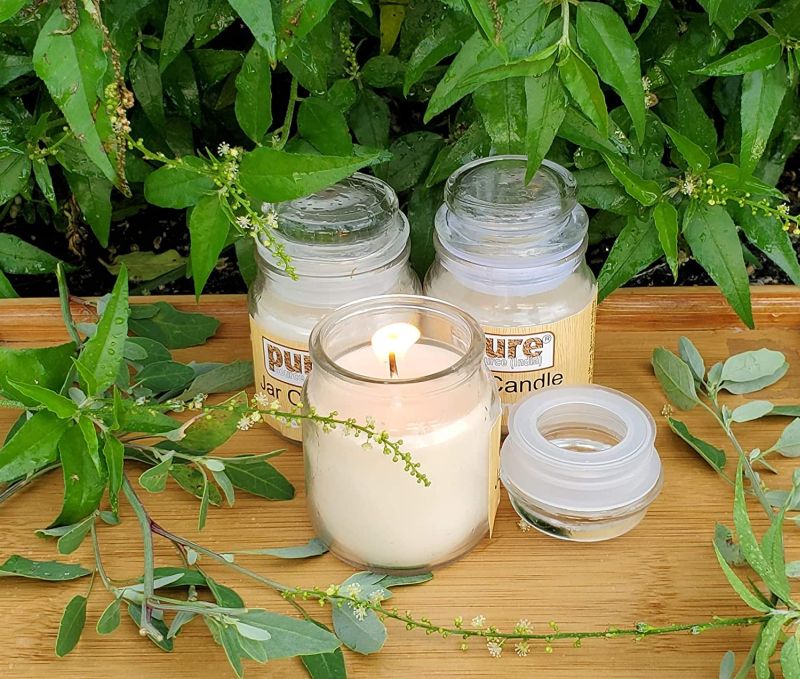 These candles come in a glass jar with a lid. Jasmine White scent will bring a hint of freshness into your home. Ideal for small spaces, the candle set has a burning time of 20 hours. You should close the jar when not using the candle to preserve the scent.
Price: ₹351 (Pack of 3)
17) Candles in Earthen Pots by Marichi (80g) (6 scent choices)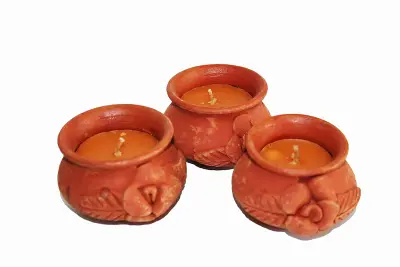 Hand poured in earthen pots, these candles are perfect for yoga and meditation. Each scented candle can burn for 14-16 hours. You can choose from Ylang Ylang, Jasmine, Oud, Rose, etc. Use the pretty pots to plant succulent after use.
Price: ₹325
18) Palatial Lifestyles Aromatherapy Candles (420g) (6 scent choices)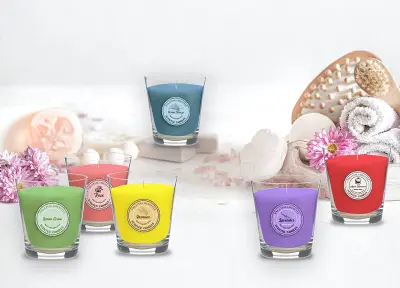 This set of mini glass candles candles will help you prepare your home for guests. The candle has a burn time of approx. up to 10 hours. Each set has Rose, Lavender, Jasmine, Apple Cinnamon, Lemon Grass, and Ocean Breeze fragrances. It is a made in India product. 
Price: ₹399 (Pack of 6)
19) DecDoor Scented Candles (490g) (6 scent choices)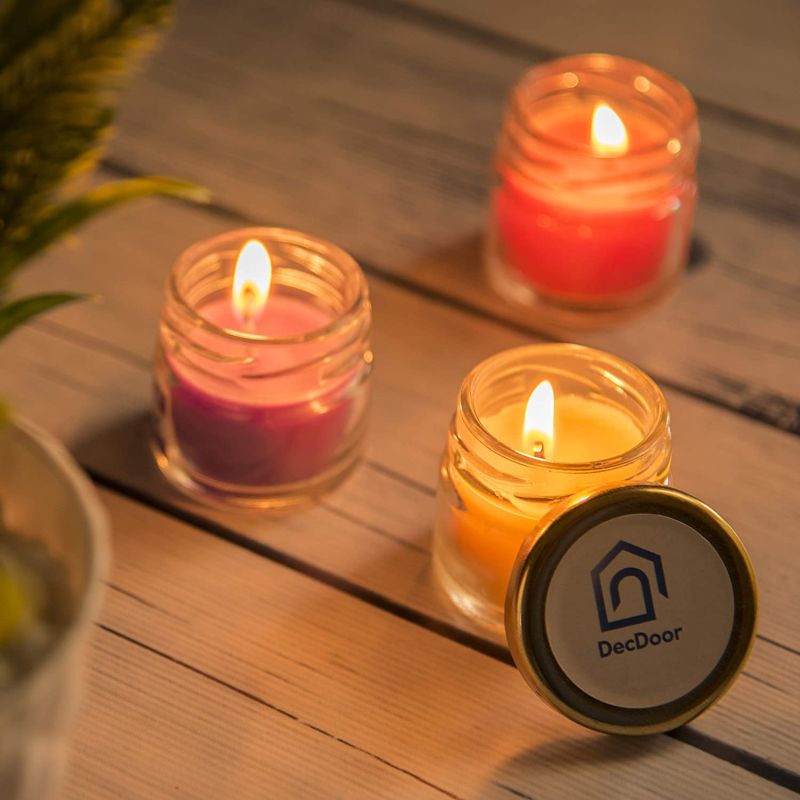 This scented jar candle set will help you create a pleasant desired environment inside your home. Each jar candle offers maximum five hours of burning time. There are Vanilla, Jasmine, Sandalwood, Mini Rose, Lavender, and Lemon Grass fragrances in each pack.
Price: ₹360 (Pack of 6)
20) Scentattava Glass Jar Scented Candle (200g)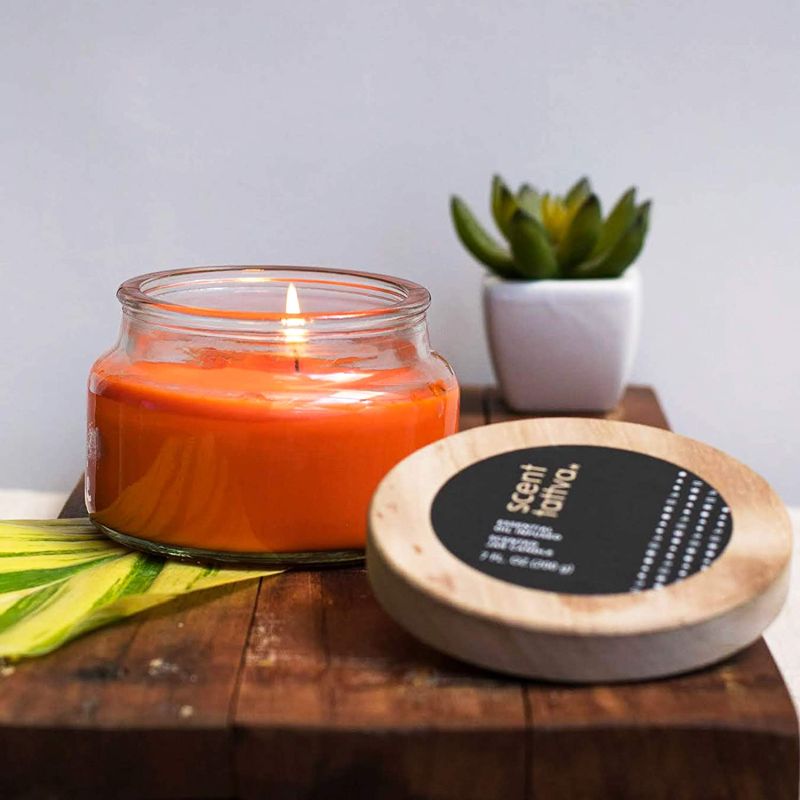 It is a citrus scented candle with orange colored wax. The jar comes with a wooden lid. This paraffin candle offers 72 hours of burn time.
Price: ₹449
Also Read: 10+ Best Home Decor Items You can Buy from Amazon India
21) Wrapped Up Love Vanilla Candles (440g) (3 scent choices)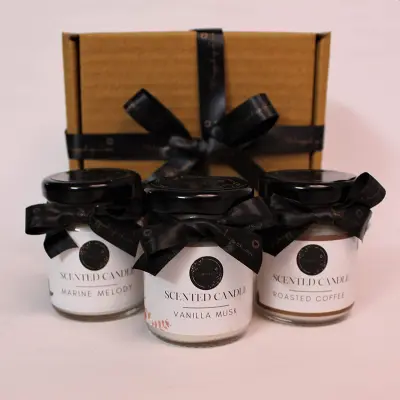 These paraffin wax aromatic candles come in glass jars with black caps. Each pack includes Marine Melody, Roasted Coffee, and Vanilla Musk scents. They will uplift the overall atmosphere!
Price: ₹477 (Pack of 3)
List of Large Scented Candles in India
1) Bath & Body Works 
Cactus Blossom 

3-wick candle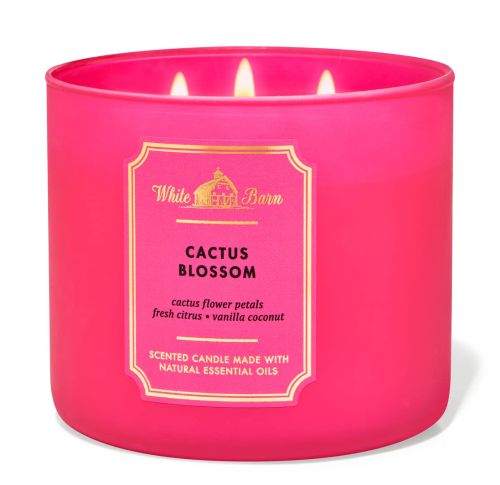 This 3-wick candle will be there for you during relaxing time. With up to 45 hours of room-filling fragrance, it is fit for every occasion.
Price: ₹2,599 (Pack of 1)
2) HosleyTropical Mist Scented Candle (510g)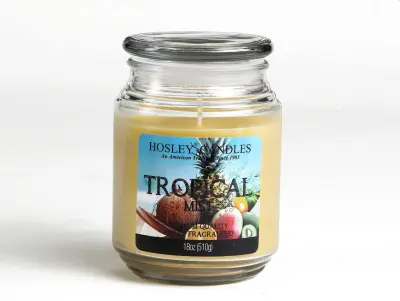 It is a 18 Oz jar candle with Tropical Mist scent will be your companion for a long time. The jar will last for Approx. 100 hours. Hosley also offers other fragrances.
Price: ₹640 (Pack of 1)
3) Yankee Candle's Large Scented Candle in Lamp Shape (500g)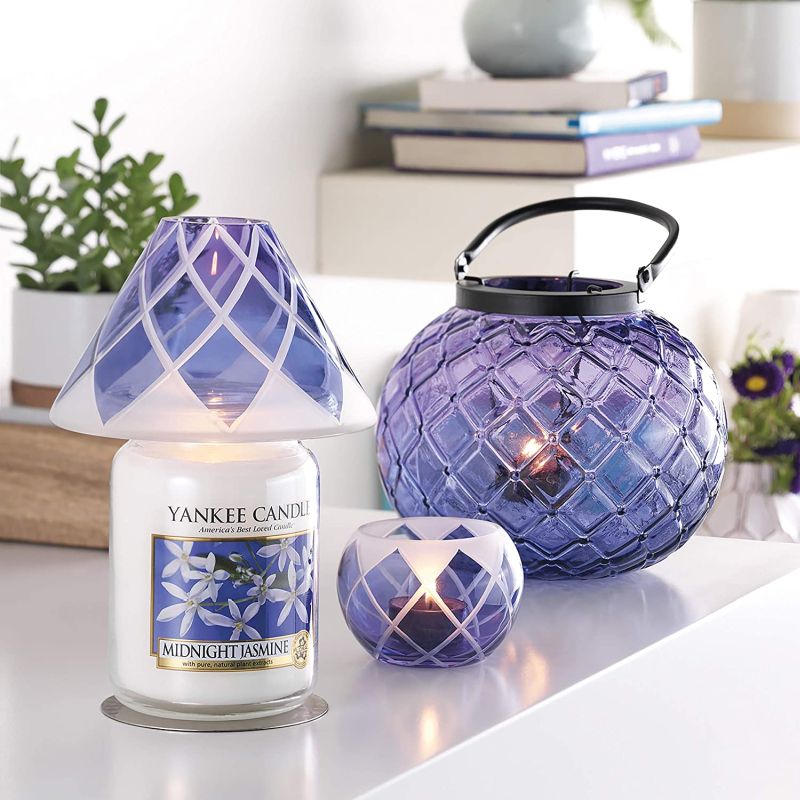 Introduce a seductively lush perfume of Midnight Jasmine into your bedroom. This glass jar scented candle has up to 150 hours of burn time.
Price: ₹2,184
4) Crossroads Mama's Sweet Tea Scented 2-Wick Candle (737g)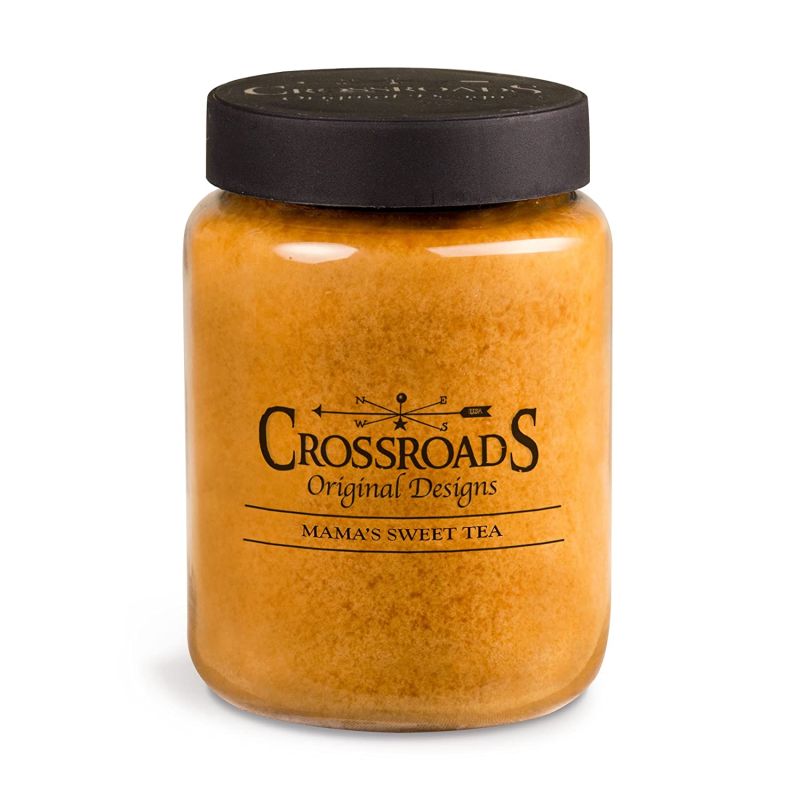 This made in the USA candle is made using blended paraffin wax. It is ideal for winters and rainy seasons.
Price: ₹5,302