Making fresh juice at home is always preferred by people rather than purchasing from the market. By using a simple juicer, you can enjoy your favorite homemade drinks at any time. While a wide range of juicers can be found in the market, cold pressed juicers, also known as slow masticating juicers, are considered a great option. Unlike other juicers, cold pressed juicers operate without exposing the ingredients to heat during the extraction process. This feature helps maintain the optimal nutritional value of the juice, including vitamins, minerals, and enzymes.
Cold press juicers offer great health benefits but they are often priced higher compared to standard juicers. If you're seeking a budget-friendly cold press juicer, you can expect to spend at least Rs. 7K-8K. To help you make a right decision, we have compiled a comprehensive guide featuring the best options available under Rs. 10,000 in India.
Things to consider before buying a cold press juicer
Assembly: Always keep in mind your convenience. You should buy a juicer that is easy to assemble and disassemble so that you can clean it easily.
Cleaning: Consider the ease of cleaning, as some juicers have more intricate parts that require thorough cleaning.
Materials: Check the materials the juicer and its parts are made from. Better to have stainless steel products than plastic ones as they will be more durable.
Accessories: It's better to check which attachments and accessories are available.
Mouth: Size of the chute/mouth should be bigger so that you can feed in larger fruits and vegetables.
Containers: Do check for the capacity of the juicer and pulp containers
Pricing: The budget is the most deciding factor as you obviously get more features in an expensive cold press juicer.
Noise level: Juicers normally produce sound so you must consider the noise level of the appliance carefully.
Safety: Also see for safety mechanism and its effectiveness in the appliance.
Power use: Power consumption is also an important factor
Warranty: Do take a look at the warranty period so that you can repair a damaged product in the future.
List of best cold press juicers under Rs. 10,000 in India
1) Hestia Appliances 150W Cold Press Juicer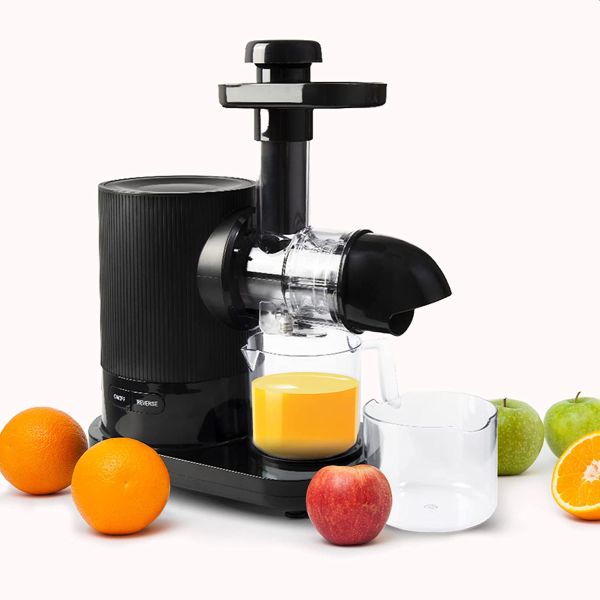 This Hestia Appliances cold press juicer in black looks fancy! Powered by q motor with 85 rpm speed, it perfectly extracts juice, leaving dry pulp behind from separate outlets. It can process hard and soft fruits, vegetables, leafy greens, etc. to make healthy juices. The juicer comes with pre-cleaning reverse function and also a cleaning brush.
Other features
Dense juice
Anti-drip design
Easy to clean
2 jars
Price: Rs. 7,499
2) Usha 200W NutriPress Cold Press Juicer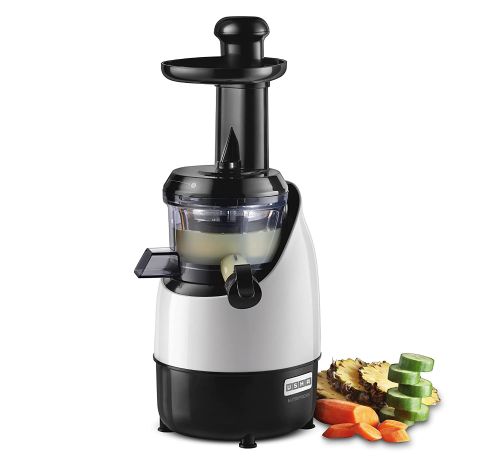 Usha is deemed as a reliable brand in India so we have included the CPJ 382S model in our list. In black and white, it looks compact and elegant. With a low speed of 67 RPM, the juicer is ideal to extract maximum juice from leafy vegetables and fruits while retaining maximum nutrition and original taste. It comes with two filters to make beverages with different thickness.
Other features
45mm mouth
Anti drip cap
Safety lock
Quite operation
2 years warranty
Price: Rs. 8,039
3) Borosil 130W Health Slow Juicer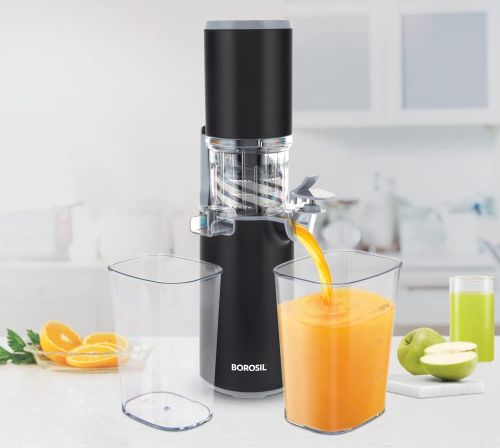 It is one of the best budget cold press juicers you can buy in India. The 55 rpm slow squeeze juicing technology provides maximum juice extraction while also ensuring nutrient preservation. The appliance has a 800ml juicer jug.
Other features
Slim design
Anti drip juice outlet
Safety lock
Reverse motor action for cleaning
2 years warranty
Price: Rs. 3,999
Also Read: Most Popular Interior Design Trends You Must Know for Fabulous Home Decor in 2022
4) Morphy Richards 150W Slow Juicer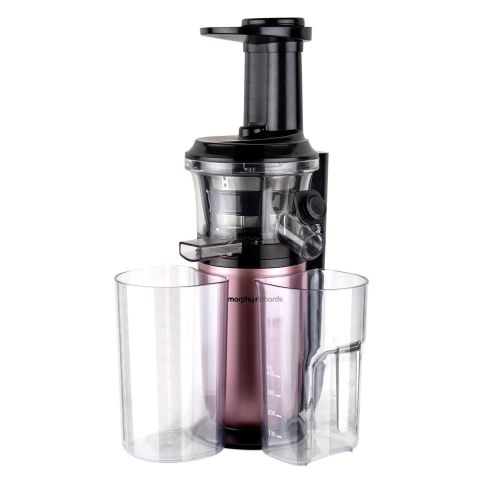 Feed your body with fresh juice full of essential nutrients and minerals prepared using this cold pressed juicer. With a 60 RPM motor, this slow juicer gives as high as 85-percent consistent and smooth juice yield and causes no oxidation. It is a sleek looking appliance with a polished finish for a classy look. It is one of the best rated cold press juicers you can buy under Rs. 10,000 in India.
Other features
Comes with two containers
Less noise
Reverse button for cleaning
Free frozen dessert filter
2 years warranty
Price: Rs. 8,700
5) Kenstar 150W Fit Pro Juicer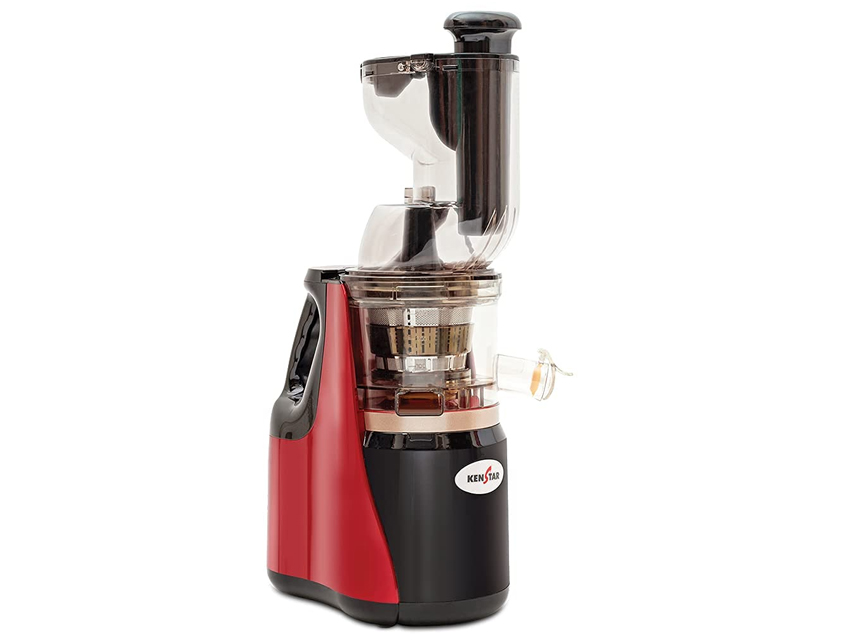 Enjoy nutrient-rich juices in a matter of minutes with this juicer. It rotates at a low speed of something near 50-60 RPM to produce juice with maximum nutrients and vitamins. You will be able to juice all types of fruits and vegetables. It features a compact design in combination of red and black.
Other features
400ml capacity
Plastic filters
Safety lock
1 year warranty
Price: Rs. 6,319
6) Lifelong LLSJ02 200W Whole Juicer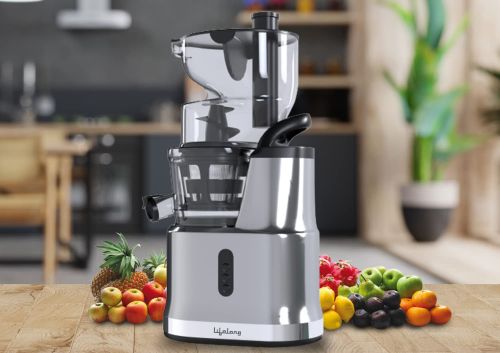 Make any type of fruit and vegetable juices with this Lifelong juicer that uses low-speed squeezing to extract fresh and healthy juices. It features a reverse function that will help in clog-free operation and easy cleaning. The juicer comes in glossy finish.
Other features
Plastic body and stainless steel blades
Smart flow system
2 years warranty
Price: 6,999
7) Cold Press 150W Juicer by Glen Appliances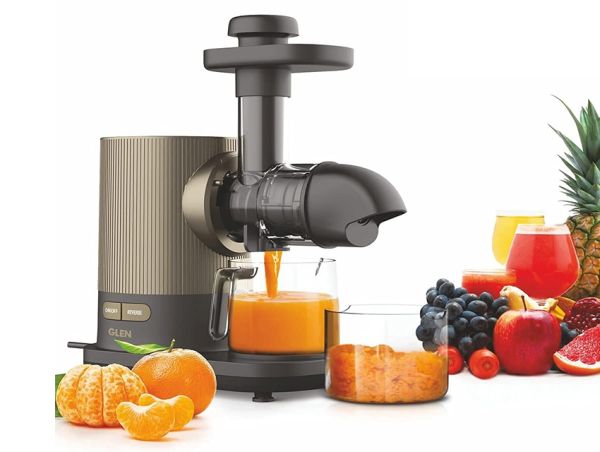 This juicer is made of food grade polycarbonate and comes with a polycarbonate juicing screw. Its 87 RPM low-speed squeezing technique helps retain more enzymes, vitamins and minerals of fruits or vegetables. With one button operation, it is easy to operate and saves time.
Other features
Anti-drip lever
Reverse function for easy cleaning
2 years warranty
Price: Rs. 10,496
8) BMS LIFESTYLE 150W Slow Masticating Juice Extractor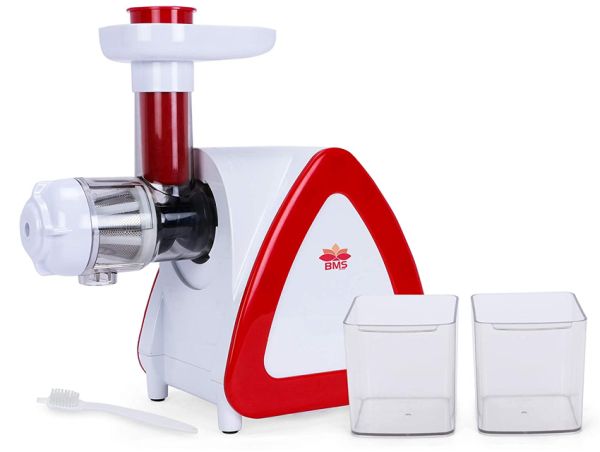 This masticating extractor with 43rpm will help you enjoy a healthy homemade juice anytime you want. With QuickClean technology, cleaning can be done within one minute. Made in white and red, this appliance will be a great addition to any kitchen.
Other features
1 liter capacity
2 inch wide chute
Reverse function
Quiet motor
Made in India
1 year warranty
Price: 7,999
9) Faber FSJ 150R 150W Slow Juicer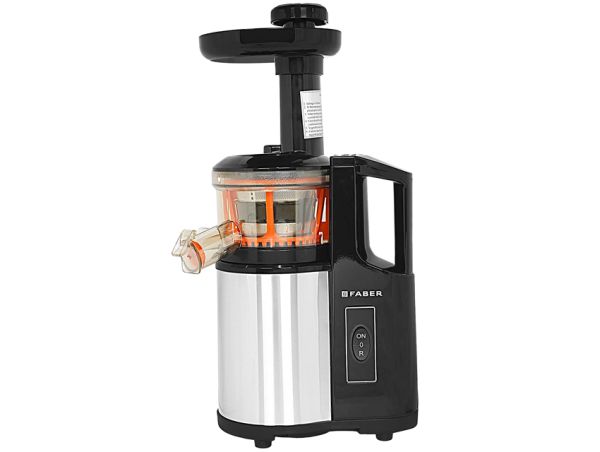 It is the latest entry to Amazon India and has no reviews at the time of writing. Made of BPA-free plastic, stainless steel and copper, this cold press juicer is powered by a 60 RPM low speed motor that gently squeezes the ingredients preserving all essential nutrients and enzymes to produce fresh and healthy juice. It can work for up to 20 mins continuously.
Other features
Safety switch
Stainless steel filter
45dB noise
2 years warranty
Price: Rs. 6,995
10) SOLARA 150W Electric Slow Juicer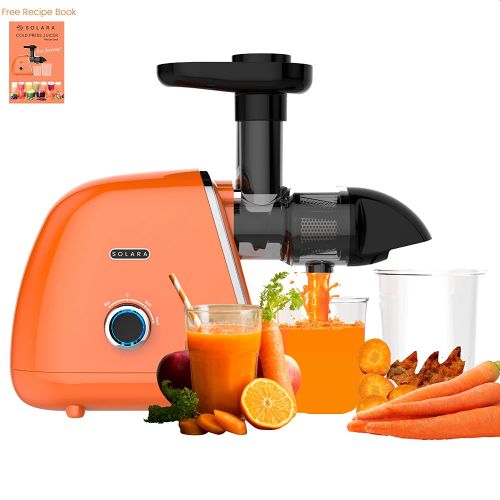 Powered by cold press technology, this juicer allows you to extract 10-20 percent more juice from fruit/vegetable with less waste. Its slow masticating extraction process prepares healthy juice. There are 60 ratings with 3.9 stars of this product on Amazon.
Other features
Comes with two jars
Two speeds
Reverse function to throw out residue pulp
Low noise level
Dishwasher safe
Two colors
1 year warranty
Price: Rs. 7,999