Having clean air in homes has become more important than ever now. Poor air quality can lead to a variety of health problems. Air purifiers are a wise option but growing plants indoors can also be an inexpensive way out. Plants convert carbon dioxide into fresh oxygen through photosynthesis we exhale, and they can also remove toxins from air.
A NASA study conducted in space suggests that certain common indoor plants may improve air quality by removing volatile organic pollutants like benzene and formaldehyde. You should have more houseplants to clean air; however, having one air-purifying plant for every 100 square feet of space is suggested by the study. Other than this, plants are a decorative addition to interior spaces. They usually look great against white walls.
There are a variety of plants you can grow inside home but you should decide according to your place and requirements. Every plant needs a different amount of sunlight, water and climate so you should always consider it mindfully.
We are listing some air purifying houseplants that are commonly seen in Indian homes and offices.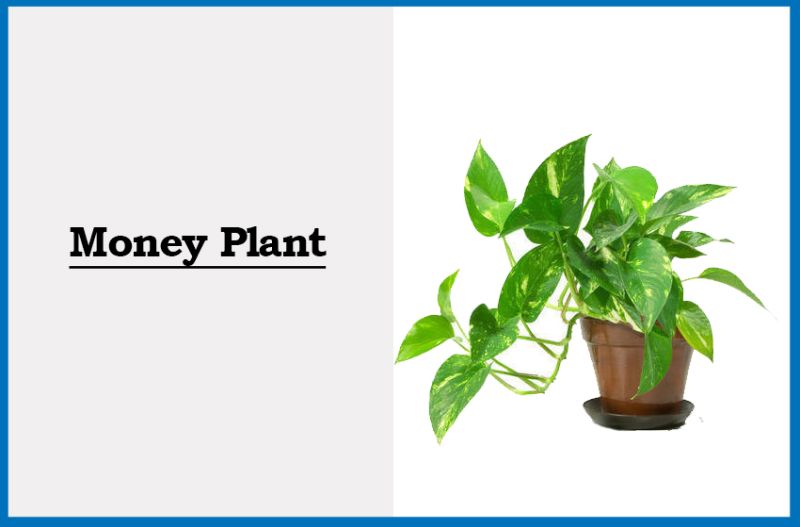 Pothos, (Epipremnum aureum), also called money plant or devil's ivy, is one of the most common indoor plants in India that help clean air. It is a vine plant that gets really long and bushy over time. Its leaves are toxic so keep away from pets and children. Read more about money plant care.
Thrives without sunlight
Easy to care

Spider plants or Chlorophytum comosum are ornamental plants perfect for beginners. They have a weird name just because of their grassy appearance. Its variegated forms are the most popular ones among homeowners. They are non-toxic to dogs and cats. Read more about Spider Plant Care.
Likes indirect sunlight
Easy to care
Also Read: 10 Indian Instagram Accounts to Follow for Balcony Decor Inspiration

The areca palm (Dypsis lutescens) is an ornamental indoor plant that brings fine-textured look to space. This plant is preferred for homes as well as offices. It absorbs harmful pollutants and provides fresh air. See tips to grow Areca palm indoors.
Needs bright, indirect light
Moderate care

Aloe vera is a common succulent plant that is widely grown in Indian homes, owing to its wide benefits. It survives indoors and can invoke a green element to home decor. The plant can purify formaldehyde and benzene from air. Read more about Aloe vera plants.
Prefers bright light
Requires regular watering

Rubber plant, also known as Ficus elastica, is an evergreen tropical tree. This plant comes in a number of varieties that can be grown indoors. It makes a bold statement and also improves indoor air quality. Read more about growing rubber plants.
Medium to bright indirect light
Needs care