Indian homes are incomplete without a mandir – whether it is a small wall-mounted one or a big pooja room amped with wooden panels, marble, motifs, brass bells and built-in lights, every Hindu home has one.
A pooja room or puja ghar is a devotional place where you worship the almighty god so it is quite predictable you will wish to make this space as beautiful as your home. From flooring to walls to backdrop and storage, there are a number of aspects you need to think when designing your mandir at home.    
A pooja room can be made in different sizes as per the available space or requirements. Thereafter you need to decide what materials to use in the puja room design. You can use a number of materials like wood, marble, stainless steel, glass, etc. however; wood is the most preferred material as it is lightweight, durable and can be crafted in different ways.
Pooja Room Designs for Indian Home
We are listing below some of the best pooja room designs we have found over the web. These ideas will be of great inspiration if you are planning to add a new mandir to your home. We have included renowned interior designers from all over India and you can contact them directly for your project.
Home Temple Room by OCA India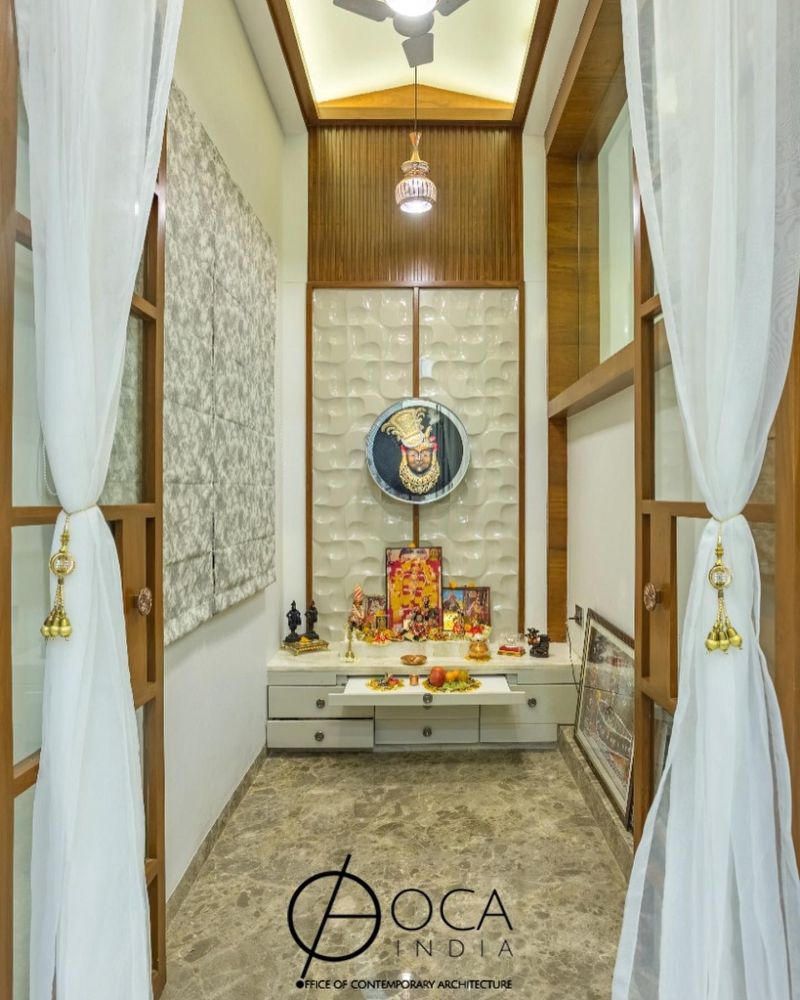 If you want a bright pooja room, then you should probably go for white walls like in this mandir by OCA India. The white walls are merged with wooden detailing and there is also a matching white stand and storage cabinet. You can also spot a white uneven background that creates a flashy stage for idols and even white curtains.  
Wooden Pooja Room with Glass Door by Prashant Parmar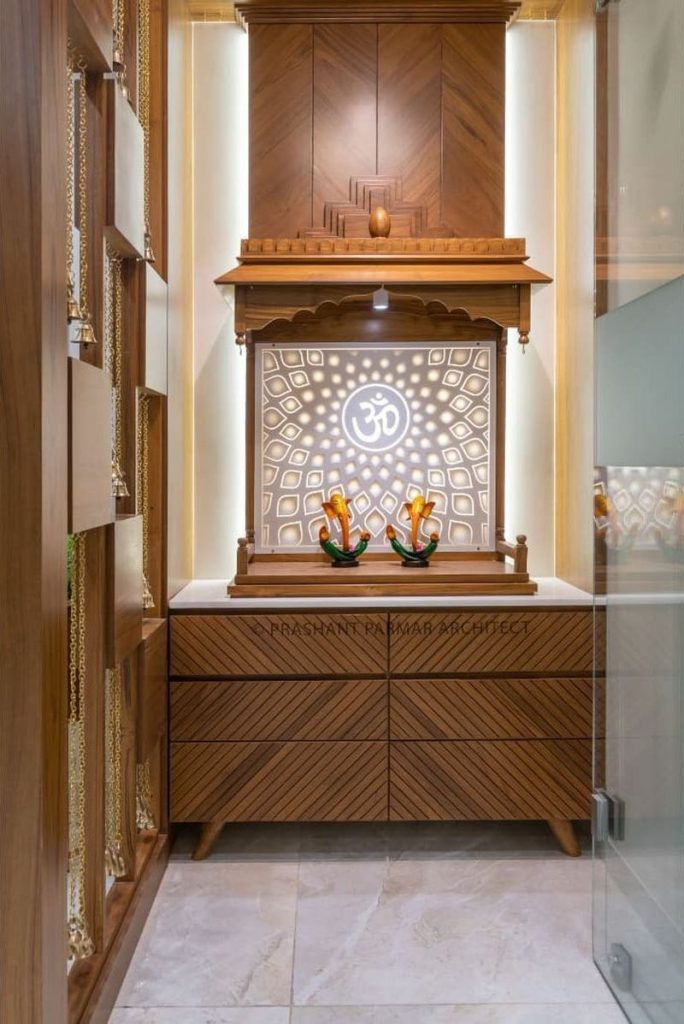 This pooja room by Indian architect Prashant Parmar makes extraordinary use of wood. The lighted backdrop with OM sign is the main attraction, along with the wooden cabinet on which two ganesha murtis are placed. The coziness and warmth of wooden texture brings a modern contemporary feel. A glass door further enhances the elegance. 
Wood and Glass Pooja Room by The KariGhars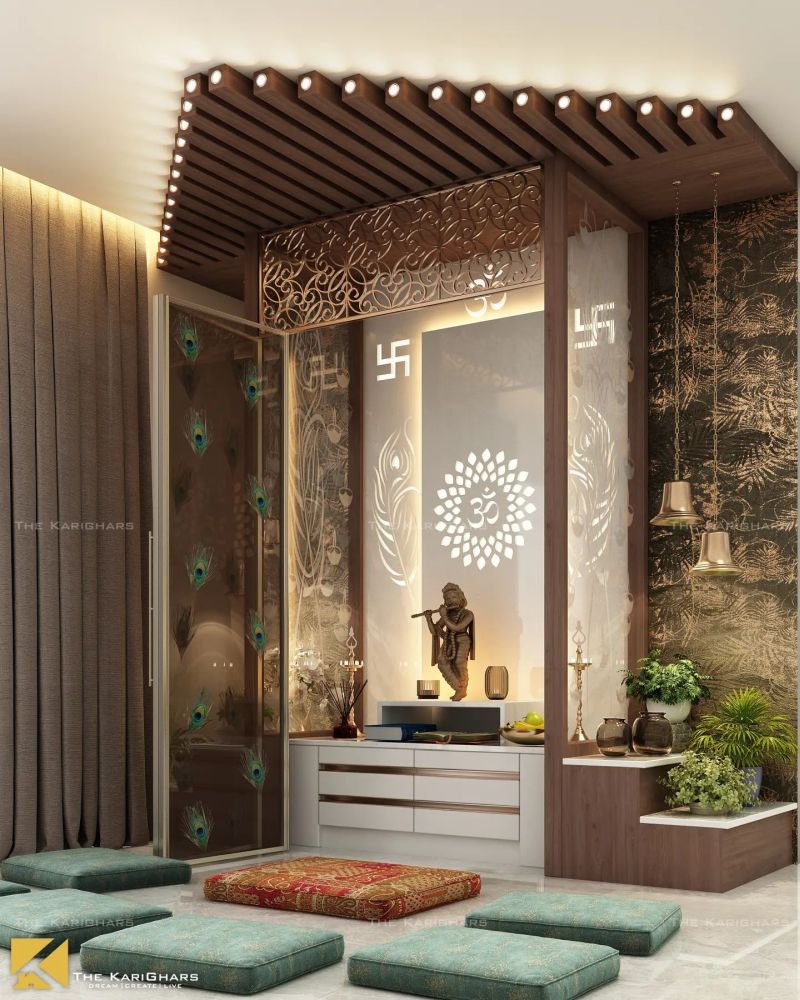 This glass walled home temple is designed by The KariGhars who are known to be one of the best interior designers in Bengaluru. The backdrop looks classic with an expressive Aum in the middle bringing in an eternal look.
There are also built-in lights to elevate the looks even more. The storage drawers are located underneath the wooden stand for idols. Plush floor cushions are used to sit and do pooja. The designers have even included space to put some plants left to the mandir.
Also Read: Best 3D Elevation Designs for Single Floor Homes in India
Open Pooja Room by 3 Square Design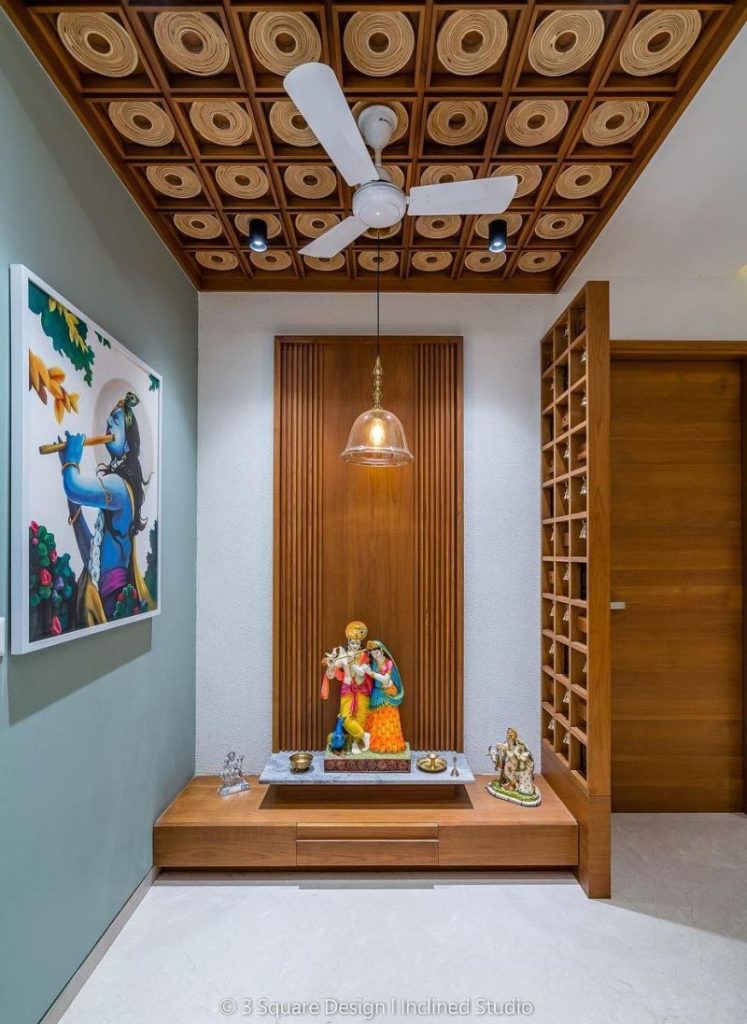 3 Square Design dares to bring a pooja room to the living room area. This open pooja room is mainly crafted from birch wood 3D panels and has linear patterned wood panels for backdrop. There is a marble stand for idols and storage space in the form of drawers underneath it.
The ceiling also showcases a stunning pattern and a glass pendant that completes the look. The wooden side panel forms a separating wall.
Wood and Marble Puja Room by The Design Code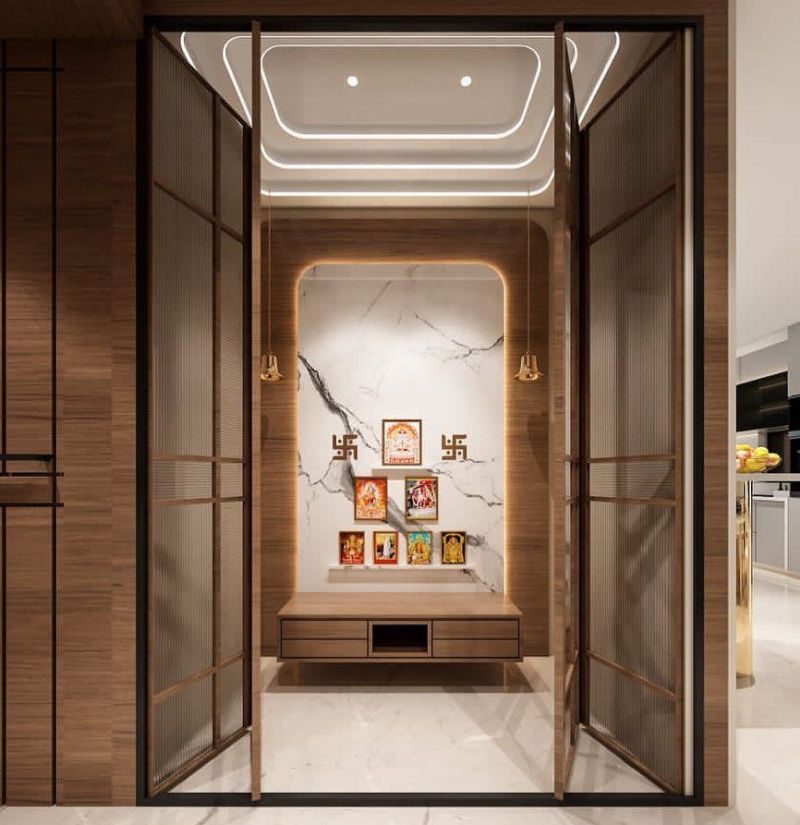 This pooja room by The Design Code is made of wood and has a marble backdrop. The storage unit is built separately under the platform for idols. The ceiling sports a beautiful lighted design while the door has intricate jaali for a modern look.
Pooja Room with Two Doors by Viviana Interio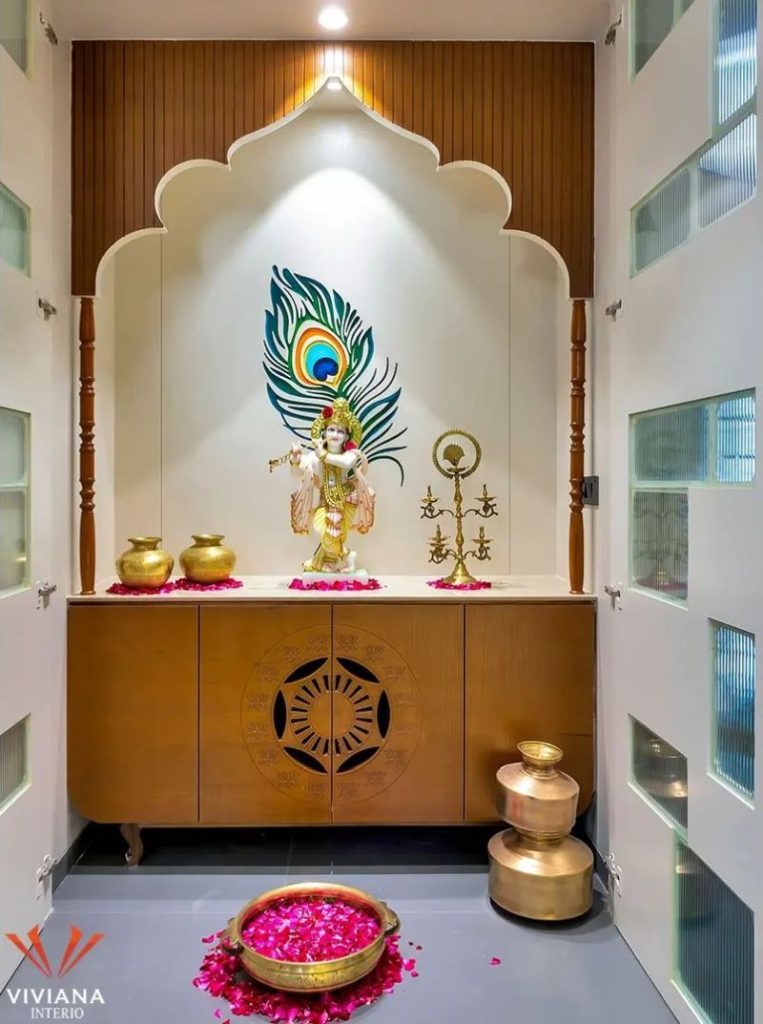 Vertical wall space has been neatly utilized by Viviana Interio to make a mandir. The door has beautiful paintings and looks like a cupboard but has sufficient space to sit or stand. Inside, you can see a carved wooden wall frame and cabinet that makes space for the idols. The peacock feather in the backdrop imbibes spiritual essence and a ceiling light does the job of illumination.
Pooja Mandir Room with Jaali Door by The Interior Workshop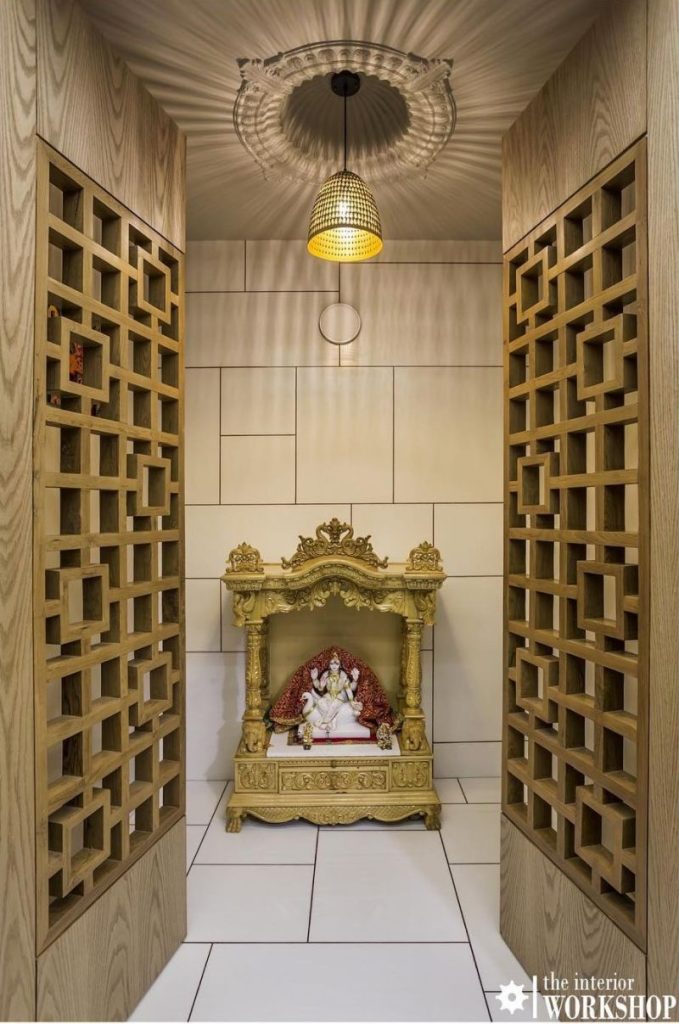 This pooja room by The Interior Workshop has a wooden jaali on the front that looks really amazing. The interior walls are completely white, even the floor. There is an intricately carved wooden platform that takes the center of the room. The look is completed with a ceiling lamp that emits light in a mesmerizing pattern.   
Pooja Mandir Tucked into Wall by Design Cafe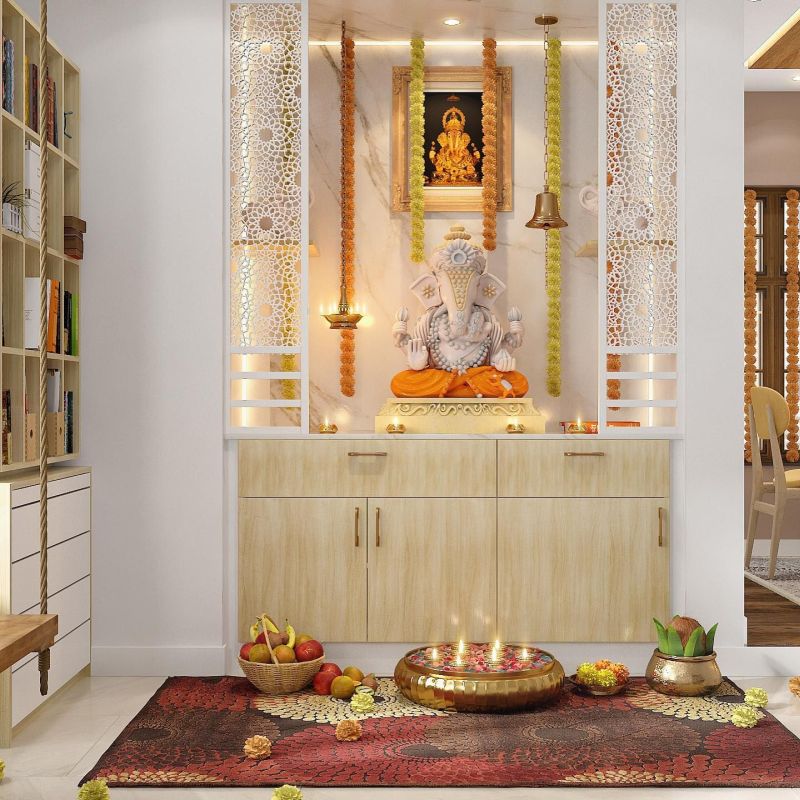 This pretty pooja room with drawers and cabinets at the bottom is built into the wall by Design Cafe. It is ideal for those who want to have a space-saving mandir in the living room. The white jaali with intricate design on the front creates a fabulous look. There are also lights on the ceiling and hanging bell as well as a diya holder. 
Pooja Room with Stylish Lighting by Revati Interior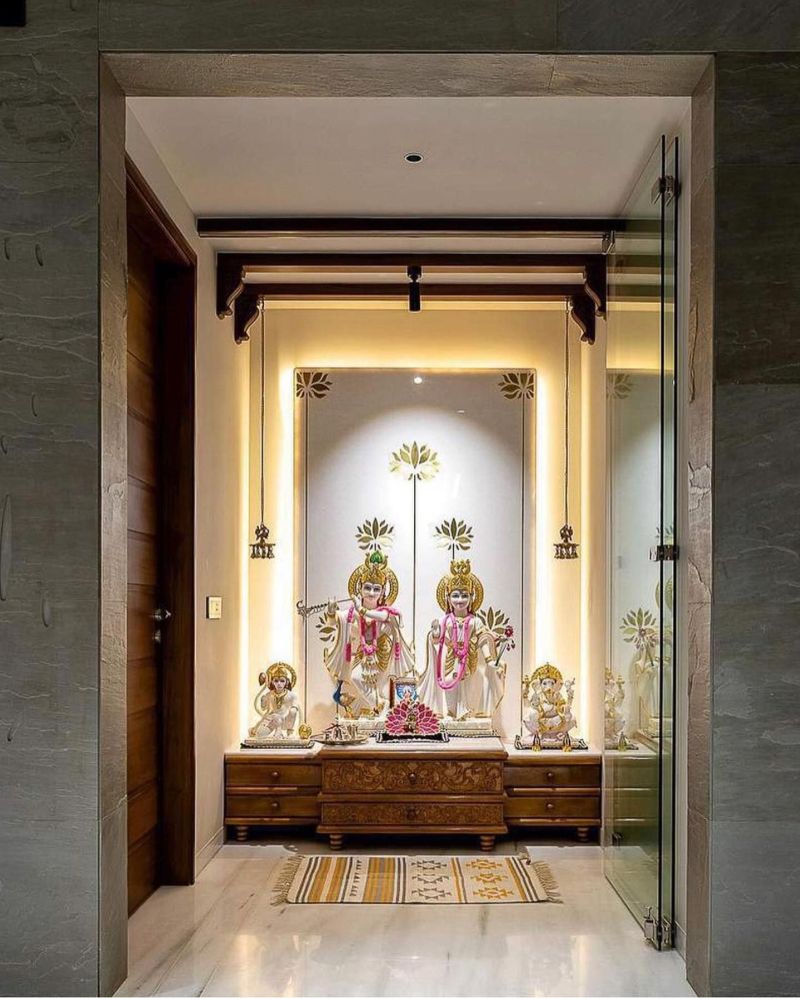 This pooja room is Revati Interior simple yet elegant. It features integrated lighting and a bespoke cabinet with amazing carvings. Two traditional lamps hang from the ceiling while idols are placed on the wooden cabinet. of various Hindu deities.
The backdrop has an impressionistic lotus in the backdrop. There is also a wooden design on the ceiling and glass doors for a streamlined appearance.
White Mandir Design for Home by Sculpt Design Studio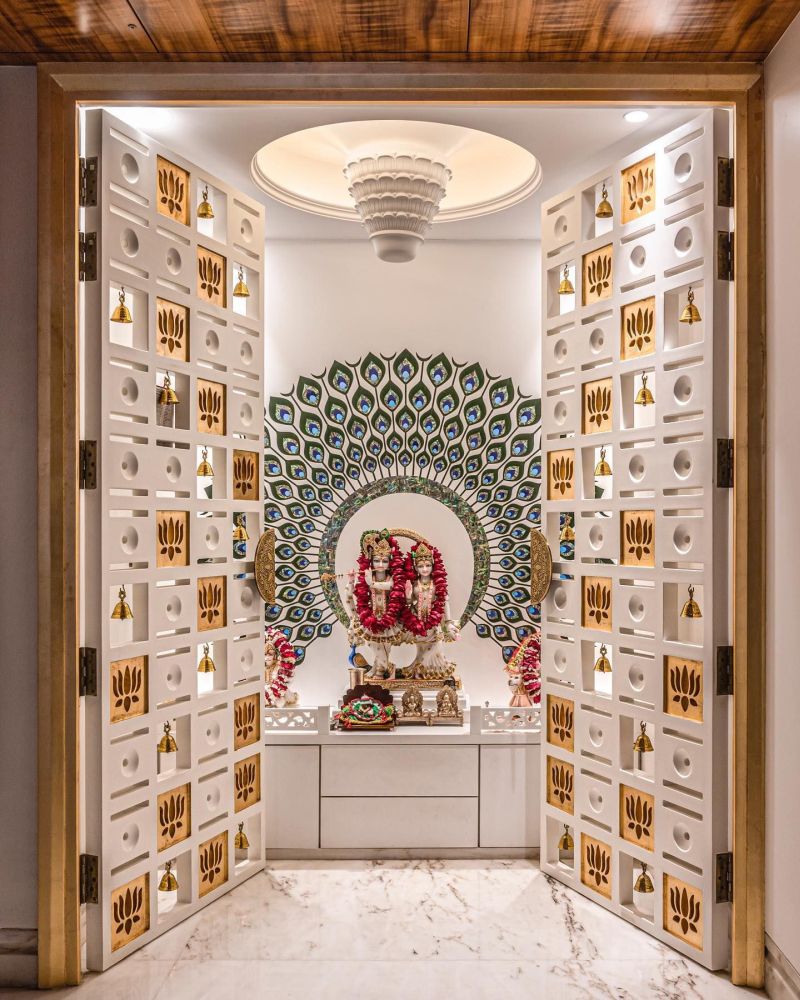 Made by Sculpt Design Studio, this pooja room in white, with golden touches looks really interesting. There is a beautiful motif in the shape of peacock feather in the backdrop and also a creative ceiling light. The idols stand on a white cabinet with a number of drawers. The door has flower and bells on the jaali design.   
Puja Room with Metalwork by Reflecct Design Studio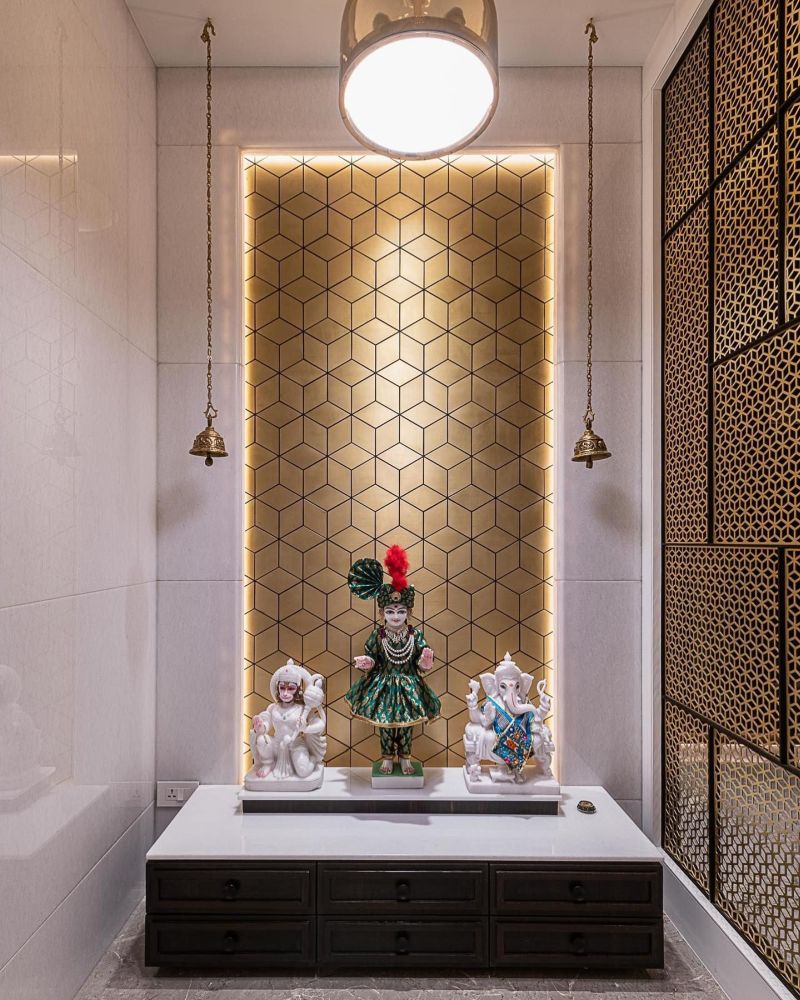 This pooja room by Reflecct Design Studio is distinguished by its golden backdrop with lights integrated on its corners. The dark wood cabinet with a marble top creates an elegant stand for idols. The walls are kept white for simplicity and positivity. There is also a big light on the ceiling, adding a special charm to the pooja room.  
What are the main elements of a pooja room?
Walls: The importance of walls is similar whether we talk of interior design of a living room or a pooja room. Walls become the canvas where you can realize your dreams. You can go for some wood paneling or some marble work – the choice is yours.        
Idol stand: In most pooja rooms, you can find a platform where idols are placed. It can be a wooden cabinet or a separate marble stand.  
Seating: You must also consider the free space in your pooja room. Normally, there should be some space for sitting or standing in the mandir.         
Storage: There should be some space where you can keep all the pooja items in one place. A wooden cabinet with drawers can be a good solution or you can include a shelf.
Lights: No space is complete without lights. You can have a ceiling-hanging chandelier or some integrated lights on the ceiling or walls.   
Door: The home temple design may include some ploy for privacy issues and sanctity. It can be a door or simple curtains. You also get an opportunity with the door to display some creative jaali designs or wooden patterns.
FAQs
What materials are used in pooja room design?
People have a sentimental connection with the pooja room so it is up to personal choice what materials to use. Pooja rooms can be designed in many styles and using various materials like wood, metal, glass, stone, marble, etc.  
What is the right location for a pooja room?
As per Vastu Shastra, it is preferred to build a mandir in the center of the house and in the northeast direction. You can also consider the north and east direction in a home.
What is the ideal pooja room size as per Vastu?
The standard size of a pooja room in India is 5 x 7 feet but it can also be bigger or smaller.