After the pandemic, the houseplant industry in India has seen a major boom. We are following the newest plant trends from around the world to make our houses like those seen on Instagram reels. Bonsai trees are one such houseplant that is slowly getting popular in India.
These exotic miniature trees can be a wonderful addition to any modern living room. Whether you display it on a side table, shelf or in an empty corner, this plant can become a subtle focal point with its sculptural aesthetics.
Bonsai is an ancient Japanese gardening art that involves deliberately converting a tree into a miniature shape using different methods like, pruning, wiring, etc. The process is long and takes years of time. The price of a Bonsai plant may also vary per the species and the age of the plant. You can buy Bonsai trees online in India, even on Amazon.
If you are looking to buy one, we have picked up 10 best indoor Bonsai trees from Amazon India. We have included different stores so you can also check out their other offerings. Have a look below:
FlowerAura Ficus Microcarpa Bonsai Plant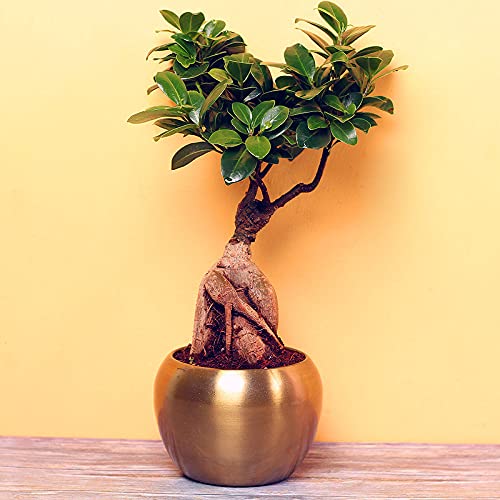 Himachal Pradesh-based FlowerAura provides this decorative plant in a metal pot. You need to provide it with bright indirect sunlight and temperature above 60 degrees F in winters. Water the bonsai once a week. You can expect the plant to grow 9 inches in height. The product has been reviewed in September 2022 with 4 stars.  
Price: ₹949
Grafted Ficus Bonsai by Abana Homes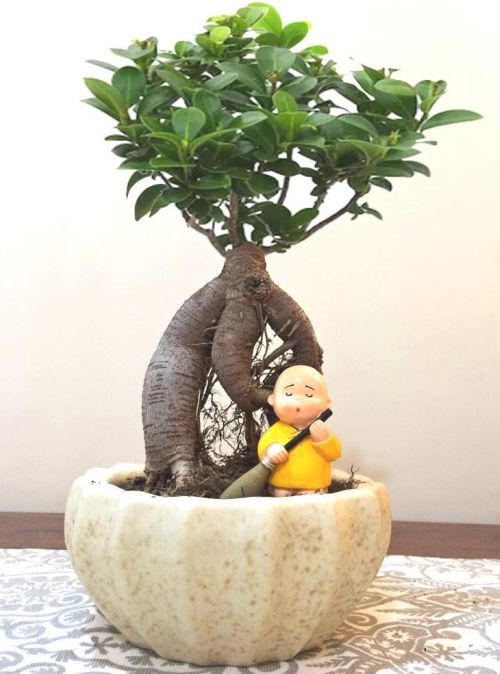 When it comes to buying bonsai plants in India, Noida-based Abana Homes is a big name that has been in the business for years. This grafted Ficus live bonsai plant from the company is 4 years old and comes in a 5 inches diameter x 3.5 inches deep ceramic pot.
This bonsai variety can grow in all weather and locations in India. You should water the plant once a day in summers and once in two days during winters. Each package also comes with a yellow figurine that will make the pot stand out. 
Price: ₹1,300
Green Paradise Ficus Microcarpa Bonsai Plant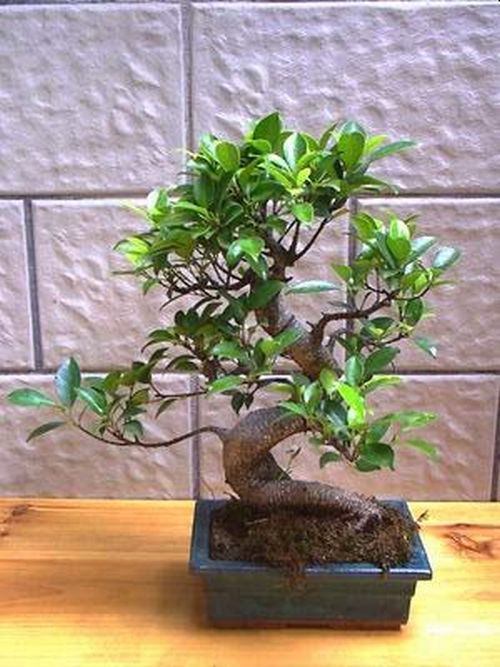 Suitable for Indian climate, it is a beautiful bonsai plant growing in a uniquely curved shape. Gujarat-based Green Paradise sends it in a wide pot but the material isn't clearly stated. You can grow this ficus microcarpa bonsai tree indoors, close to a sunny window.  The product has been reviewed last in August 2022 with 5 stars.
Price: ₹989
Nurturing Green Grafted Ficus Bonsai Live Plant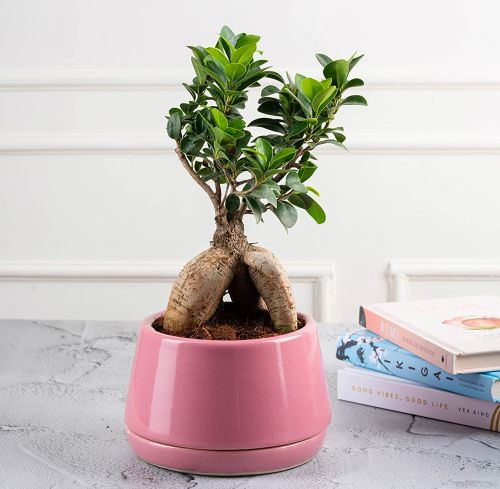 Looking for a bonsai plant for home garden, you can go for this ficus bonsai tree by Haryana-based Nurturing Green. It comes with an excellent pot with a bottom tray. You can choose from different colors of ceramic pots and even choose the age of the plant. The expected height of this particular plant is 11 inches. If talked of reviews, this 2 years old plant has seen a number of them, even verified influencers.
Price: ₹1,049
Ficus Ginseng Bonsai Plant by BIRTHRIGHT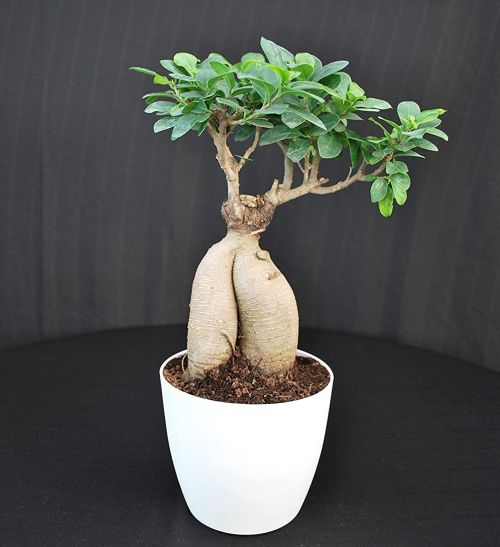 Also known as Chinese Banyan or Common Fig, this 5 years old evergreen Bonsai plant by Delhi-based garden center BIRTHRIGHT will be the cheeky green element you want in your home. You can also gift this evergreen Bonsai plant to someone who loves plants. It also has air purifying capabilities.
Price: ₹1,199
Garden Art Ficus Ginseng Bonsai Plant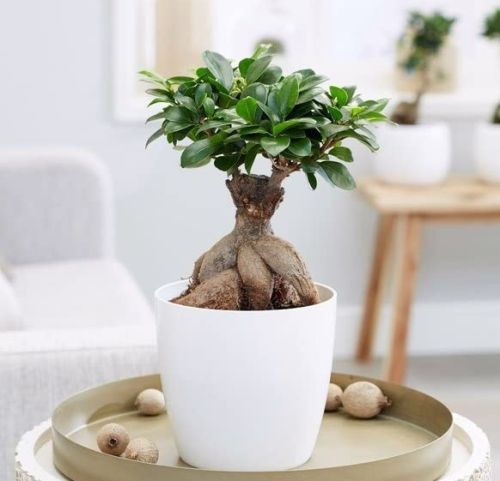 Being the most popular indoor tree species for bonsai beginners, you can go for this 7 years old live Ficus Ginseng bonsai plant by Gujarat-based Garden Art. You should give it water generously whenever the soil gets slightly dry and place it on a windowsill indoors. The plant comes in a plastic pot.
Price: ₹626
Also Read: Best Indoor Plants with Colorful Leaves
Ugaoo Ficus Bonsai Live Plant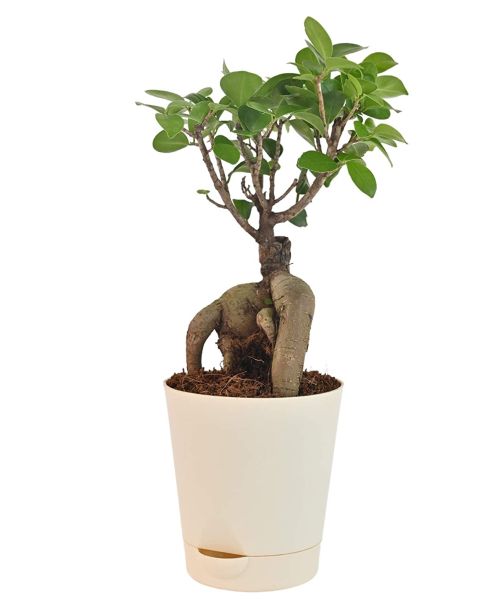 Ugaoo is a popular online store for plants in India but has limited options when it comes to bonsai plants. You can only get a ficus bonsai that comes in a self-watering pot. The plant can grow 6 to 12 inches in height. It will thrive in bright and indirect sunlight so make sure you keep your place it next to a window.
Price: ₹995
Creative Farmer Grafted Ficus Bonsai Tree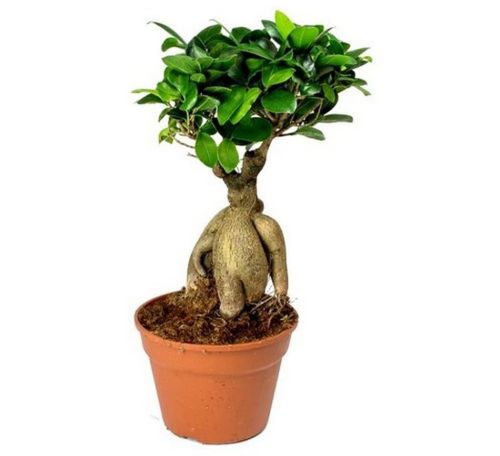 Bonsai plants are popular home decor elements all over the world and this live bonsai plant from Creative Farmer will be an absolute charmer in your space. The plant is provided with a plastic pot. You can place it in a place that gets a plenty of indirect sunlight. It will add class to your home decor.
Price: ₹599
Exotic Green Ficus Microcarpa Bonsai Tree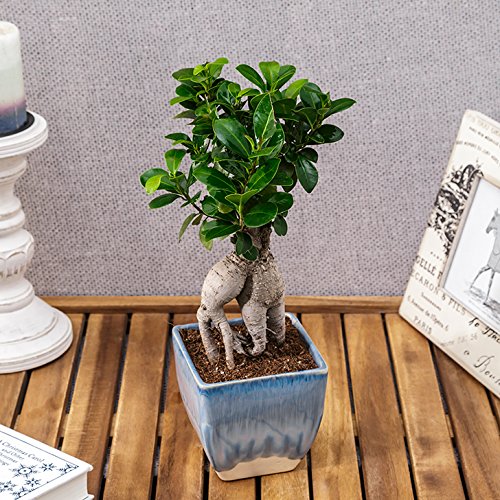 This grafted 3 years old bonsai plant by New Delhi-based Plant nursery Exotic Green will attain beautiful shape with time. The plant measures above 8 inches (with pot base) and comes in a stylish colored pot. You should keep it at a place where it gets 3-4 hours of daily indirect sunlight and put half a cup of water on alternate days. It can also be an ideal green gift. 
Price: ₹1,050
Parasbag Gardening Grafted Ficus Ginseng Indoor Bonsai Plant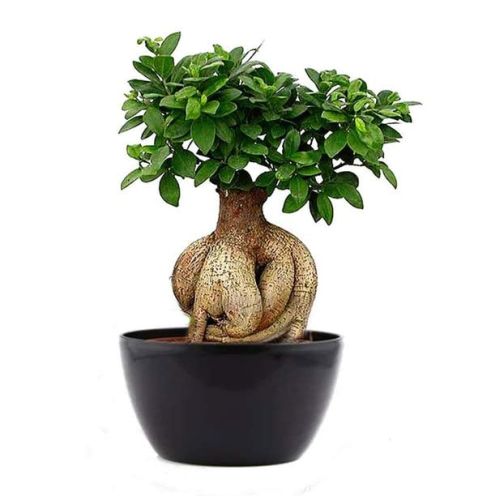 This bonsai plant by Parasbag Gardening based in Pimpri-Chinchwad, Maharashtra is 5 years old and comes in a black pot. If you want something for your office desk, it can be a great option. You can keep this bonsai tree in a sunny area where it can grow up to 14 inches high. The plant will add tropical essence to your home.          
Price: ₹799