Kitchen chimney or sometimes called range hood is an electrical device to throw out grease, moisture, heat and smoke produced during cooking sessions. It acts like a hood over a cooktop or stove that collects polluted air and routes it out via ducting pipe.
Kitchen chimneys are deliberately useful in Indian kitchens as we use large amounts of oil and spices in our food. They will suck up smoke and fumes released during cooking to maintain cleanliness and hygiene in the kitchen.
If you are fed up with oil signs and grease around your kitchen area, installing a kitchen chimney can be a good decision for you. You have to consider numerous factors including different kitchen types, size, filters, suction, future maintenance, controls and many other features.
Here we have created a brief and simple kitchen chimney buying guide that can help you make the understand about the available options and make the right decision depending on your particular requirements.
Types of kitchen chimneys according to installation
While buying a kitchen chimney, you must be aware of the installation difference. In simple words, these are big contraptions that are broadly classified into two types based on their installation and process – ducted and ductless kitchen chimneys. Both are explained ahead.
What is a ducted kitchen chimney?
Ducted kitchen chimneys are fitted with a ducting pipe to take out airborne particles from the kitchen. It is possibly the most common type of kitchen chimneys used in Indian homes, as well as commercial kitchens. These chimneys provide great performance but require professional installation.
Pros
Powerful action
Reduces heat and moisture
Easier to maintain
Cons
Installation process
Limited placement choice
What is a ductless kitchen chimney or range hood?
Ductless kitchen chimney uses filters rather than ducting to improve air quality in the kitchen. It purifies air with filters and re-circulates the cleaned air back into the space. The filters require periodical changing to ensure efficiency.
Pros
Can be installed anywhere
Lesser price
Easier installation
Cons
Can't expel heat
Makes a noise with fan
Requires periodical maintenance
Types of kitchen chimneys according to mounting style and placement
After you have scrolled upon the difference between ducted and ductless kitchen chimneys, you need to understand different designs of kitchen chimneys based on their mounting style and placement. Most of the chimneys are installed according to kitchen layout. Traditional Indian kitchens are located against the wall while modern kitchens have options like a ceiling-mounted range hood. Find below more:
Wall-mounted Chimneys: These chimneys are fitted against the wall over the cooktop. It is suitable for traditional kitchens where the stove is located near the wall.
Island Chimneys: These are expensive and modern hoods suited for homes with kitchen islands. They are mounted to the ceiling over the island which is usually located in the middle of the kitchen.
Built-in Chimneys: As the name suggests, these chimneys are built directly into the wall or ceiling. Most of the body of the chimney is concealed. It is installed according to the floor plan and interior design of the home.
Corner Chimneys: These chimneys are installed at the corner of the kitchen. It is a rare type that also depends on kitchen layout.
Also Read: Trends Watch: Curves are Getting Popular in Home Décor and Interior Design
Other Types of Kitchen Chimney Designs
Straight-Line Chimneys: These kitchen chimneys feature a flat shape and design. This style has become old-fashioned.
Curved Glass Chimneys: Quite popular these days, this chimney is bent on the edges to get an appealing form. Usually, it is made of toughened glass.
Angular Chimneys: These are the newest type of kitchen hoods. They sport a unique, angular design that makes them very compelling to the eye.
Factors to Consider While Buying Kitchen Chimneys
Filters
Kitchen chimneys are incomplete without filters. These attachments are available in 3 types: carbon, mesh and baffle filter. Indoor air quality of the kitchen will depend on the size and condition of the filter in the chimney. It should be cleaned or replaced regularly because of the accumulated grease that decreases efficiency.
Types of Chimney Filters
Mesh Filter/Cassette Filter
Mesh filter or sometimes also called cassette filter comprises strips of metal mesh that overlap each other. The solid and greasy particles get trapped when air passes through this complex web of layers of fishing nets of metal wires. These are very small holes that get clogged with grease over time.
Consequently, the chimney's air cleaning efficiency decreases so these filters need frequent cleaning or replacement. It is not suited for Indian kitchens where large amounts of oil are used in cooking. They are mostly available in two materials – stainless steel and aluminum (lighter and low-priced).
Pros
Less expensive than baffle filters
Easy to handle
Cons
Difficult to clean
Makes extra noise
Needs regular cleaning to reduce fire risk
Baffle Filter
Baffle filter is effective for Indian kitchens as it doesn't get blocked with oil fast. It is a steel structure that channels the air through traps which settle down oil and other particles. This filter prevents oil buildup and thus works for longer than mesh filters.
Pros
Easier to clean
Better grease filtration
Blocks fire
Cons
Charcoal Filter
It is an optional filter that is installed in some chimneys along with the main filter. Its primary task is to remove odor from the kitchen. These filters are made from charcoal slate that can soak oil and smoke effectively. They need to be replaced after some time and can't be reused. Read more about kitchen hood filters at VictoriaPlum Blog.
Pros
Makes a difference in purifying air
Additional filtration layer for ductless chimneys
Cons
Maintenance cost
Makes noise
Size of kitchen chimney
Size matters a lot in case of a kitchen chimney. It should be bigger than the cooking unit so that any fumes can't make an escape. For example, if you have a gas stove measuring 3 ft wide that your chimney should be over 3 ft.
In India, mostly two chimney size variants are available online – 60 cm and 90 cm. Confused? It's a general rule – 2 or 4 burner stove will go with 60 cm chimney while 3 or 5 burner stove would need 90 cm chimneys.
Suction Power
The capacity of the chimney's motor and blower to suck in oil, moisture and solid particles produced during cooking can be termed as suction power. Different types and brands of chimneys have different suction capacity.
The chimney with higher suction power will provide better performance. Suction power is measured in cubic meters per hour (denoted as m3/hr). It relates to ducting and cooking style and decides the overall performance of the chimney in curbing fumes.
The size and layout of the ducting pipe also makes a huge impact on the suction power of a chimney. In Indian kitchens, chimneys with powerful suction would work best.
Noise Level
Chimneys are fitted with a motor that produces noise. Wind channeling through the duct pipe will also be an contributor in it. As noted at Wikipedia, "most kitchen hoods produce 60-70 dB(A)," while some chimneys also have a silent-kit installed, which reduces the noise even more.
Power Consumption
Kitchen chimneys require energy to work so they can enhance your bills. The electricity consumption of chimneys is also an important factor. It varies in different chimney brands and models. Auto clean chimneys will consume more energy.
Controls
Nowadays, kitchen chimneys with types of different control options are available. Some have a touch control pad/buttons while others are powered by motion sensors that activate by themselves without any physical touch.
Auto Clean Kitchen Chimneys
Some companies also offer auto clean chimneys that feature a heating element to melt the accumulated oil and drip it into a removable collector tray. Just with a touch on the control panel, the kitchen hood can be cleaned by collecting oil from motor group assembly into the oil collector cup. This feature helps prevent grease clogging in internal parts, ensuring a longer life of the product.
The auto clean chimney cleans itself which lowers the maintenance but there is always a need to clean filters after a while. Emptying the oil collector is also a manual action in these chimneys. There are also some filterless models designed to offer even more convenience.
Brand Reputation & Warranty
There are many different brands offering kitchen chimneys in India so researching will help. Confirm about service centers and post sales service of the companies in your location. Ratings and reviews of each product can tell you a lot about it. Social media handles of the brands are also a good way to connect with them.
Price
Cost is one of the crucial chimney buying factors. Therefore, quotations from local chimney sellers should be compared with prices offered by major e-commerce websites in India to get some estimate about the price.
Advanced Features
LED light indicators to signal filter replacement, cleaning, or any other problem
Touch-less control
Heat sensor to automatically turn off the auto-clean feature
Soundproof kits to lower the noise
BLDC motors that consume less power and noise
Filter-less chimneys
Parting Thoughts
After reading the kitchen chimney buying guide above, you may have been able to understand that buying a kitchen chimney mainly depends on the particular needs and budget of users. The kitchen chimney with baffle filters is supposedly a better choice for those who want their kitchen to be cleaner from oil patches. It will require regular maintenance and money for filter replacement.
On the contrary, auto-clean filterless kitchen chimneys will be suitable for those who want little hassle for life. Regular maintenance is a dire need for all types of kitchen chimneys.
Tips to Use Kitchen Chimneys
Install the kitchen chimney at the right height from the stove so that it can absorb smoke properly and not get get dirty easily
Remove plastic films as they can catch fire
Clean chimney filters periodically to save on energy, and also maintain performance
Read the instruction manual carefully
Also Read: 10 Indian Instagram Accounts to Follow for Balcony Decor Inspiration
Best filterless, auto clean kitchen chimneys
There are a variety of ducted kitchen chimneys available in India; however, auto clean is one of the most popular technology. Designed to lower the hassle of cleaning filters, it can be a cost-efficient option in long term use.
If you are looking to buy one, we have listed below some of the best filterless, auto clean kitchen chimneys that can be purchased online from Amazon India. Keep a note of installation charges and ducting material provided with the unit.
Glen Filterless Auto Clean Chimney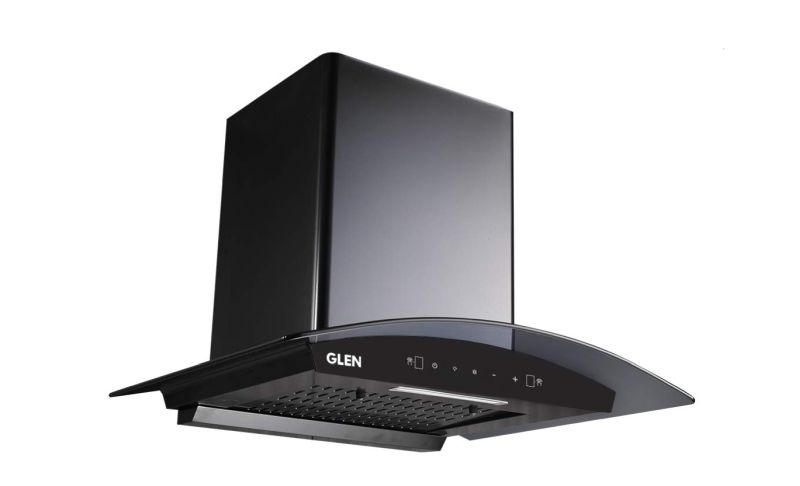 Technical Specifications
Type: Wall Mounted/Ducted
Size: 60 cm
Suction Power: 1050 m3/hr
Warranty: 1 year on product + 5 years on motor
Auto-clean: Thermal auto-clean technology
Noise Level: 58 db
Price: Rs. 10, 995 on Amazon
It is a curved glass chimney in black finish that will look minimalist in the kitchen. It measures 60L x 47W x 43H cm and weighs about 12 kg.
Other Highlights
Touch/Gesture control
3 speed settings
1 LED light
External oil collector
Inalsa Filter-less Kitchen Chimney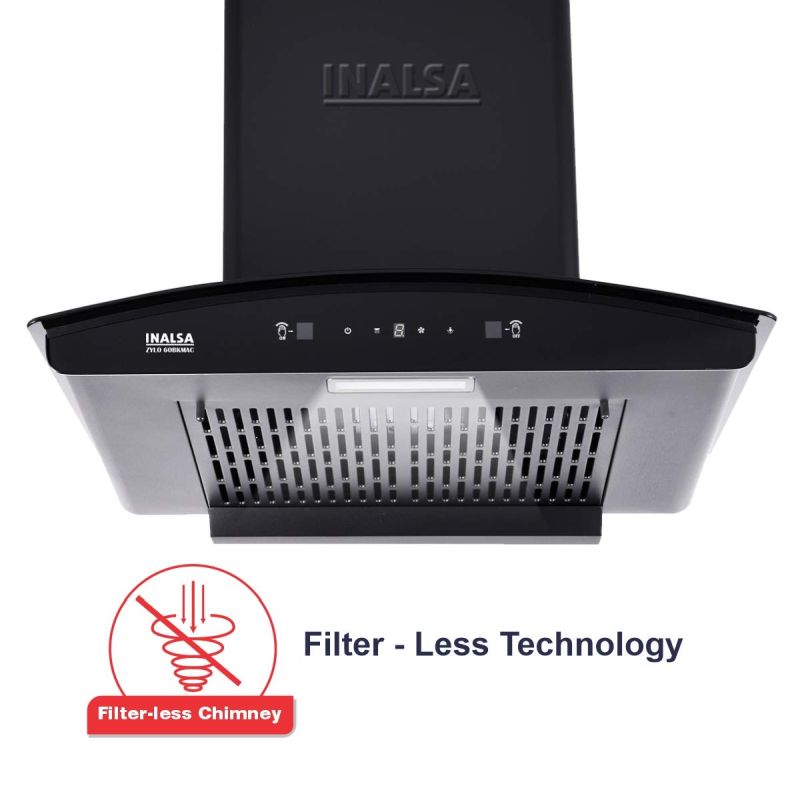 Technical Specifications
Type: Wall Mounted/Ducted
Size: 60 cm
Suction Power: 1250 m3/hr
Warranty: 2 years on product + 7 years on motor
Auto-clean: Thermal auto-clean technology
Noise Level: 65 db
Price: Rs. 8,695 on Amazon
This auto clean kitchen chimney is made of curved glass with black powder coated & decorative finish. It measures 59.8L x 46W x 51.2H cm and weighs about 9.5 kg.
Other Highlights
Motion sensor control
3 speed settings
1 LED light
Kaff NOBELO Filter-Less Auto Clean Kitchen Chimney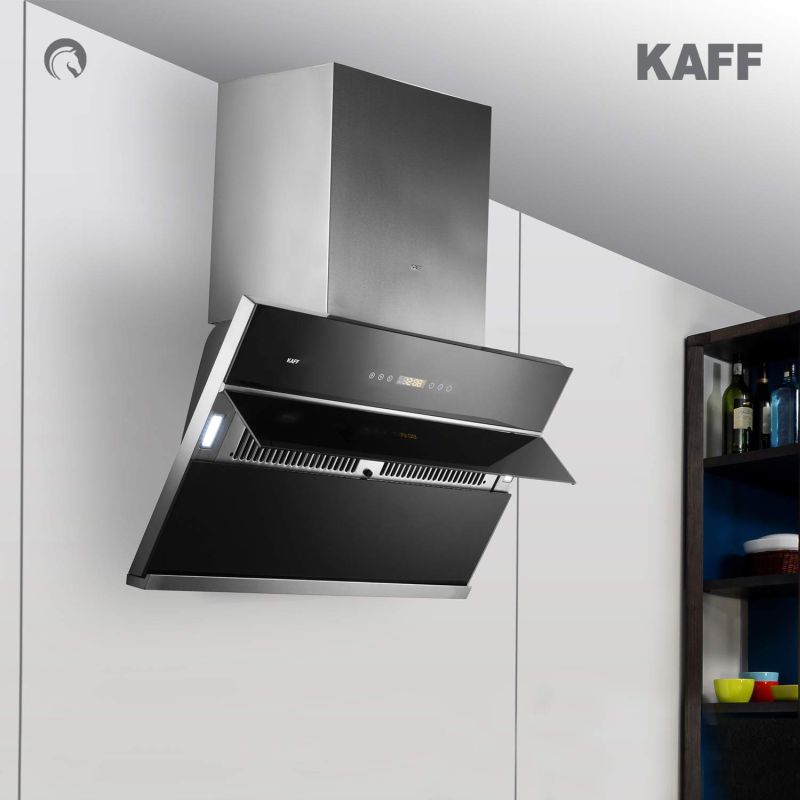 Technical Specifications
Type: Wall Mounted/Ducted
Size: 60 cm to 75 cm
Suction Power: 1250 m3/hr
Filter Type: Filter-less technology
Warranty: 2 years on product + 7 years on motor
Auto-clean: Thermal auto-clean technology
Noise Level: 62 db
Price: Rs. 20, 900 on Amazon
This angular style chimney looks stylish and modern with its black tempered glass construction. Interestingly, it sucks air from its angled front. It measures 75L x 75W x 80H cm and weighs about 16 kg.
Other Highlights
Touch/Gesture control
Auto open glass panel
3 speed settings
1 LED light
Stainless steel oil collector
Faber Curved Glass Auto Clean Range Hood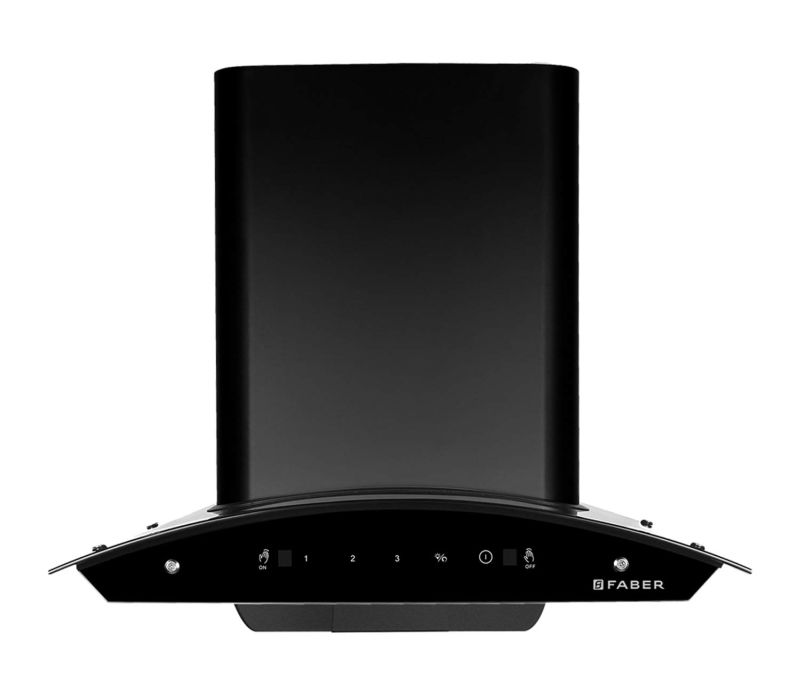 Technical Specifications
Type: Wall Mounted/Ducted
Size: 60 cm
Suction Power: 1200m3/hr
Warranty: 1 year on product + 5 years on motor
Auto-clean: Thermal
Noise Level: 68 db
Price: Rs. 13,490 on Amazon
Ideal for 2-4 burner stove, this filter-less, auto clean chimney is perfect for those who want less manual maintenance work. Just need to empty the oil collector after some period of time. It measures 50L x 60W x 60H cm and weighs 12 kg.
Highlights
Touch/gesture control
3 speed settings
2 built-in lights
Elica NERO Filter-Less Auto Clean Chimney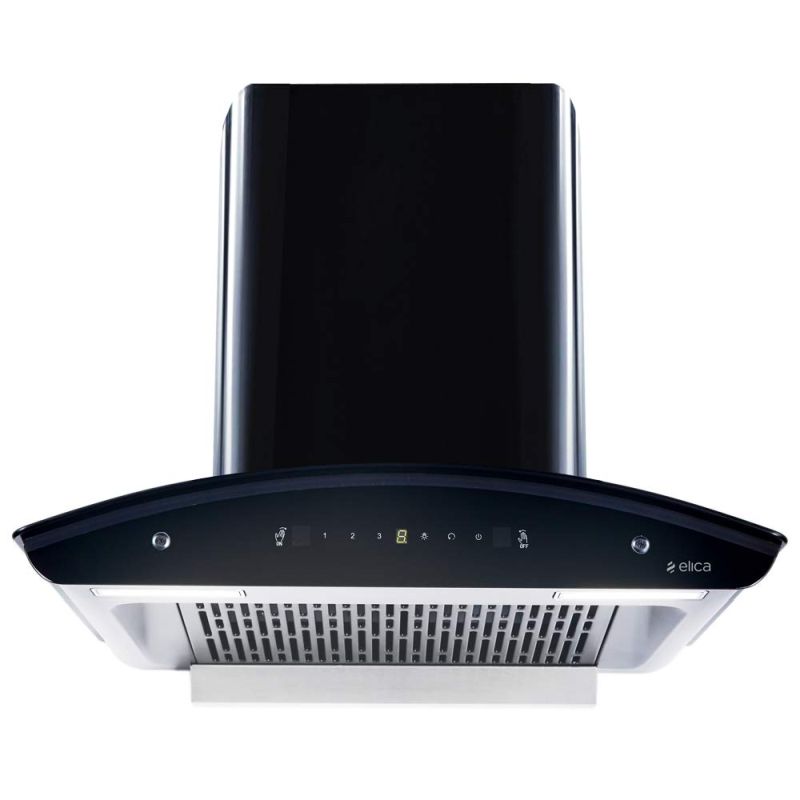 Technical Specifications
Type: Wall Mounted/Ducted
Size: 60 cm
Suction Power: 1200 m3/hr
Warranty: 1 year on product + 5 years on motor
Auto-clean: Heat auto-clean technology
Noise Level: 58 db
Price: Rs. 14, 499 on Amazon
This chimney features curved glass design and a glossy finish. Its dimensions are 60L x 41.2W x 44.2H cm and weight over 10 kg.
Other Highlights
Touch/motion sensor control
2 LED lamps
Manageably low noise level
Easily removable oil collecting tray
Hindware Nadia Ductless Kitchen Chimney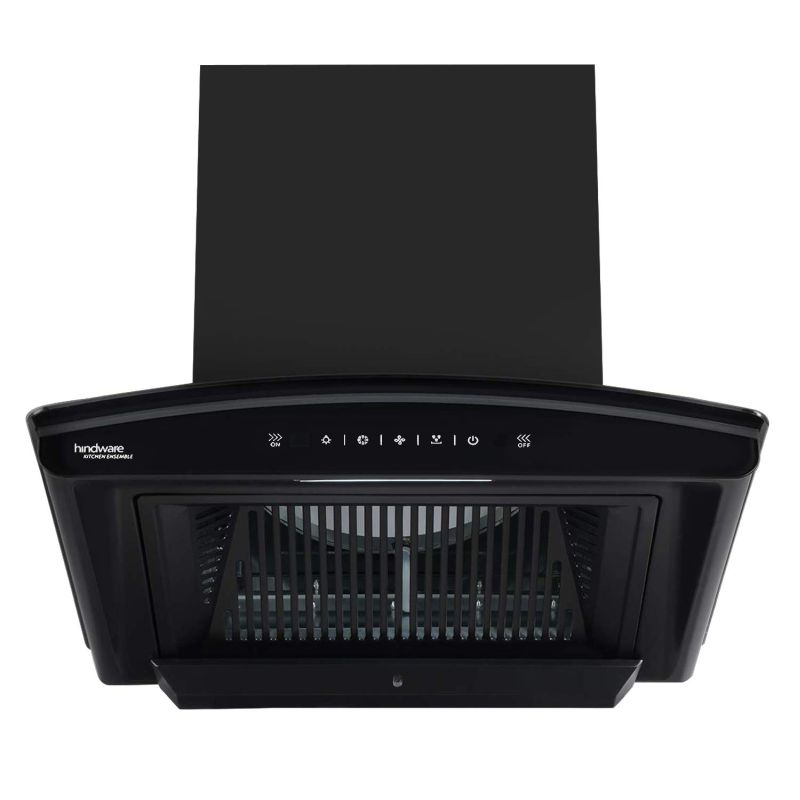 Technical Specifications
Type: Wall Mounted/Ductless
Size: 60 cm
Suction Power: 1200 m3/hr
Warranty: 1 year on product and 10 years on motor
Auto-clean: Thermal based
Noise Level: N/A
Price: Rs. 16, 950 on Amazon
This all-black filterless kitchen chimney is made in steel and curved glass. Its dimensions are 48L x 60W x 53.8H cm and weighs about 15 kg.
Highlights  
Two LED lamps to assist in cooking.
Feature touch control/motion sensor
3 speed settings
Stainless steel oil collector